A look back at last week's dinners and a story about pasta.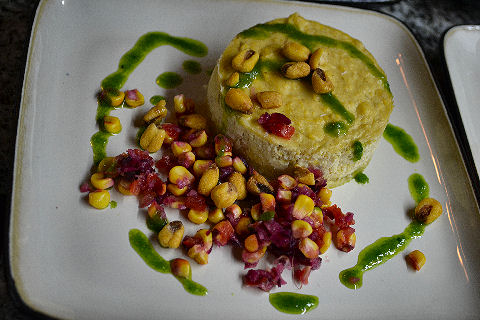 Textures of Corn – Corn and grilled onion cheesecake over a polenta and manchego cheese crust; roasted corn, red onion, rocoto chili, lime salad; deep-fried corn kernels; nira oil.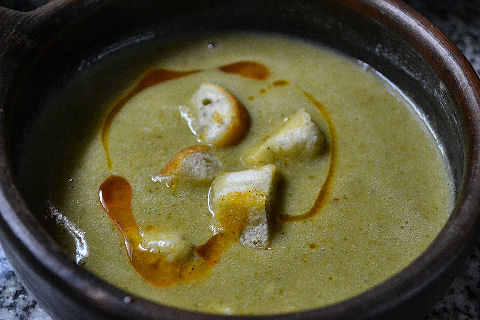 Timbuche – Our version of the traditional Amazonian freshwater fish soup – thickened cilantro and fish stock base; trout; pejerrey; dorado; croutons; smoked paprika oil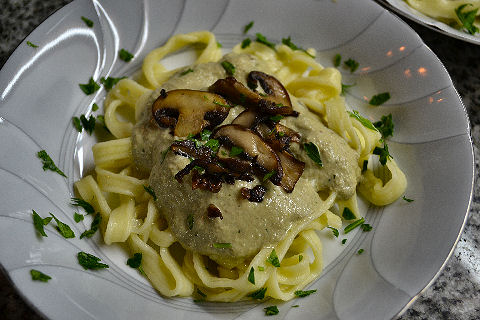 Probably best known to the "outside" world as strozzapretti, or priest chokers, the legend goes something like this…. Way back in the day, and who really knows when that was, there was a time when (of course, completely unlike today) priests were known for their hearty appetites. And there in the small villages in central Italy, it was custom that they would make the rounds of the various homes in the community. And turn by turn, each family would host the local priest for dinner for the night. The story is, that in some town, somewhere, one particular priest took a fancy to the cooking of the woman of one particular house (or perhaps a fancy to her herself). And bit by bit, rather than showing up at her doorstep a couple of times a year when it was her turn in rotation, he started to show up more and more often. She conceived a plan to drive him away, by making her pasta so thick that he would choke on it trying to eat it. As to whether it worked, who knows? As to whether it's true, who knows?
But, it has left us with a raft of pastas of the region, all similar, thick-cut, sometimes rolled into thick strands, other times just rolled out flat and thick and cut into wider than normal ribbons. It means the pasta comes out chewier than typical. Generally, though not always, especially in modern times, these pastas are eggless – just flour and water – supposedly also cutting down on the costs for feeding the priest – and also served with simple sauces. They go by various names – strozzapretti, stringozzi, pici, pinci, cerioli, truffie, umbricelli. In this particular version I make a semolina and egg dough – mostly egg white, which also contributes to the chewiness of the noodle, then I roll it out using the machine to about double the thickness I normally would (setting 4 instead of 7) for something the width of fettucini. Some versions would then roll these up into thick spirals, as we do with pici when we make it, I learned to make umbricelli without rolling them.
The sauce, saute button mushrooms and a few dried peperoncino until lightly browned, then into the blender along with good green olives, parsley, cream, salt and white pepper. Ladled over the pasta. Topped with fried portobello mushroom slices and some scattered parsley. I could happily eat this any day.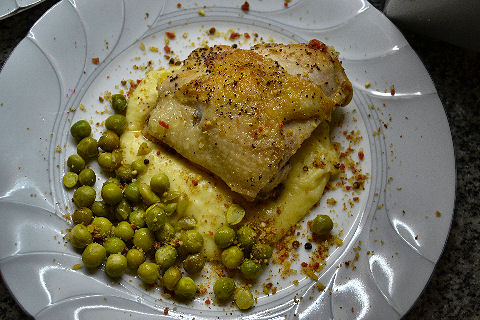 First stab at a dish influenced by my recent explorations into pollo maryland – it needs more refining. The chicken thigh, simply pan roasted. Served over "popcorn mash" – remember that popcorn and parmesan sauce that was the only good thing about my take on the Sole Veronique reinvention challenge? I made that sauce and then blended it into mashed potatoes. Yum! Fresh peas. And, the crumble scattered over the whole dish, bringing in just hints of those other flavors is a crumbled of crispy prosciutto, dehydrated banana, pink and green peppercorns, sea salt. It's on the track, but needs work.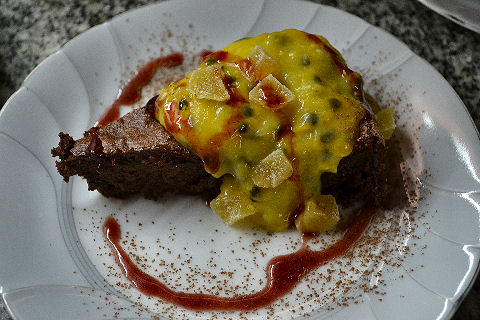 Flourless dark chocolate and ginger torte; passionfruit curd; raspberry cardamom syrup; candied ginger; sweet cocoa powder.
That is all.