I know, that sounds like something you can blame Obama for and Sean and all his cohorts can carry on about with hysteria and vitriol for at least a week. But no, I was simply headed back for one of my occasional visits to El Federal, San Martín 1015 in Retiro for lunch with my friend Judithe. I first came to this place in my early, formative Buenos Aires years when my friend Victor suggested we meet there and introduced me to chef Paula Comparatore. It's one of my favorite places to lunch in the downtown area and I've been there many a time, even re-reviewing it with a lot of updates just a couple of years ago. I've never been, however, for dinner. But, perhaps mindful of that, Paula, who was away for a well-deserved break for a few days, had instructed her staff to offer us the seven-course dinner tasting menu (400 pesos each) at lunchtime, on her. Nice! We just picked the wine and water and covered that and a tip.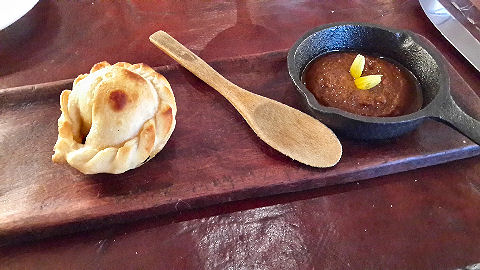 Cheese and green onion empanada with a medium spicy rocoto chili sauce. Delicious start!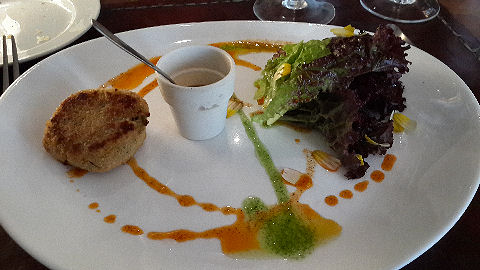 A panko coated dorado fishcake with coconut, coriander and honey sauces. A little sweet, but not over the top and we certainly didn't leave any morsels on the plate.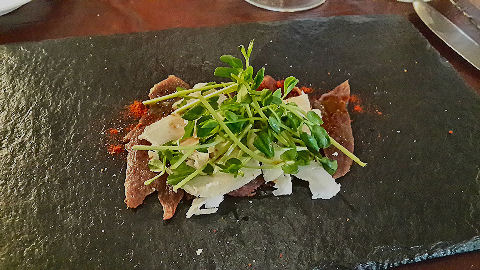 Carpaccio of rhea (South American ostrich) with olive oil, parmesan and microgreens. We liked it, though thought that the parmesan may have been a touch too strong for the other flavors.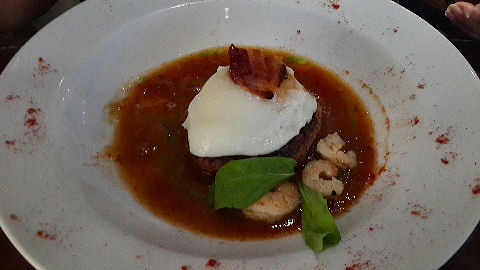 You know I like my poached eggs, and this one was perfectly cooked (sous vide) with a smashed potato cake, tomato sauce, grilled prawns and crispy bacon. What's not to love?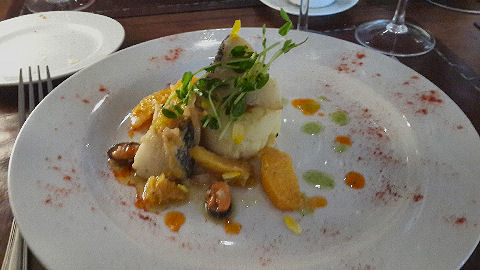 Chilean sea bass (or, Patagonian toothfish, as the menu correctly translates it without succumbing to over-hyped marketing terms), perfectly cooked, juicy and flaky, with small butter poached mussels, creamy potato puree, and an orange vinaigrette. My favorite course. Or was it the egg?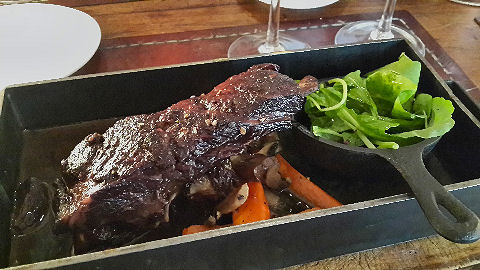 Getting a bit full at this point, so we just tasted the Malbec and merquén braised lamb with grilled mushrooms and confited baby carrots, then had them pack up what was left for Judithe to take home for dinner. Excellent dish and I wish I'd had more room.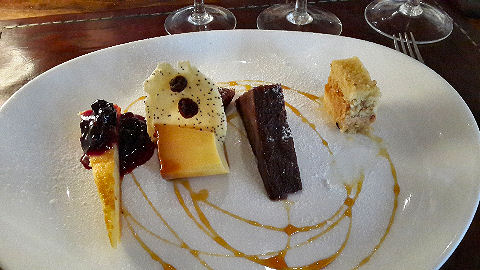 Likewise for the dessert – four small portions, but just overkill at that point. I've forgotten what they were – I had a bite of each (including a bite of the one on the far right before taking the photo) and loved all four, but just couldn't keep eating. Then again, we hadn't planned for a tasting menu – I'd been figuring on ordering a single main course of fish for my whole lunch!
As delightful as it always has been, and just reinforces why I keep El Federal on my Favorites list. Oh, and 400 pesos for all that, or 460 with a couple of glasses of selected house wines (which are of good quality), is a steal.