When Kevin and I first started talking about the idea of our online cooking challenges, one of the things we spent a fair amount of time discussing was the re-creation of classic dishes. Now, we were thinking, for the most part, of things like the challenges we've already done, classics like Sole Veronique and Pad Thai; but, and I don't recall how it came up, I remember joking about reinventing the classic Midwest dish of the 60s, the Lime Jello Salad. Jello salad, a.k.a. Jell-O salad, gelatin salad, jelly salad, congealed salad, or molded salad was a staple of social functions at one point in time. These days photos of the various concoctions generally lead to gasps of disbelief. But the truth is, these things were really a part of "cuisine" at one point in time.
So how to go about reinterpreting something of this sort? I can't swear to the ingredients used by my mother, but I have this vague recollection of lime jello with grated carrots and diced canned pineapple (there may have also been, or in turn, mandarin orange segments, coconut, and/or mayonnaise, though that might have been a different flavored jello). My thought was to start with those three flavors and go far away and exotic. The first thing that occurred to me were Indian Lime Pickles. Not an ingredient available here in Buenos Aires, but how hard could it be to make them? There are actually plenty of recipes online, and I decided to go with Nigella Lawson's version – a roughly two month process….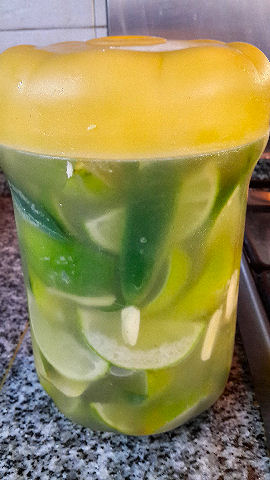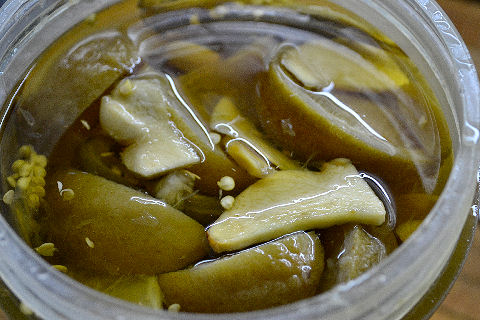 And, voila! (Before and) After actually about ten weeks, they were ready to be used. And they're delicious. Meanwhile, keeping with the Indian theme, I'd played around with various ideas – deciding to go with crisp carrot chips for a little crunch, and the sweetness of a charred pineapple raita for balance. But all that didn't make much of a dish, more just like the surrounding condiments.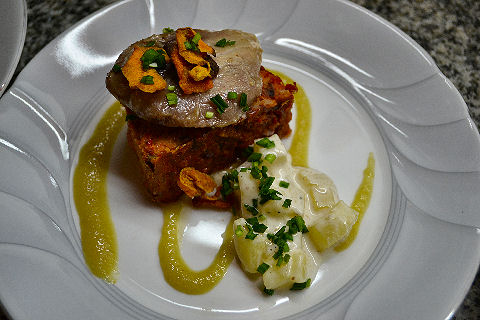 Various ideas bounced back and forth in my mind, and I finally settled on that I wanted to add in more of a carrot/vegetable element, and I remembered the vegetable pate that I've made in the past – the changes to it are that I've added in the chili to the mix from the start – a couple of teaspoons of togaroshi, and then after baking and cooling, I slice it, put it on a baking sheet, drizzle it with a little oil, and broil it. I thought smoked fish would be a good accent as well, so I smoked conger eel cheeks and then confited them in olive oil with some smoked salt. So the final dish – pureed and strained lime pickle on the bottom, then the slice of the vegetable loaf topped with a smoked cheek and a little of its confit-ing oil, a spoonful of the raita (charred fresh pineapple, minced rocoto chili, yogurt, salt, cardamom), dehydrated carrot chips dusted in salt and curry powder, and some garlic chives. It doesn't really look like a Lime Jello Salad, but that was the inspiration.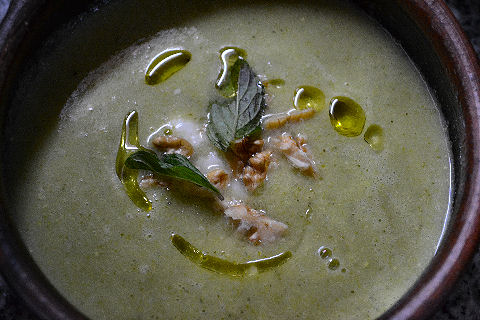 A new soup in the repertoirse – cream of zucchini and mint. The zucchini blanched and shocked in vegetable stock, then cooked some potato in the stock to give it some body, then pureed the potatoes, zucchini, stock, some cream cheese and mint until smooth. Garnished with goat's milk feta cheese, toasted walnuts, mint leaves and olive oil.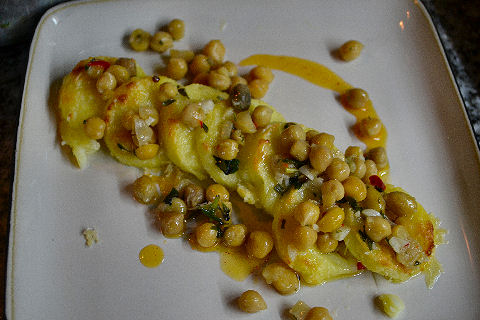 Semolina gnocchi with romano cheese and chickpeas sauteed with spicy ají limo chilies, garlic, rosemary and oregano.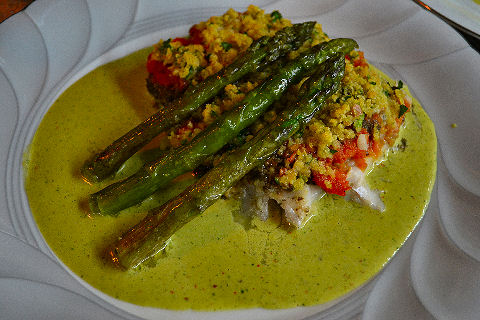 Cod "viennoise", our style, with a spicy cilantro sauce underneath, topped with layers of stoneground mustard, portobello duxelles, tomato fondue, and herbed breadcrumbs; garnished with sauteed asparagus.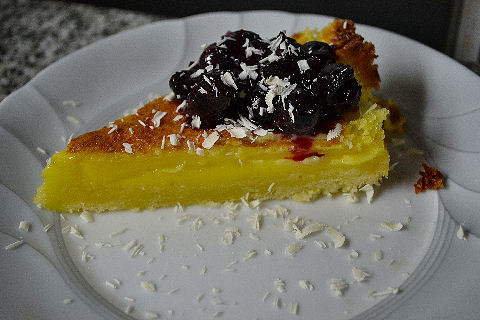 Lemon curd tart, roasted blueberries, grated white chocolate.