This time around, what do we have for you? A quartet of spots from casual to fancy, all relatively new – opened in the last few months.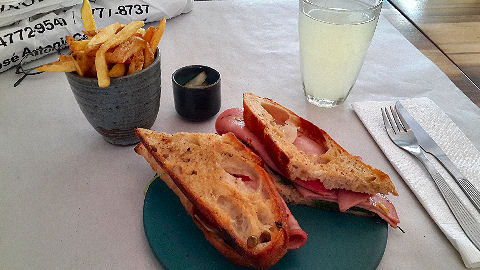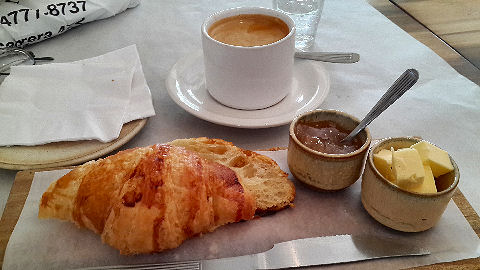 A couple of months back, when I was munching away happily on some fried chicken at the new
NOLA Gastro Pub
(and I've been back once and checked out the fried chicken sandwich, which rocks!), Liza was pointing out some of the restaurant folk who were mucking about the place that Monday eve – it being a good night for those full-timers of the kitchen and bar to get out and try somewhere new. Among the people I didn't know was one of the owners of the new daytime cafe,
La Alacena
("the cupboard"), Gascón 1401 in Palermo. At that point, she hadn't been there, but had been hearing good stuff, and over the last many weeks, various of my online compadres have written about the pastries, pastas and sandwiches being turned out here. The kitchen is helmed by the ex-chef of BASA, a place downtown I've not been to, it's part of the "Retiro Revival" that many have been carrying on about, but nothing on their online menu has screamed to me, "you must come here!" And, so I haven't. But there I was in Palermo to pick up some phyllo dough, casting about for a new spot to try for lunch, and realized I was just a couple of blocks away….
The menu is simple – a daily special, preprogrammed as "chicken", or "beef", or what have you, for specific days, but the preparation different each week, plus some pastas and sandwiches. Always on the lookout for the last, I settled in for the lunch combo of a sandwich, fries and lemonade for a mere 90 pesos. The combo of mortadella, radish pickles and arugula sounded like it would hit the spot. And, it does. First off, fantastic bread, worthy of just sitting there eating it toasted with some olive oil or butter all on its own. The griddled mortadella, a brilliant idea, an upscale version of a classic norteamericano fried bologna sandwich (really the only thing that should ever be done with bologna). It did need something more than just the faint schmear of butter on the inside, and a little pot of mustard was swiftly brought to the table to handle that. Same with some mayo for the perfectly cooked, delicate fries. (Even after almost ten years here, one of my pet peeves is that fries are virtually always served sans condiments, just plain potato – I almost always have to ask for mayo, ketchup, salsa golf, vinegar, or whatever, to accompany them.) The followup was less successful – from the short dessert list, I decided to go with something not overly sweet, and ordered the in-house made croissant and jam. While both were quite good, I have to say, that's no croissant, which should be a light, flaky, laminated dough that you can pull apart in spirals of pastry – you can see the interior structure, this is basically a good bread roll, worthy of being eaten, but not a croissant. Just based on one try, I'd go back for the sandwiches, anytime.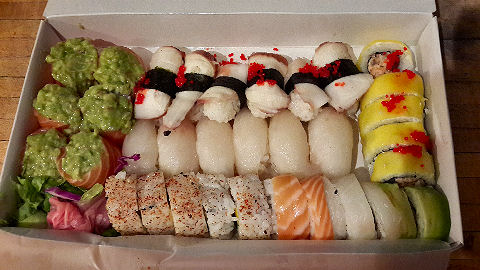 Oh, just having this on my page will probably drive traffic up with people searching for the famed Sukiyabashi Jiro sushi bar that's the focal point of the film
Jiro Dreams of Sushi
, a film which if you're a food aficionado and haven't seen, it's time. I was wandering about a week or so ago and saw renovations in process on what appeared to be a new sushi bar (though it may just have been remodeling that was going on, as I think the place has been around a bit), with a new sign going up proclaiming it to be
Jiro Sushi
, Gorriti 3999, in Palermo. Now, I was willing to give them the benefit of the doubt, perhaps their proprietor or chef is named Jiro as well, but no, right there on their own website they freely admit they're simply capitalizing on the name of the world famous Jiro Ono. I hadn't made any plans to drop in, but then the order option for them popped up on
Sinimanes
one night last week when I was in the mood for sushi, and I gave them a try. Relatively fast delivery time, prices reasonable, and I like that almost all the rolls and selections can be ordered in half portions, allowing me to try more different things. The verdict – quality wasn't bad at all, it wasn't amazing, but it was pretty good, with decent flavors, a good selection of rolls that don't include cream cheese, a real plus here. Perhaps a trifle small in the size of the pieces, but given the pricing, still pretty decent. I may even order from them again.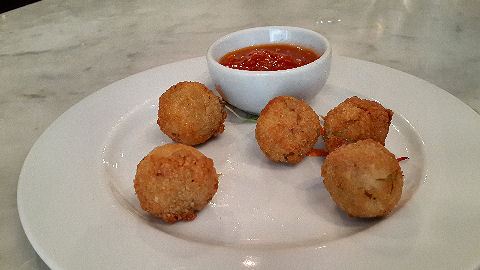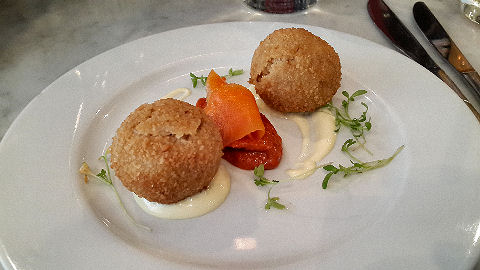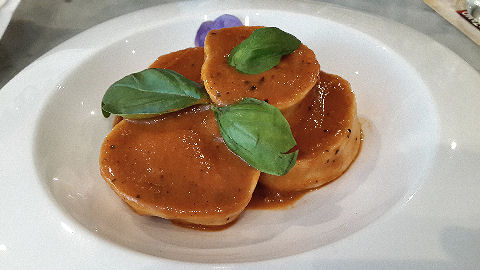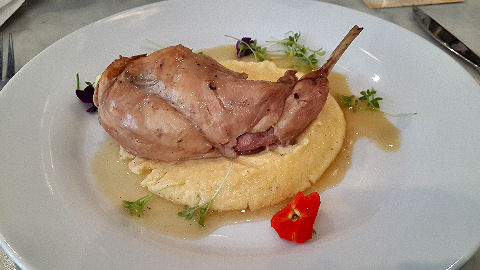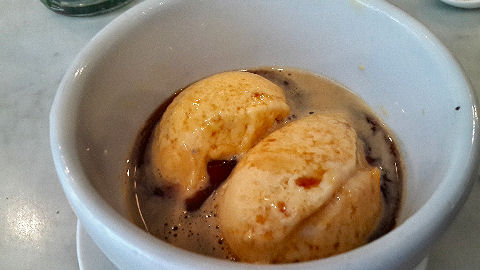 Early this year I included a friend's restaurant,
Doppio Zero
, in one of my previous mini-review series. What I didn't know then was that he and his chef were already in the planning stages of closing up shop and moving on to a new venture. Just recently he made the announcements in various online media, and their new spot,
Chiuso
(tongue in cheek perhaps, the Italian word meaning "Closed"?), downtown right off of the lower end of Plaza San Martín at San Martín 1153. It's a spot that has seen, in no particular order, a series of short-lived eateries including a branch of
Pizza Cala
, an after office bar and bistro called Mad Resto, and an offering from one of my favorite chefs, Martin Baquero (
Almanza
,
El Almacen de los Milagros
, both now closed as well), BE Restaurant, and probably a few other things.
The winning formula from Doppio Zero is pretty much repeated here, but with a more sensibly designed approach to the menu. Right off the bat what I really like is that everything on the menu, from antipasti to appetizers to pastas to main course, even to desserts, is available in both a full and half-sized portion (priced at around 60-65% of the full portion). It allows you to put together a little tasting menu of your own if you like, which I did on a recent visit. Meat stuffed olives with a slightly sweet tomato fondue for dipping; perfectly crisp on the outside and juicy on the inside rabbit croquettes with aioli and romesco sauces (both could use a little punching up of flavor intensity, but were good, and the croquettes were stars on their own); huge "tortellini" (not really tortellini because they're not ring shaped, they're more like plump, crimped ravioli without borders) in a silky smooth and delicious sun-dried tomato sauce; melt in your mouth tender rabbit leg over a soft, creamy mascarpone polenta (I'd go back just for that); and to finish, a lovely affogato – vanilla ice cream with a shot of espresso poured over it at tableside. Fair disclosure, Mario gave me a deep discount on the bill – these five dishes, a bottle of water, and a cocktail would, off the menu, have run somewhere just shy of 400 pesos otherwise. Perhaps there really is a Retiro Revival going on, this is definitely one to add to your list.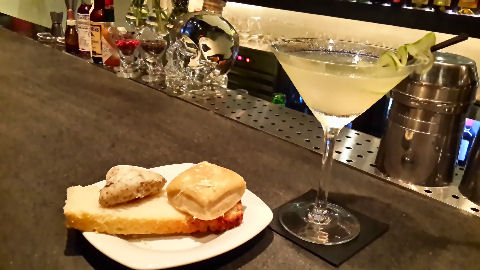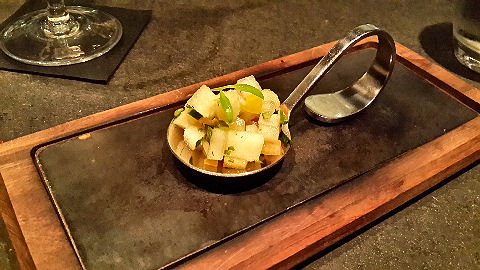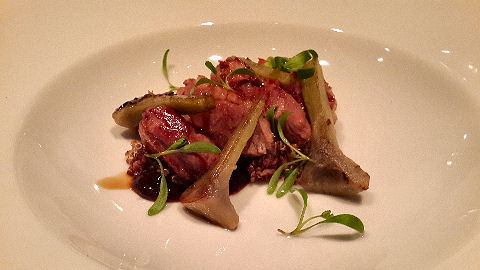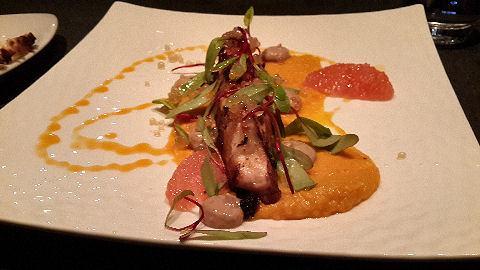 Funny that two of the "bite marks" this round have decided on names that invoke a famed restaurant elsewhere in the world. Now, I'm not going to doubt chef Emiliano De Nisi's assertion (we had a lovely little chat about our career histories) that
Per Sé
, Honduras 5815 in Palermo, is named after his grandparents'
estancia
out in the countryside. But I'm also not going to not doubt that the connection to the famed Thomas Keller restaurant in NYC was something that never occurred to him. (And, there are plenty of other Per Se restaurants in the world.) Finding myself with a free evening solo, I decided to head over and check the place out. Interesting reservation process on my end – I first took a stab through
Restorando
, where it was asserted that the place was fully booked; I then called directly, was told that while it was busy, they could fit me in; and arrived, to find exactly two other people in the restaurant, was told that they could "find me a table if I really preferred" but it was suggested that it would be better if I sat at the bar (which I actually don't mind at all) and, over the couple of hours I was there, maybe half a dozen more people came in total. 
[Closed]
Right off the bat, they need to update their website – the menu isn't the same as what's listed there, and the pricing is significantly different (on the website it offers 1, 2 or 3 courses for, respectively, 170, 260 or 350 pesos; in reality, appetizers and desserts are all 140 pesos, while main courses are 210, almost 40% higher). If you're going to put your menu on your website, especially with pricing, it should be up to date. On to the food. Interesting sounding cocktail list, and my "Cocktail #4" with Bombay gin, dry vermouth, lemon juice, simple syrup, grapefruit oil and cucumber hit the spot, even at 80 pesos. Great housemade breads. A little amuse bouche of vegetable ceviche was a nice palate cleanser to start. A half grilled duck breast as a starter was beautifully cooked and served up with confited artichoke hearts and a "teriyaki gel" – delicious all around. Equally delicious, though coming in a bit skimpy on the portion size, a 6-7″ piece of grilled octopus tentacle with grapefruit, olive mayo, and squash puree – for 210 pesos I'd expect something a bit more on the plate, though I sopped up ever last bit of it. On the wine front, the bartender offered me the "special of the week", three tasting portions of wines from a featured winery for a mere 60 pesos total, which sounded like a great deal, only to return to say that he was mistaken on the offer and they were offering a different winery, Zuccardi's Nicasia Vineyard line, with tasting portions for 30 pesos per glass – a 50% increase there. Still, the tasting pour turned out to be relatively generous – I don't know if that was by way of apology or normal for their pours. I decided against dessert, nothing on the menu grabbed my attention, and, to be honest, I was still a bit hungry for something savory, so headed out into the night 560 pesos down (with tip, 20 peso cubierto, 30 peso water) and headed home to fix myself a bowl of instant ramen…. Delicious, though obviously I found portion sizes small and prices a bit higher than expected. (Then again, at "blue rate" exchange, that means the entire experience came in around $38 – try that for two courses, a cocktail, glass of wine, bottle of water, and tip, on Columbus Circle….)