Just a quick look back at last week's menu. A bit of playing around with past dishes and a couple of completely new ones.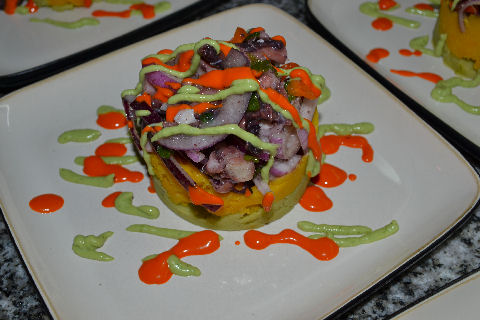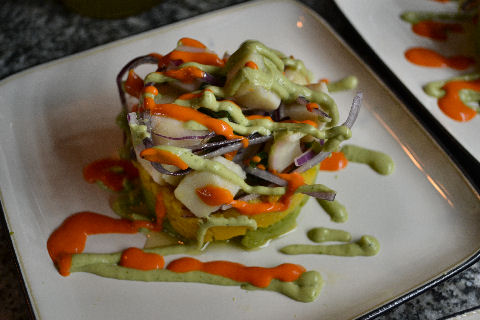 A Humboldt squid and sand perch causa – layers of potato with ají amarillo and lemon, and green onion and lime; spiced olive oil poached squid tentacles (jibía), sauteed sand perch (salmón blanco), spicy avocado puree, piquillo pepper puree, salad of red onion, green onion, and yellow chilies. Mostly a replating of a previous dish. And, for a couple of vegetarian guests, a palm heart causa.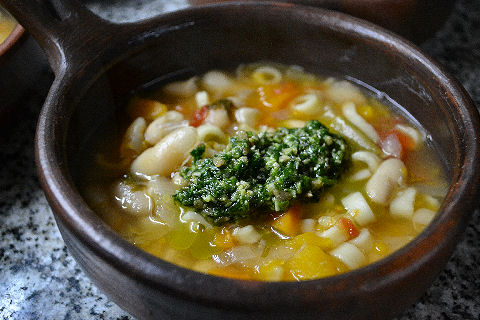 Soupe au pistou – vegetable, white bean and pasta soup with a roasted garlic, basil and garlic chive pesto.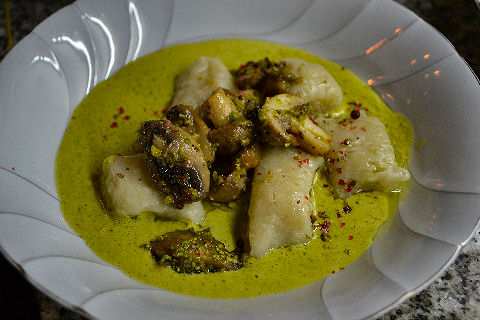 Another dish featuring cauliflower gnocchi – spicy parsley cream sauce below, a saute of mushrooms with pistachios, green and pink peppercorns on top – based on commentary, I think probably the hit of the week.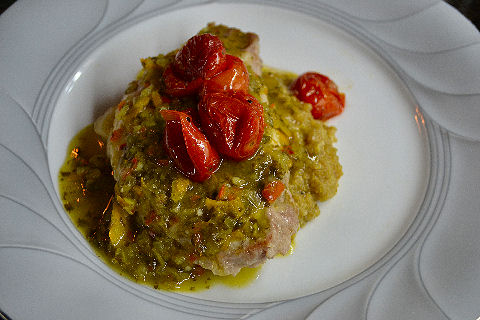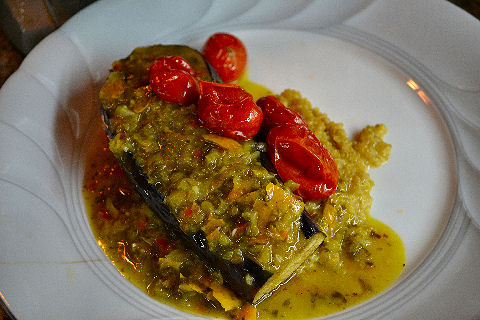 A new dish, something we've been playing around with. Sauteed pork loin topped with a spicy orange sauce (orange peel, cilantro, rocoto chilies, onion, garlic all sauteed together and then simmered in a fresh orange juice and thickened with a little cornstarch. Simple but delicious. Served over creamy quinua (cooked in milk and finished with fontina cheese), with roasted cherry tomatoes. For the vegetarian folk, eggplant treated the same way.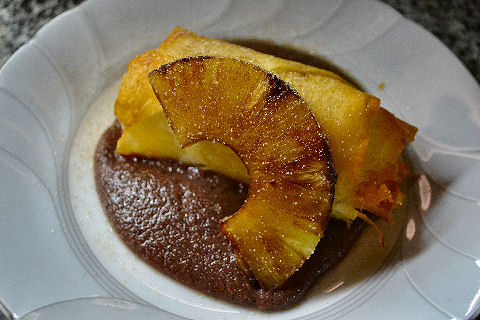 There's a classic combo dessert in Peruvian cuisine – mazzamorra morada and arroz con leche – basically a purple corn gelatin and rice pudding. Generally layered in a glass, it's a favorite in casual, homestyle restaurants. I made a puree from the liquid, corn kernels, and fruit, strained it, and then made it into a curd, with eggs, sugar and butter. The rice pudding, a classic cinnamon vanilla sort, wrapped in a thin sweet vanilla crepe and then in phyllo dough (the crepe protects the dough from getting soggy – and baked. Pineapple covered in brown sugar and broiled. The whole thing served hot, with a dusting of cinnamon and sugar.