No, I'm not combining those two flavors in one dish, at least not yet…. Simply, the new dishes on the menu last week.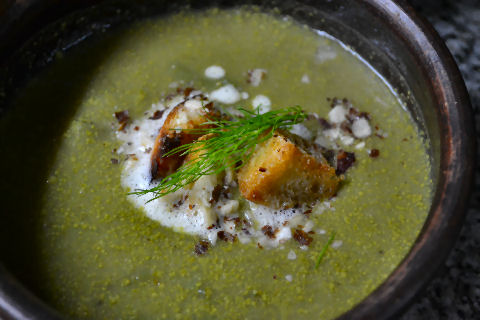 We started off with our "vegetables a la tahitienne", and moved swiftly into this new soup – a base of lots of fennel, with onion, garlic, allspice, salt and pepper, all simmered together in a vegetable stock. Then pureed, strained, and filled with blanched and shocked fava beans, flat and round green beans. Topped with croutons, a crumbled of toasted hazelnuts, and an anisette foam.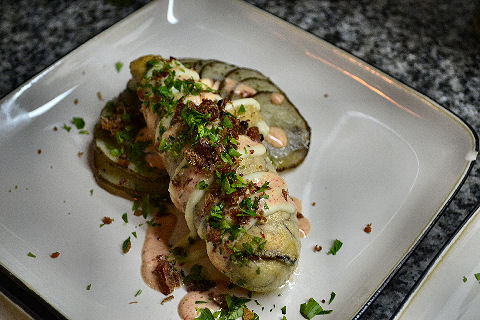 A minor reworking of our hueveras fritas, returning it, more or less, to the way I'd first created the dish for one of our online challenges. A potato galette below, mimicking a full-on potatoes Anna, which would work more in a main course presentation. Instead of a heavy crust for the roe, I simply coated them with arborio rice powder and then browned them in a saute pan – much lighter and cleaner. Kept the two sauces – savory lemon curd and a three-paprika yogurt – and a pancetta, green & pink peppercorn crumble and parsley.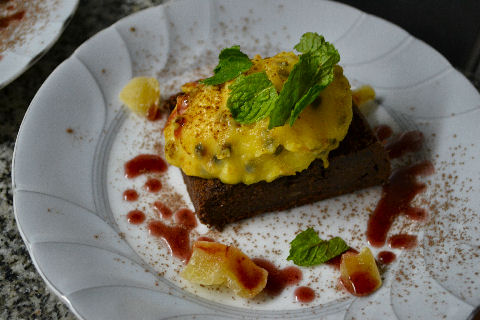 Main course was our now quite popular spice rubbed and poached sea bass over a spicy artichoke puree, with roasted cherry tomatoes and sauteed brussels sprouts. Then, on to the dessert, which I think was probably the hit of the week, a flourless dark chocolate and ginger cake topped with passionfruit curd, candied ginger, mint, dusting of cocoa, and a reduced raspberry coulis with cardamom.