Hamburgers, hot dogs, sushi, and homestyle Peruvian cooking. A trio of mini-reviews and one with a bit more to it. Come along for the ride!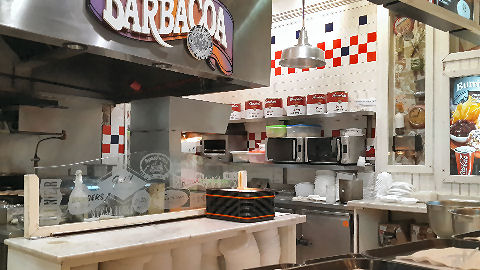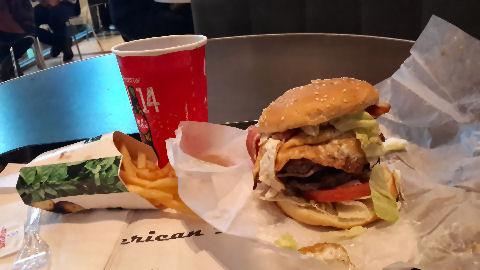 I was at the Abasto and just felt like grabbing something quick to eat, without resorting to spending an hour or more at one of the neighborhood's surrounding restaurants. So I thought I'd pop up to the food court and have a go at another shawarma from Arabian's King, only I couldn't find it. I don't know if it's gone, if I just missed it looking around, or what – according to their website it's still open. But, I settled on trying a burger for my ever expanding great hamburguesa roundup, at Barbacoa – purporting to be a classic American grill. They offer up single, double, and triple burgers, but not "have it your way" – they all come with lettuce, tomato, onion, cheese, bacon, ham, and supposedly barbecue sauce, though I found no evidence of it. It's an okay fast food burger at best, kind of tasteless, though to their credit it was at least cooked to medium rare as requested. Still, I wouldn't make an effort to go there again. The fries, an imitation of McD's style, were soggy, cold, and unsalted. Yawn.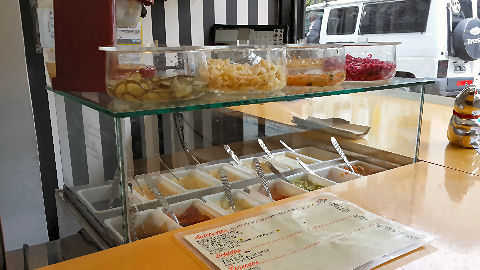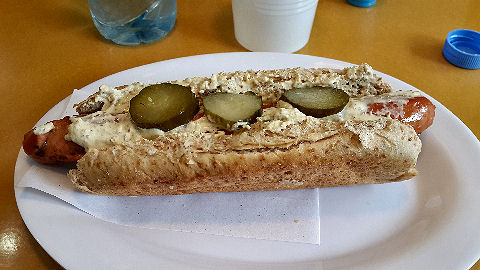 Many a time walking up Suipacha I've passed by El Autentico Club de la Salchicha Aleman at #184 and wondered if it was worth stopping in. I do like a good German sausage. And finally, I popped in for a gander. They offer up four different types of German sausages, available on three different types of buns, with an array of sauces, condiments and pickles that's really pretty impressive. I asked for whatever was the spiciest of the sausages and was steered to the debreczin, presumably named after the Hungarian city of the same name (one might note that only one of the four sausages on offer is actually a German one, at least by name, the others are Argentine, Austrian and Hungarian – though, of course, at least two of those have been parts of German expansion at one or another point in history). It wasn't particularly spicy, more in the vein of mildly hot paprika, but it was probably the best hot dog I've had in BA to date, a great "snap" to it, popping like biting into bubble wrap, and delicious topped with pickles and spicy mustard, all served up on a whole wheat bun. I'll be back to try more variations….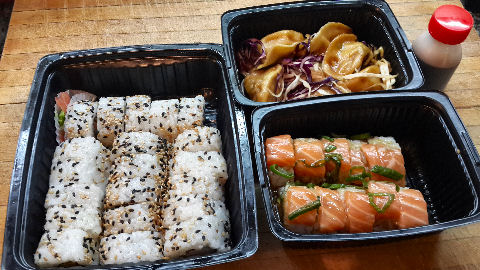 In the everlasting quest to find decent sushi in this city, I keep trying new delivery spots. Is that simply insanity, in the classic definition of doing the same thing over and over again hoping for different results? This time around, Kanu Sushi out of Palermo. Meh. More of the same. And worse, it took 2½ hours to arrive from the time I ordered it – ice cold gyozas that I had to heat up were gummy and hard, the three different sushi rolls were bordering on too sweet to eat – way too much sweet rice wine in the rice. Another one off the list.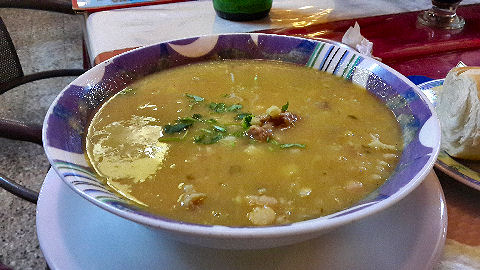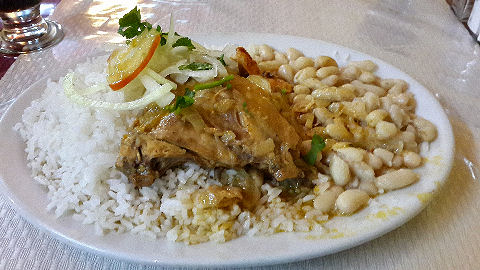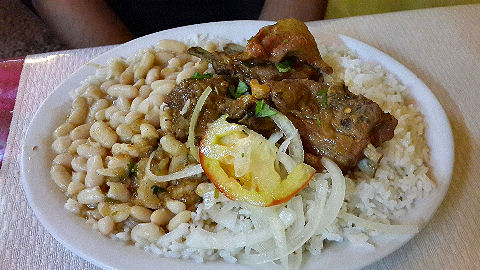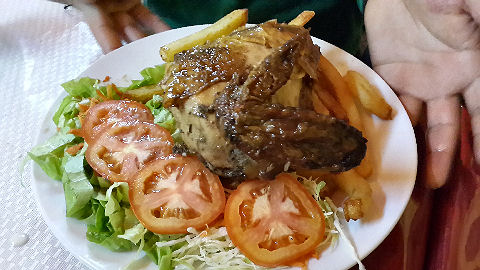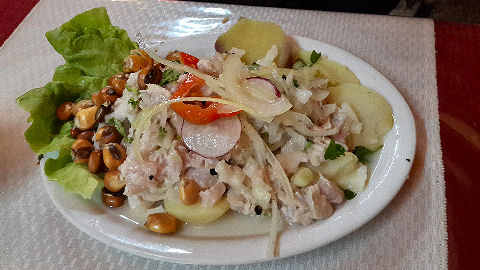 On to the main event – La Piurana, Agüero 779 near to the Abasto – we had some friends over and decided to go out for Peruvian last Monday. Our favorite, Chimu, isn't open on Mondays, so we popped over to Restorando to see if anyone was offering up a Monday night special, and found a 25% deal at this place that none of us had tried. So, why not? We don't mind saving a few pesos in these days of ever-rising prices. At night, the block is kind of deserted and dark, other than this place, and when we wandered in we were the only folk there – in a place that seats probably about 70 people. Only one other person came in the whole time we were there. But you know what, it was pretty darned good homestyle Peruvian cooking – certainly topping some of the other neighborhood spots, especially the chifas along Av. Corrientes. Is it as good as Mamaní? No, but even before the discount it's about 2/3 the price. Is it as good as Chimu? No, but it's open on Mondays.
From the top – shambar, a classic Trujillano soup that's normally only served on Mondays – delicious rendition of it; seco de pollo, tasty, and it's rare to see secos made with chicken, usually the choices are lamb, goat or beef, and that brings us to the just as tasty seco de cordero – both, by the way, with great white beans and rice; the only disappointment, the pollo a la brasa – though I wouldn't normally order that at any place that doesn't specialize in it – it's too hard to get spit-roasted chicken just right if it's not your mainstay menu item – in this case it was dried out and the fries were undercooked and not crispy; and finally, of course, one person's always got to order the pricier dish, the ceviche, which was nice and fresh, well seasoned, though lacking a bit in the picante elements – but the quite good hot sauce on the table perked it, and all the other dishes, right up. We'll be back, especially on nights with a discount! Five of us had dinner and drinks for, with discount and tip, 400 pesos even, whereas the same dishes, drinks and tip would have run us about 750-800 pesos two blocks away at Mamaní.