I've decided to entitle my little mini-reviews, announcements, etc., as Bite Marks – I just like the sound of it, and it more or less indicates what it is – not full fledged reviews or writeups, just scribblings, marks, on the blog feed. I'm tempted to go back and re-title past posts of the same sort in the series – at the minimum, once there are a few of these, I'll create a category that will be easy to single out.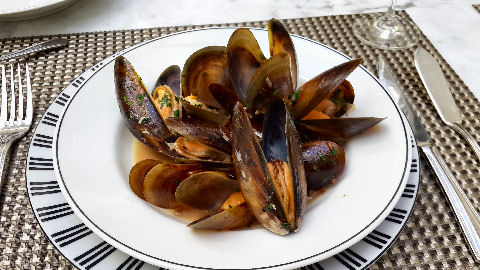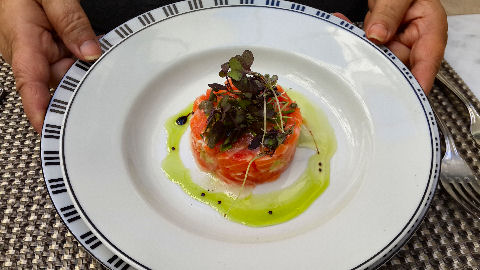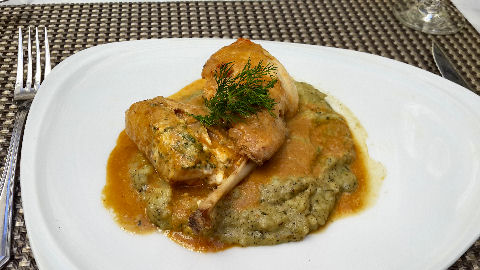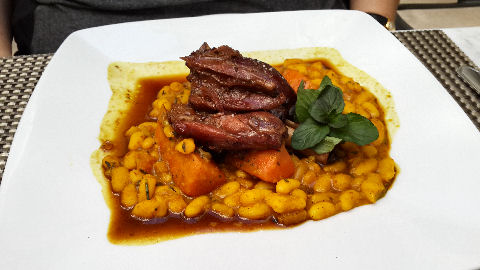 On and off I've heard about Club Francés in the hotel of the same name, at Rodriguéz Peña here in Recoleta. The general tenor of what I've heard was always – "classic French cooking, nothing creative, done well, but nothing to get excited over". Still, now and again I like that sort of old school French food, and when a friend suggested we try somewhere here in the 'hood we'd never been, her treat, I thought, "why not?" And, so off we went. The ambiance fits what one might expect from an old style hotel – club – restaurant of the genre, lots of period paintings, ornate, traditional furniture, waiters in white shirt, black pants, and black apron. A touch stuffy, but not overly so, and there's a beautiful garden greenhouse in the back with plenty of light should you prefer a slightly less staid feeling.
The menu, at least at lunch, fit exactly what I'd expected. The clientele, not far off – I think we may have been the only two diners in the place whose age bracket wasn't between five and ten minutes short of death. The only things missing were oxygen tanks. The food, prettily presented without being showy – very classic. But, we found the seasoning of all the dishes to be way out of balance, and the cooking on the three hot dishes all way overdone. Mussels were cooked to the point of being dry, and what little broth was in the bowl was so salty it could have been a brine. The salmon tartare, on the flip-side, had no seasoning whatsoever, tasting of nothing more than chopped up salmon. The rabbit – the confited leg joint dried out, while the "quickly cooked" loin was rubbery, the accompanying "potato puree" was a watery, coarse mash with too much dill, as too, had the vaguely mustardy sauce – the dish should have been listed as a plate of the herb accompanied by garnishes of rabbit and potato. The slow braised lamb "forearm" likewise cooked until dessicated, while the accompanying white beans were still vaguely crunchy and flavored with so much turmeric that the dish was just bitter. Classic cooking? Yes. Done well? Not so much.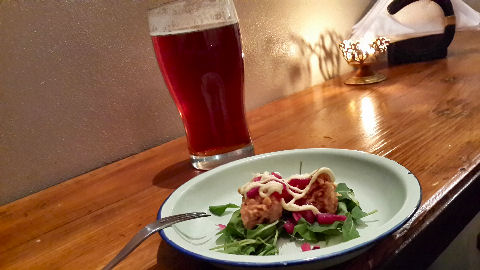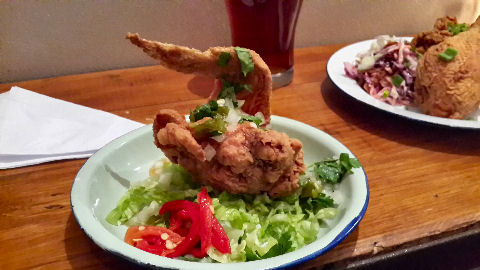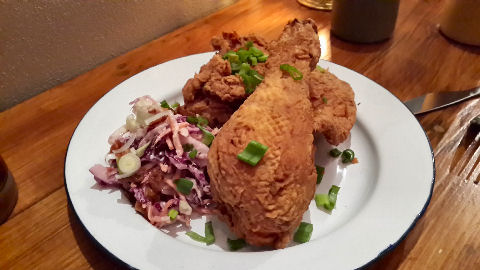 Liza Puglia and I are friends. We go out to eat together, we discuss business ideas together, we've become a part of each other's lives. So it's hard for me to be objective, and to be fair, I'm just going to do this as more of a late coming announcement, since other local food folk have spread the gospel far and wide already. We've seen her start off with Cajun Creole popups at the long gone The Office, then later Mexican style popups at Tout de Monde, and then her delicious fusion of those flavors at the popular NOLA closed door restaurant. Now comes NOLA Gastro Pub, Gorriti 4389 in Palermo, where she and partner (life and business) Ticol have basically come up with a long overdue in Buenos Aires dedicated fried chicken and beer bar. Sampled, above, a little taste of their fried sweetbreads (my fave of the "tasting"), a fried wing with sweet pepper jelly, and their classic combo, a leg and thigh accompanied by coleslaw (I must admit, being a Midwestern boy, I like sweet, creamy coleslaw instead of the vinegary style of the south), a choice of mild or hot sauce [edit: they've added in various other sauces since that first visit, from mild to fairly hot and some offbeat ones], and a pint of one of their featured Broeder's beers. Tasty as it was, that was a whole lot of fried food for one sitting.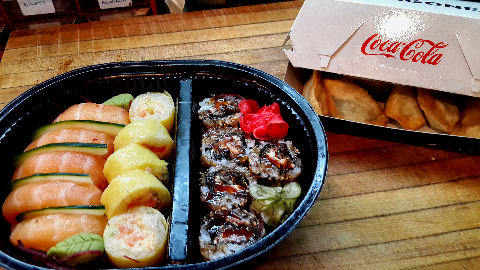 Spotted a new (at least for me) sushi delivery spot on BA Delivery the other day, Three Dragons, and decided to give it a try. I have to say, not bad at all. Generally I prefer my gyoza more steamed or potsticker style rather than deep-fried, but these were so flavorful I'd happily eat them again. They do need some kind of dipping sauce though – I mixed my own up from some of the soy sauce supplied for the sushi with a few dashes of tabasco. The sushi, the fish fresh, the flavors good – and I like that you can order "half rolls" of five pieces in addition to the full sized ten piece ones, it allows for a bit more variety. Salmon nigiri, delicious; salmon skin roll, could have used a little more crispiness on the skin, but tasty; and their interesting prawn combo roll wrapped up in a delicate egg tamago wrapper was spot-on. And, the pricing wasn't bad either as things go these days.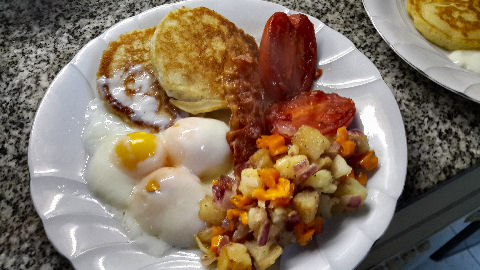 Inspired by my experimenting around with my new Nomiku sous vide circulator, a friend and colleague asked me if I'd show off how it worked a bit and come up with an Onsen egg brunch. So I tossed a half a dozen eggs into the pot mid-morning and left them there until he popped over. Then we whipped up some English muffins (actually crumpets, but I like to brown them on both sides so they come out more like the former – the biggest difference, if you ever wondered, is that English muffins are yeast based and crumpets are baking soda based), griddled tomatoes and bacon, and some home fries – potatoes, onions, mild chilies. Way too much food for the morning as far as I'm concerned, but we finished it off anyway.