It was lonely on the 'net that night. Back from vacation and mi compadre Kevin Hopp and I had planned out another evening video "competition". Our two previous stabs at this had gone well – we both had fun cooking, we had a few folk join us to chat, and this time there was even the hinted possibility that someone else was going to be taking a turn at the stove as well. (For those who have no idea what I'm talking about, see Episodes 1 and 2 writeups for details.) Unbeknownst to me, Kevin had a client work emergency and wasn't able to even get a message off to me until after the start time had passed. And no one else showed up for the video conferencing. As I said, it was lonely on the 'net that night.
But I decided to go ahead. After all, perhaps some of our chat folk would show up a little while into it, one never knows. I didn't spend the time cooking chatting out loud to no one and nothing, the chatroom has a little notification tone when someone enters, so I just got to work. This time around, Kevin picked potatoes and paprika, while I picked lemons and fish roe (eggs). We decided to leave it loose – since all four of those ingredients come in a variety of types, and see where we went. I know Kevin got out to the store before all hell broke loose at work, so I'm hoping he still gets a chance to cook something and let me know what he came up with. So far he hasn't had a moment to chat.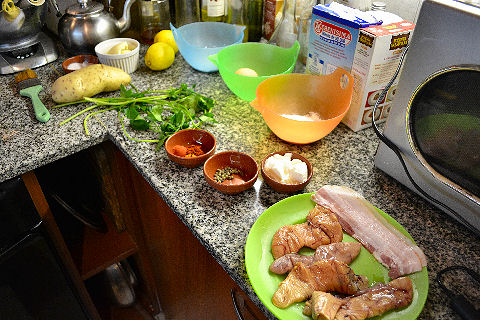 So, here's my TMCIC3 mise en place – it's all relatively simple – I found some frozen fish roe in barrio chino, some bacon, a potato, lemons, a trio of paprikas (sweet, hot, smoked), green peppercorns, an egg, some thick yogurt, butter, some arborio rice ground to a sort of sandy consistency, and some parsley.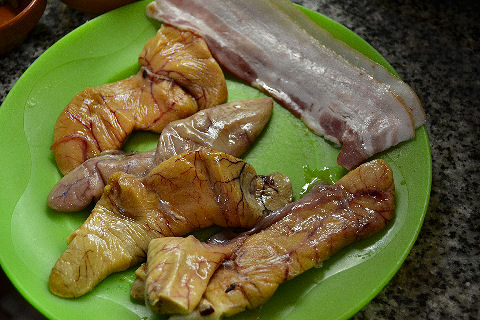 I can't tell you exactly what sort of fish roe it was, because it seems as if what they do is just stick a bunch of fish roe sacs on styrofoam trays in various amounts, wrap them up, weigh them, price them, and stick them in the freezer – there were at least three different kinds in my package – I picked out four smaller ones, three of which looked to be from the same sort of fish.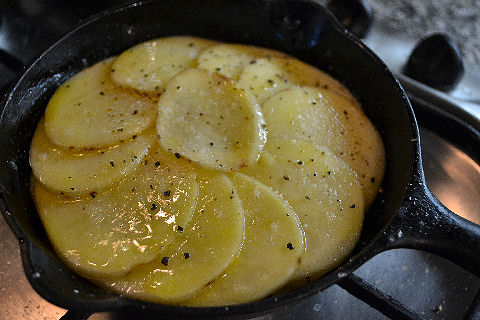 I could have sworn somewhere in the past on this blog I'd done a step by step for making pommes anna, one of my favorite potato dishes, but it's not showing up when I search. It's a relatively simple dish – you take a good baking dish or skillet, brush it with melted butter, lay out an overlapping layer of thin potato slices, brush them with more butter, some salt and pepper (traditionally nutmeg too, but I didn't want that flavor in the dish this cook), and then repeat that twice more, typically. Some people continue on with more layers, but three very nicely used up my single potato. You then cook it over low to medium heat for a few minutes to start giving the bottom a touch of a crust. Then into the oven for about 15-20 minutes. The tricky part, pull it out, flip it out onto a plate, butter the baking dish again if needed, and slide the "cake" back into the pan, though now it's upside down from where you started. Cook until browned on top – about another 20-25 minutes.
On to the finished dish and I'll talk about the other components: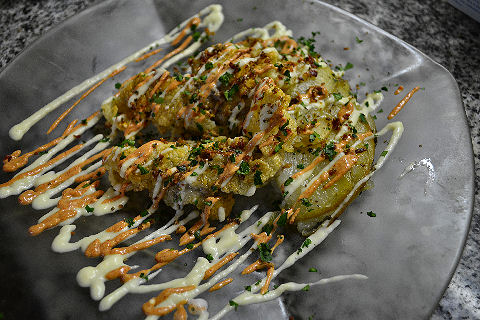 So, my finished dish – pretty as a picture, no? – hueveras fritas with pommes anna – just to mix a couple of cultures.
The fish roe, simple. Cleaned them up, removing some of the more obvious veins and bits of stuff clinging to them. Then rolled them in the ground arborio rice, dipped them in beaten egg, more of the rice, and repeated a second time. Fried in a mix of olive oil and butter until golden brown. Served leaning up against a half of the potato cake. With Henry still in Peru, the second serving of this dish went to our portero who lives in the apartment next door. He loves that we cook for him regularly, and of course, we get favors in the building in turn.
The two sauces – one really simple – mixed the yogurt with the three paprikas, some salt, and a squirt of lemon juice. The second, a lemon "curd" – taken from chef Colin Fassnidge's new book Four Kitchens, which has some amazing sounding recipes, and worth the price just for this one – simmer two lemons (whole, uncut) in a small pot of water for about 30 minutes until soft, then cut them in half, remove the seeds, and blend the hot lemons, pulp, pith and peel, with 75 grams of butter, 25 grams of sugar, and salt to taste – I found that about a teaspoon and half worked out right.
And, a little crumble of crispy bacon and crushed green peppercorns, plus some finely chopped parsley, complete the dish. I loved the dish. So did our portero. In some sort of smaller version I see this one coming back as a Casa S dish down the line.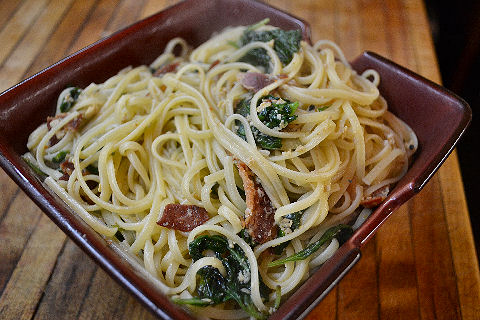 There were a couple of roe sacs leftover, so last night, a quick spaghetti tossed with olive oil, crumbled bacon, basil, the roe (removed from the sacs so it was broken up into individual fish eggs), and some togaroshi, the Japanese mixed chili spice. Hmmm – got me thinking, another way to have gone with the competition – potato gnocchi tossed with olive oil, crumbled bacon, basil, fish eggs, and paprikas, and then just a bit of the same lemon curd, or maybe just grated lemon zest.