After my last post and a truly great meal at Yerba Buena, I was looking forward to sharing all our great food adventures in the city, as I generally do on trips to the big apple. Now, I knew that the choice of places might be a little more downscale for the most part this time around – this is a long trip, four weeks in all, and although much of the trip has been visiting family and friends and they've often picked up the tabs at meals, and provided places to stay (thank you all!), it's still adding up with transportation costs, hotel costs, the places we are paying our own tab, and, because there are two of us this time. There's also a whole hotel story, which I may or may not get into in my final NYC post in a couple of days.
I've been surprised, however, to find that for the most part, I haven't been overly impressed by most of the places we've eaten at. Now, of course, it could be just dumb luck. Usually I spend the months before I come figuring out the places I really, really want to eat at, and my focus during much of the trip is simply on food and drink, whereas this time the focus has been all on tourism, showing Henry the city that I lived in for my entire adult life before moving to BA. And, he's far less adventurous than I am when it comes to food, and, venturing, so I've had to rein in many of my impulses. We've done things like the Circle Line tour, a hop-on/hop-off bus tour, walked a bit in Central Park, promenaded down Broadway, and there were a zillion pictures taken with his phone, and of him with my camera. There's also been a lot of shopping – not necessarily buying, though there was too much of that, but he loves going into clothing stores and just checking things out – by my estimate we've hit close to a hundred clothing stores and maybe twenty shoe stores over a six day period, plus a few electronics shops of one sort or another. Eating has been definitely a far distant second place to everything else.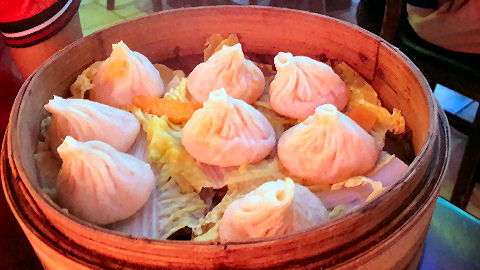 Delicious soup dumplings, if slightly too thick at the neck, at
Shanghai Cafe
on Mott St. Forgettable kung pao chicken and spicy tangerine chicken. We should have walked the couple of blocks to my old favorite,
Shanghai Cuisine
, but two different people told me it was long gone. It's not – later on in the week we passed right by it, it was open and going strong.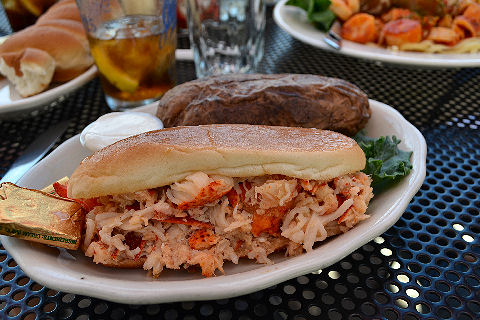 We took a day and headed up to Connecticut to visit my aunt. She cooked a delicious chicken curry for us for dinner and we relaxed and visited. Next day, a walk along the Savin Rock Beach and lunch at
Jimmie's of Savin Rock
– a lobster salad for her, a mixed seafood diavolo for Henry (not enough spice for him, but hot sauce available), and a lobster roll for me. First time I've ever had a hot lobster roll – I'm so used to chilled ones, either nekkid or with mayo, that I nearly dropped it when I picked it up. The style here is pure lobster meat drowned in drawn butter with a hint of salt, on a toasted bun. Not bad, but I did add hot sauce as well.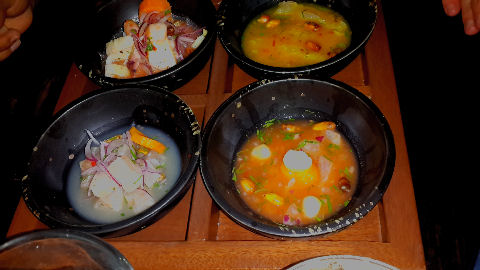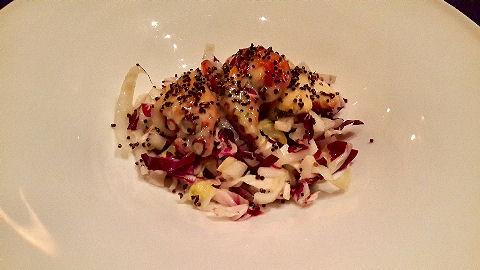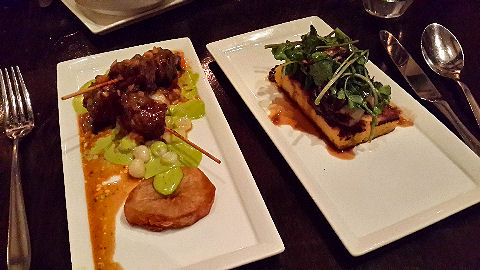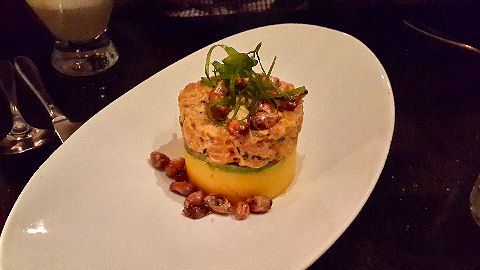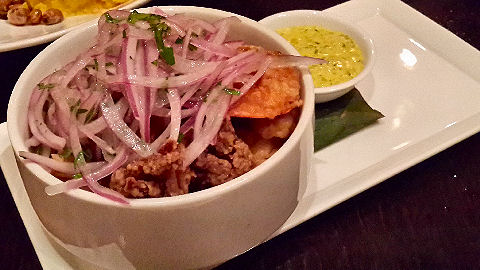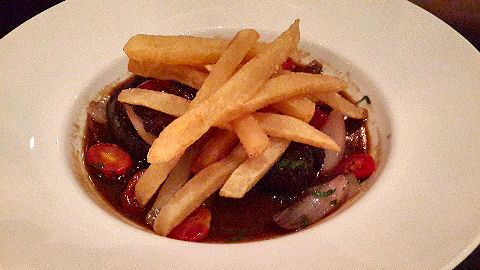 We'd had such a good meal, food-wise, at Richard Sandoval's
Masa 14
in Washington that when we saw he had a recently opened Peruvian spot in Manhattan we both said, let's do it. Friend and eye doctor Chris, whom I dined with a couple of years ago at
North End Grill
, joined us for a night out at
Raymi
. Quiet, soft ambiance, attentive, friendly waitress (who also turned out to be from Buenos Aires, so we had a bit of a chat), and an interesting looking menu of updated Peruvian favorites. We weren't blown away. Maybe it was how good his food is at Masa 14, maybe it was how amazing the food had been at Yerba Buena two nights earlier, but this was just good. Nothing wrong with anything other than a bit of sloppy plating, but nothing that stood out.
A sampler of ceviches, all well made, but all more like soups than anything else – highlighted by being served in bowls. A charred octopus salad that I was really looking forward to as it combined elements that I like to play with – but turned out to be little more than a salad of chopped endive and radicchio, octopus that wasn't noticeably charred, though cooked well, some mayo with just a hint of chili in it, and a scattering of crunchy fried quinua on top. An okay causa, we were so hoping to continue our streak of fresh ideas for causas – this one pretty classic, just using salmon instead of tuna for the salad on top, and pretty mild for what we're used to. The anticuchos were good, though using hanger steak for them wasn't the best choice, they were chewy, and the one confited potato, the overly mild rocoto sauce, and a few stray bits of corn didn't do much for the dish – neither did all the juices from the meat, which clearly hadn't been left to rest before being thrown on the plate. By its side, a pastel de choclo – a corn pie that was sweet enough to be served for dessert – still, I liked the idea with the mushrooms, mushroom jus, and watercress – something to be played with. The jalea turned out to be just some fried yuca, fish, shrimp and calamari in a bowl with tartare sauce on the side and a little bit of red onion on top, I don't know where the supposed ají amarillo was. And, the lomo saltado was cooked well but completely lacking in spice, and served up with soggy fries and gluey rice on the side. All in all a disappointment.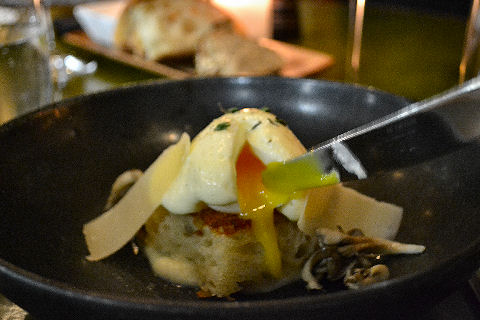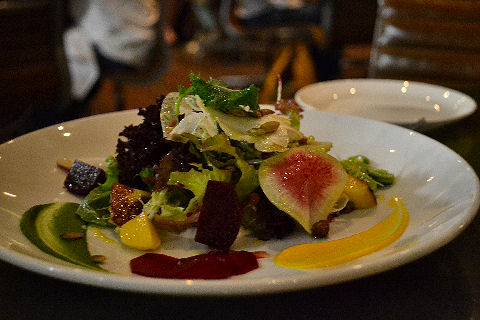 I'm not sure I can be fair to
A Voce Madison
this time around. We were both tired, not overly hungry, and really just reaching that point in the vacation where not only were we starting to get on each other's nerves, but were really tired of eating out for every meal (three weeks now and only three meals that weren't at restaurants). I would have been happy with a takeout green salad and nothing else. But we decided to go for a real dinner. The place has a new chef since I was last there, four years ago. A delicious poached egg with mushroom and a parmesan cream; a great market salad with some ricotta and figs; and a trio of pastas that truthfully, by the time we got to them, we just muddled through and I didn't even make note of what they were. We headed back to the hotel and just collapsed for the night. 
[Missy Robbins, the chef who "made" both A Voce restaurants, left in 2015, I haven't been back to either to check them out under the new chef/menu/etc.]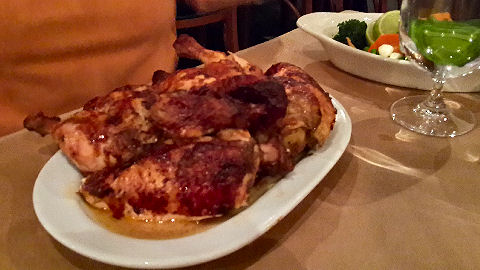 I'll end with the next day's lunch – more or less refreshed, we met up with my brother from Chicago who was in town with his wife for some business and a bit of theater and eating – they've certainly eaten better than we have overall. We grabbed lunch at one of the
Pio Pio
branches, figuring some homestyle Peruvian food would perk Henry up a bit, and give us both some spice as well. We all split a well made ceviche, Henry had a decent
ají de gallina
, I had an okay
pescado a lo macho
, and my brother ordered the
pollo a la brasa
, not realizing that it was an entire chicken, spatch-cocked and laid out on a plate with a side of vegetables. One of those things a waiter ought to tell people – we noted a party of twelve near to us, when their food came out, eight of them had ordered the chicken, there was just way too much food on the table and you could tell they weren't happy about it. It was all okay, just nothing special.