I'm going to jump on to NYC. It's not that we didn't eat anything else in WDC, just nothing to write home about, so to speak. We had an interesting lunch at Mitsitam, the, well, cafeteria in the National Museum of the American Indian, with tasty combinations of native ingredients from around the country prepared nothing like they were a couple of hundred years ago; a good dinner at Las Canteras, which some say is DC's best homestyle Peruvian spot; a delightful lunch back at Ben's Next Door; a move on to Baltimore for a short visit with my friend Frank and a return to the seaside delights at Riptide by the Bay; and a delicious and much longed for restaurant break in the form of a backyard cookout at my sister's home in Lancaster, PA. Arriving in NYC later in the day on Monday we dropped our bags at our hotel on the LES, did a little shopping in the area (we have done a lot of shopping on this trip, a lot of shopping), and met up with my friend Tom for a decent if not as previously exciting dinner at Le Philosophe, being Bastille Day and all that. Next day, raining, more shopping, lunch in Chinatown at Shanghai Cuisine with Henry's first try of soup dumplings (excellent), and a couple of plates of favorites. And then, dinner with my friend John at Yerba Buena, 23 Avenue A, which I'd read about and thought it sounded intriguing.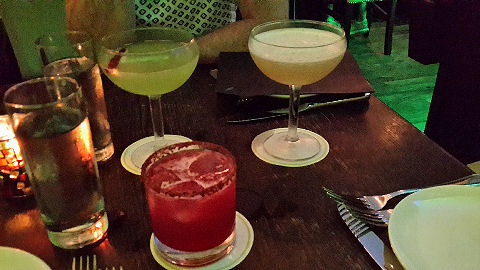 Cute little place, around 30 seats, friendly staff, we switched back into Spanish for pretty much the whole evening. The owner dropped by to chat. We checked out the cocktail list, and it was immediately interesting. Ordered a round – back left you've got a Poquito Picante – gin, jalapeño, cucumber, cilantro, orange liqueur, lemon juice; to the right a Boludo – yerba mate infused pisco, grapefruit and lime syrups, lemon juice, and, closest to me, the Ilegal – hibiscus infused mezcal, lime juice, and sugar syrup, rimmed with a spicy, smoky salt. All fantastic cocktails. Later on, another round. Started checking out the "pan Latino" menu – focused on flavors from Mexico and Central America down to Peru, modern style.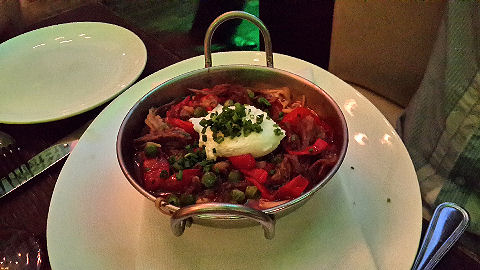 Let's get into the eats. Upfront, let's just say, amazingly good. Probably the best meal this trip to this point, though the modern Mexican at
Mayan Cafe
in Louisville runs an awfully close second, and
Del Campo
in DC comes a just as close third. Or maybe they're all tied. Here, Henry started with a stir-fry of noodles, braised oxtail, scallions, piquillo chilies, poached egg and cherry tomatoes – wow. Our kind of dish!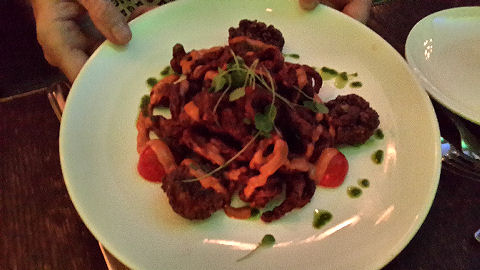 Sorry about the photo, but then, it's actually not all that different from the way John's fried calamari looked – a little odd. Blue cornmeal crusted, with sweet plantains and a tamarind sauce – good, though a touch on the sweet side for all of us. The blue cornmeal crust really does make it look weird – in dim lighting it almost looks like a plate of burnt fried calamari. It's not.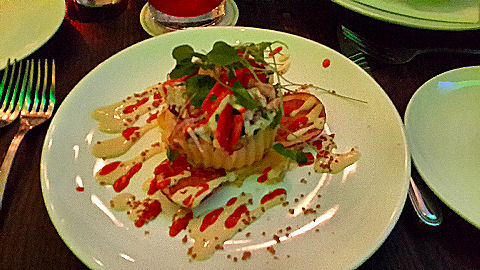 I'm declaring this the dish of the day, just because. A lobster causa with butter poached lobster salad, properly made causa base, huancaina and caviar sauces, shiso, crispy quinua. Interesting that probably our two favorite dishes overall so far have both been takes on causas. We certainly make a lot of them, and have some favorite versions, but I see more experimenting coming up in the future. And for those just joining us, a reminder of what
a classic homestyle causa
is.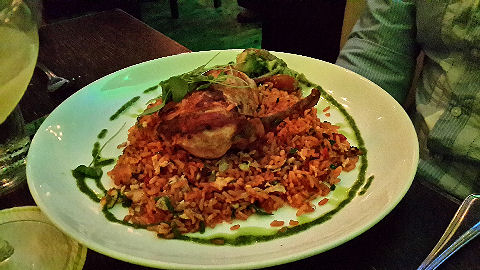 The main course menu is far shorter than the wide range of appetizers, but the dishes are no less delicious. Henry dove into a plate of
arroz con pollo
– perfectly cooked chicken breast over spicy fried rice with piquillo chilies (everyone is using piquillos, everywhere, it seems, in the US right now, it's the "it" ingredient) and scallions.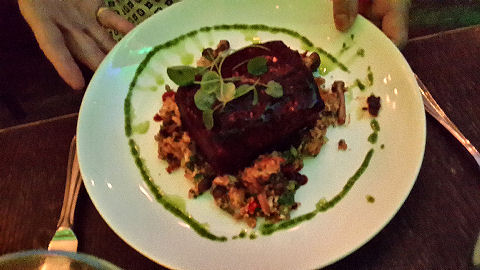 Maybe it's just the camera angle when John holds his plates up…. perfectly braised shortribs over stir-fried quinua, honshmeji mushrooms, egg, scallion, and a "pisco anticucho" sauce. Once again, the slightly short stick, with the glaze being just a bit too sweet upfront, but everything mixed together worked really well.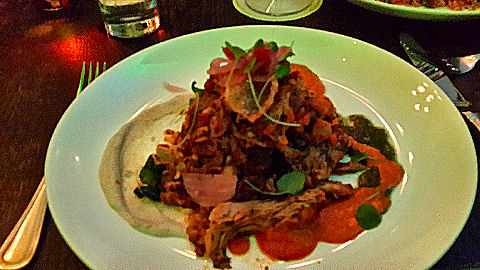 My lechon, braised suckling pig, with a sunchoke and black truffle puree, kale, and chilies. Yum all around.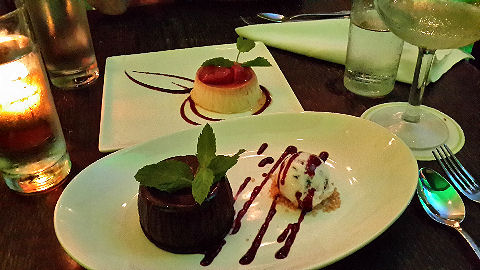 None of us are big dessert people, but as at the other two places we really liked, we couldn't resist sampling something after how good the food had been. Good, but once again not as good as the savory courses – a lucuma flan that had only the barest hint of lucuma flavor, and a warm chocolate cake that was supposed to be "Mexican chocolate", which would normally point towards a blend with cinnamon and almonds, which we didn't note. Both well made but just not as exciting as the rest of the food.
Overall – great space and ambiance, attentive, friendly service, excellent food, pricing was eminently reasonable – cocktails $12; appetizers ranging from $9-17; main courses all in the mid $20s. Definitely recommended.