I'm sure there's a reason behind the name of Richard Sandoval's Masa 14, 1825 14th Street NW, but I have no idea what it is. I remember him from the start of his soaring career trajectory when he opened to contemporary French restaurants in NYC, Savann and Savann Est, and recall liking whichever of them I dined at once. Over the last 17 years, while those two spots have closed, he's created a bit of an empire of Latin inspired restaurants in various parts of the world. My cousin recommended we check out this place, and a longtime friend of mine drove down from Delaware to join us for dinner.
The style is modern tapas, the place is edgy and hard surfaced with so much noise it's hard to have a conversation unless, like the majority of the crowd, in their late 20s and early 30s, you like yelling across the table – which just contributes to the din. Lighting was bright when we walked in, but somewhere early in the dinner someone turned it down to a level that could only be called dim. Service is scattered and a bit abrupt – the servers are quite clear on the style of eating and how things are going to proceed – food will come out when it's ready, not in any order you request (so if you want a certain progression, just throw it back at them and order one thing at a time, things come out pretty quickly anyway), and that the dishes Will Be Shared. Yeah? Tell you what, we'll share the things we want to and not share the things we don't.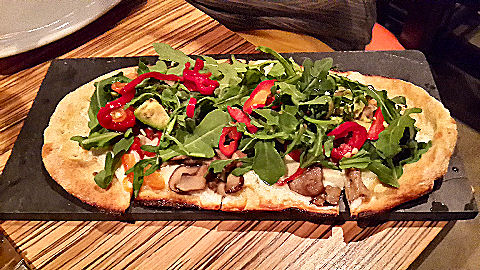 Mushroom flatbread with cheese, piquillo and fresno chilies, avocado – so good we ordered a second one. We didn't share the first one.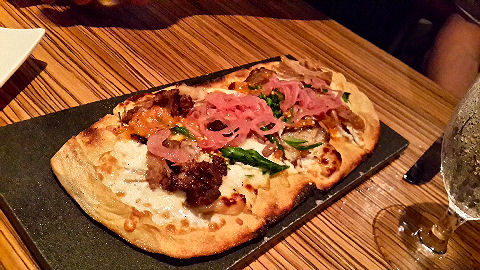 An equally delicious pork carnitas flatbread with smoked cheese, pickled onion and broccolini.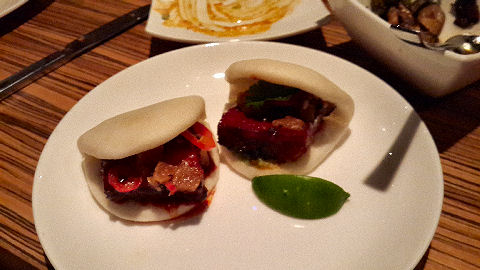 Pork belly steamed buns with pineapple salsa – among those dishes not shared, so didn't try it, but the two who ate them loved them.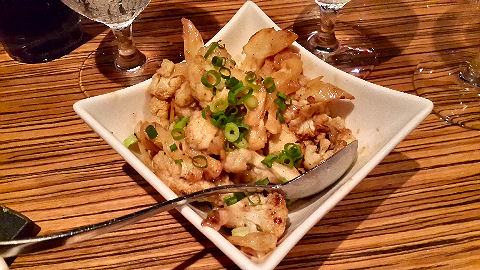 Calamari fried with szechuan peppercorns, ginger and a sweet and spicy chili sauce – tasty, I though the crust was a touch soggy.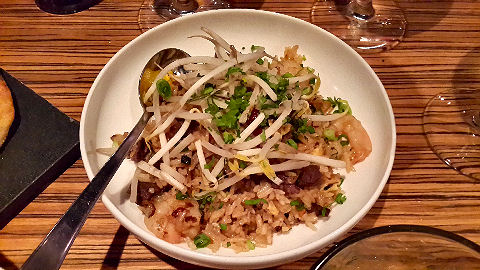 A shrimp and beef fried rice with kimchi and vegetables. Delicious!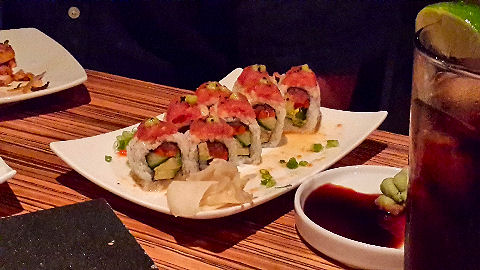 Mildly spicy tuna and avocado sushi roll. I thought it was a little bland – it was the only dish I wouldn't order again.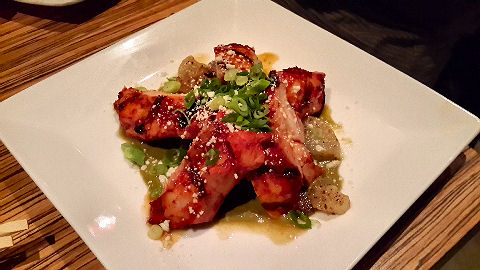 A chicken thigh curry with green apple and braised potatoes. Although a very good dish, I can't say that we got any sense of a curry about it.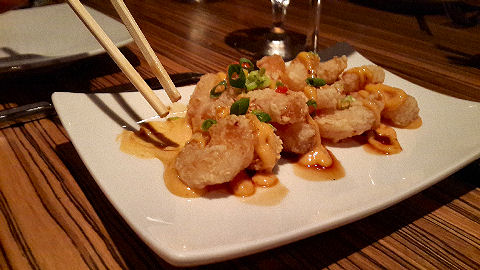 Crunchy breaded shrimp with a chipotle aioli. Excellent!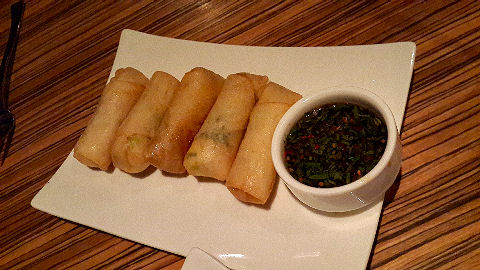 Shrimp and crab lumpia, basically filipino spring rolls. Good, but they were filled with cream cheese which didn't wow me.
We also had some charred brussels sprouts in a kimchi ponzu sauce and seared cauliflower with garlic, ginger and hot chilies – both winners. Henry and I would have been happy with a couple of bowls of those and the mushroom pizzas!
All in all, recommended. Not fond of the room, ambiance, or the slightly snippy service, but the food is great. Enough so that we planned to hit up the chef's new Peruvian spot in Manhattan later on in the trip.
[Edit: My cousin rightly points out that there was a large bachelorette party just a table over from us in the restaurant that probably contributed to the noise level. While true, the space is also one of those designed for increasing the noise "vibe" with all hard surfaces, angles, etc. that reflect the noise around the room, a common approach in spots that are intended to have that trendy, busy ambiance. It's even possible that the large group was partially behind our waitress' general demeanor. But, my intent isn't to give a full review of a place after multiple visits as a professional reviewer would, just to note my own experience as I dine out, for whatever that's worth.]