I'm going to switch over to mostly food stuff probably for the rest of the trip in the States – over the years I've posted enough photos from New York, and we didn't really see anything in Washington that you haven't seen a zillion photos of before.
Our first night in WDC we met up with my nephew and headed out to a place called Del Campo, 777 I Street. He'd suggested a place called Oyamel, but when I looked it up and saw it was the newest José Andres spot here, after our mediocre experience in Miami at The Bazaar I vetoed that one. And while we will never know how it would have gone, we do know how things went at Del Campo – great!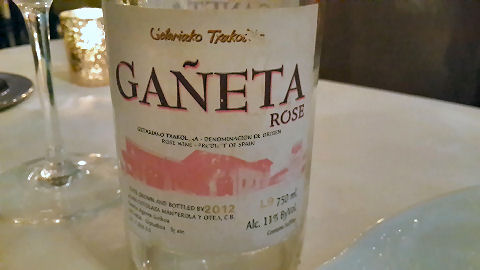 Wasn't sure I was going to like it when we walked in – very loud, trendy feeling kind of place with a packed bar area and most of the seats – 174 of them – already filled. The place is billed as modern Argentine and Peruvian cooking, I didn't recognize the chef's name – but then, why should I so far from home? Well, maybe because I spend so much time reading about this sort of food and all that. Maitre d' found us a table almost immediately, much to my surprise, no waiting or anything. Waiter brought menus, sommelier brought a wine list – and a quite intriguing one – so I called him over to talk. We did, got the intros out of the way, and I pointed to a rose that I thought was particularly unusual – he lit up like a little light bulb – it was one of those "wine geek wines", the sort that let's customers know the sommelier knows his stuff and vice versa. And in short order, after a couple of really good cocktails he recommended (Chica Rosada – basically a pisco sour with chicha morada syrup- for Henry and Limonada Sucia – a smoky concoction of grilled lemon juice, smoked simple syrup, vodka and lavender bitters – for me), we had a bottle of this vibrant Txacoli rose from the north of Spain on our table.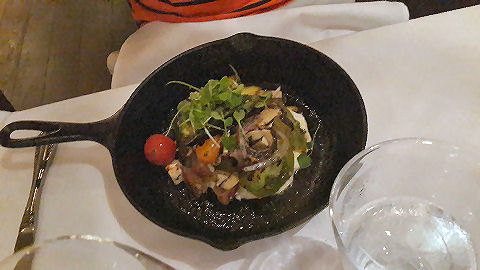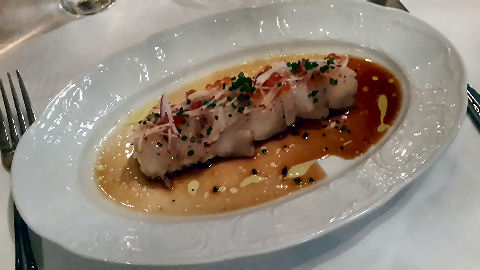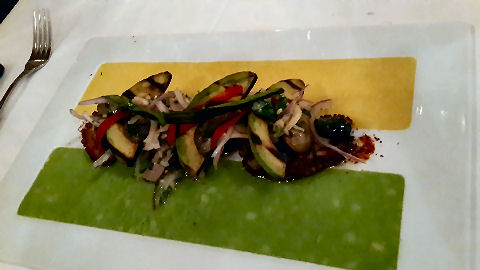 And, now having some street cred, we got a visit from the chef, Victor Albisu, who turns out to be BFFs with Antonio Soriano of Astor back in BA. Text messages ensued. Grilled heirloom tomato and ricotta medley was amazing, scallop ceviche with smoked salmon roe was intriguing, the winner, though, was Henry's causa – with two swaths of flavored potato – ají amarillo and green onion – grilled octopus, confited tuna, grilled avocado, and piquillo peppers. Henry, who'd been sure to this point he wasn't going to like the food, suddenly got excited.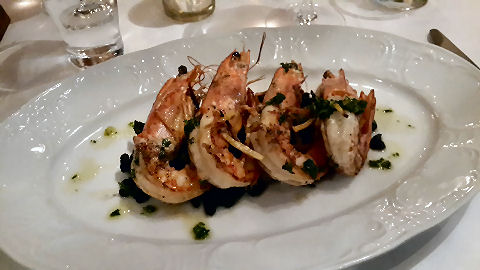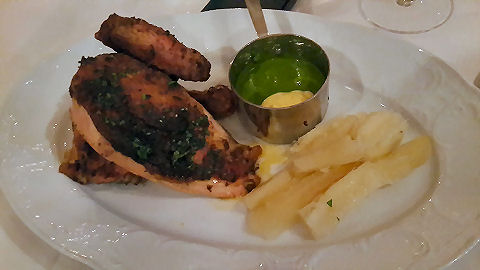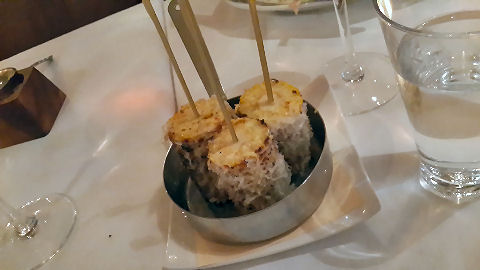 Main courses continued the flair. My grilled prawns with citrus and squid ink spaetzle, grilled lemon and pancetta, was dead on delicious – and I loved those spaetzle. Henry and my nephew both had the chicken, which our waiter described as a sort of take on ají de gallina. It's not, not even a bit, but blame that more on the waiter than the menu or chef – it was a fantastic take on pollo a la brasa – spit roasted chicken, with an ají amarillo puree, a green chili puree, and yuca fries. It wasn't quite what we were expecting, but it was damned good. And, a gift from the chef, a play on choclo con queso, the traditional snack of the area around Cuzco, Peru, where freshly cooked corn is topped with freshly made cheese. Here, the chef makes use of corncobs that have already had the main bulk of the kernels scraped off them, but there still remains a bit of juicy pulp – he grills them and then rolls them in salty cheese. Yum!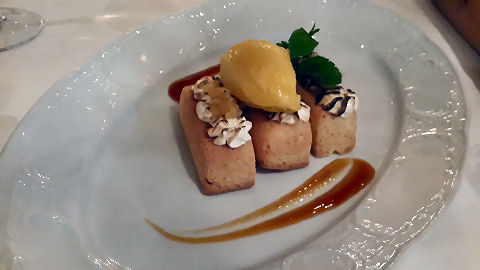 We hadn't planned on dessert, but after such good food couldn't resist at least sharing something – the tres leches twinkies with grilled mango sorbet seemed a good bet. And, they are – I mean, other than form they're not really twinkies, they're just very good tres leches mini cakes, with sorbet, but they're fun. Given the twinkie reference I think some sort of creamy center was needed, but we survived.
Overall – big, noisy room, bustling with activity. Excellent service. Fantastic food. Steep, but not outrageous prices, especially for the heart of Washington – dinner ran us $100 apiece all inclusive – cocktails, wine, food, tax and tip. Highly recommended.