What do you do when you're an award winning chef… no really award winning, pretty much all the accolades available to a chef… who has run the kitchens in some of the best hotel restaurants in the country, been the director of one of the country's best cooking schools, been part of various major food initiatives, and has the respect of all your colleagues… when someone says, "what would you do if you could just do what you want?" Apparently, for Dario Gualtieri, the "Einstein" of French cooking in Argentina (which is apparently as much a reference to his untamed hair as it is to his cooking style), it means opening a small, reservations only, bistro inside a boutique hotel, where you can just cook what you want and have a great time doing it. Welcome to Casa Umare, Billinghurst 362, near to the Abasto. Umare, at least according to the owners, means "reborn" in the I Ching – I think that's slightly off, it's a Japanese, not Chinese word, that means birth, life, or genuine, depending on how it's used. But they're in the ballpark. [I'm not sure if the place is still open, but Dario Gualteri has moved on to his own new restaurant as of October 2015, Dario Gualteri Bistro.]
I had an unexpected evening free, no one was biting on joining me for dinner, and I realized I'd not tried the place, though I've met Gualtieri at a couple of food events over the last couple of years. I made the call and was told that sorry, they were all booked up. I clearly must have sounded disappointed, as Andrea, the receptionist, asked how many in my party. When I said one, she told me to hold on and she'd talk to the chef, because everything is by reservation only, in advance. A few minutes later she came back on the line to say that they could take me if I didn't mind that the rest of the place was booked by a birthday party of ten people. Well hey, if they don't mind, I don't.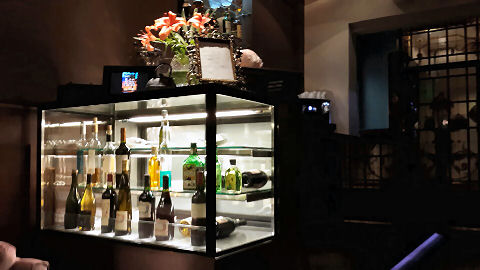 Arriving at the hotel I ring the bell for access and Andrea greets me. She guides me to the back of the foyer and through a heavy door where I find myself inside a narrow, fairly dark space, with a bar on the right. Further along there are two tables for two setup, and beyond those, a table for ten. That's it, fourteen seats. How perfect?! There are two diners at one of the tables for two, who turn out to be hotel guests, just finishing up their dinner, the birthday folk have yet to arrive. They trickle in over the next two and a half hours, one or two at a time, in proper porteño fashion. In fact, while the first person arrived only minutes after I did, they're only a complete group and starting to get their first food, at the time I've finished my meal, sat and enjoyed a glass of wine after dinner, paid, and headed out the door.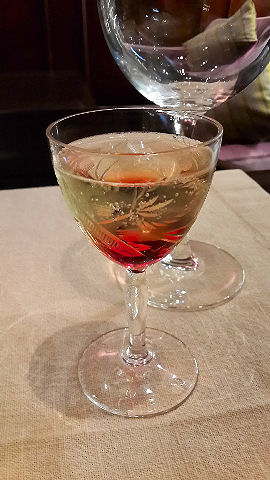 As I peruse the menu my waiter brings me a small
americano
cocktail, to whet the appetite. Nice touch, especially as I haven't even ordered yet. I consider ordering the five course tasting menu with three paired wines, but he suggests it's "not really necessary". At this moment I'm not sure what he means, but I'll take his advice and order an appetizer and a main course that sound intriguing.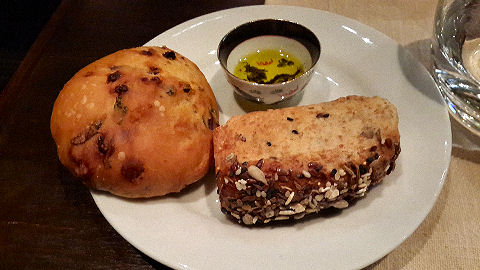 He arrives with a large breadbasket, a trio of breads on offer. I pass on the plain white and go with the seeded bread and the olive dinner roll. Olive oil spiked with garlic and chili is on offer, hmmm… I'm liking this place more and more.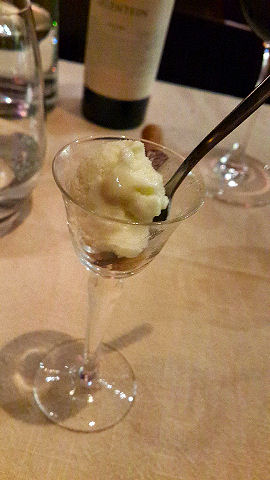 The
amuse bouche
arrives – a small cocktail glass with an intensely flavored blue cheese sorbet. Underneath it are toasted, crunchy corn kernels. And to complete it, the waiter spritzes the whole thing with grappa from a little spray pump. Theater. The sorbet is wickedly good, and the grappa sets it off perfectly.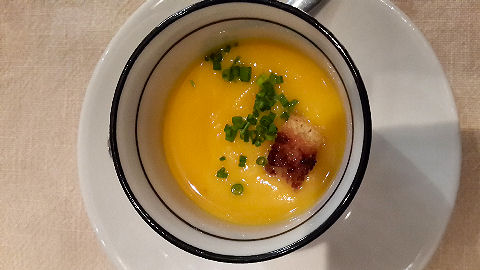 And then the
amuse bouche
arrives – yes, a second one. A cup of creamy, mascarpone, orange and ginger infused pumpkin soup with bits of calamari and croutons. I'm using the bread to get every last bit of it up – it's rich, comforting, delicious.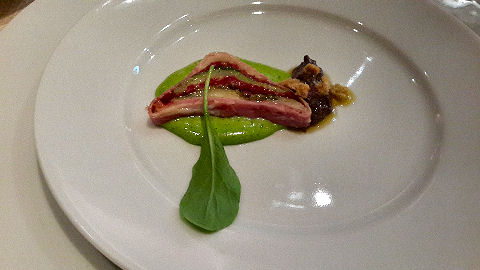 So then, the
amuse bouche
arrives – seriously? Three pre-dinner snacks? I'm loving it, and the waiter says, "see?" I've just gotten one "real" amuse, in the sense that it wasn't part of the menu, and two small portions of appetizers from the menu. This one, a capresse terrine. The flavors, classic mozzarella, basil, tomato, paired with a parsley emulsion and black olive tapenade. The terrine is a little "loose", but it is tasty.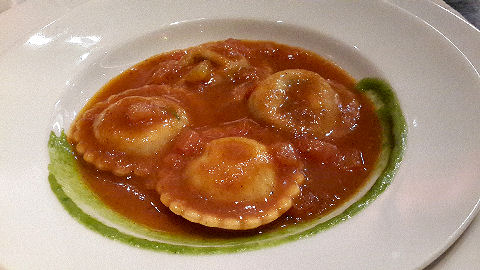 Next, the
amuse…
no, just kidding. My appetizer arrives – I went for the more
outre
items on offer. Lamb's tongue ravioli – the filling beautifully seasoned and perfectly braised and shredded, and accompanied by a deeply colored and flavored tomato and lamb sauce. Yum!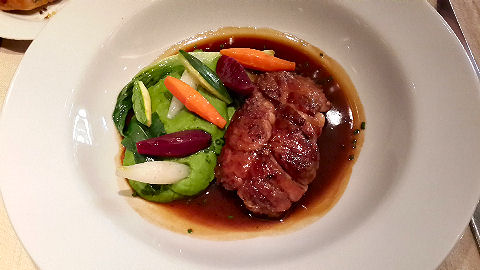 And on to the main course, a gorgeously glazed lobe of sweetbread, cooked to a creamy interior consistency with just a hint of a crispness to the outer shell. It's glazed with a demi-glace infused with grapefruit, lemon and ginger and it's complete heaven. The fresh pea puree, the cute little turned vegetables, just cooked enough to not be crunchy but still retain some "tooth", great accompaniments. I'm a happy camper.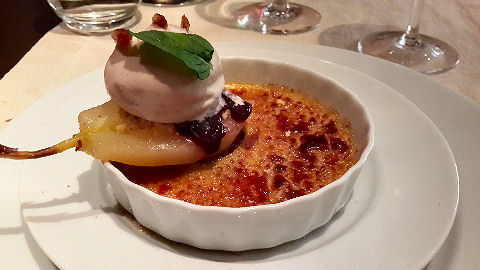 I'm not normally big on desserts, but everything has been so good that I decide to splurge on it. First I finish off my little half bottle of wine (no wines by the glass, and just a single half bottle on the list, Salentein's Malbec, but overall, a very reasonably priced list, had they not had the half bottle I'd have probably ordered a full bottle and done my best). Then I order the creme brulee. But not just any creme brulee, the custard here infused with spice-bread, and the package accompanied by a syrup poached pear, hazelnut crumble, a chocolate-peanut "spread" kind of like Nutella except peanuts, and, an ice cream infused with a port style Malbec. Wow, all around.
The owner of the place and the bartender have been hanging out at the bar (pictured way above), and have, at some point, decided to open up a bottle of wine that they're sharing with gusto – a Carmelo Patti Malbec Reserva 2005. The owner notices that I'm without wine somewhere during my dessert frenzy and has the waiter offer me a full glass of the wine. We toast, and I sit, sipping this treat, as my evening winds down. It becomes clear that the waiter is about to get very busy as the whole birthday party is finally there, so I signal for my check, pay (a mere 570 pesos for all of the above, including tip), and head out into the night.
Need I say much more? Great ambiance, great service, great food, and for what you get, damned reasonable. Highly Recommended.