Piquancy is generally used to refer to a lower degree of pungency – often used to refer to the flavors of chilies – such as that of mustard, but more often refers to mild pungency and flavors and spices that are much less strong than chilies, including, for example, those of things like capers, pickles, even intensely ripe tomatoes. In other words, pungency always refers to a very strong taste while piquancy refers to any spices and foods that are "agreeably stimulating to the palate", in other words to food that is spicy in the general sense of "well-spiced".
There's not a great word in Spanish for piquancy. Picante refers to something, that, as noted above, is more pungent, generally the flavors of chilies or something quite similar. I suppose the best would be a modified descriptor, something like bien condimentado – well spiced, as also noted above. But condimentado is pretty generic, and something well salted could likely qualify. Perhaps condimentado fuerte, strongly spiced, would be the way to go, though to my ear comes across almost slightly negative, like you've overdone it. Friends who speak Spanish better than I, any help here? On to the dinners from last week.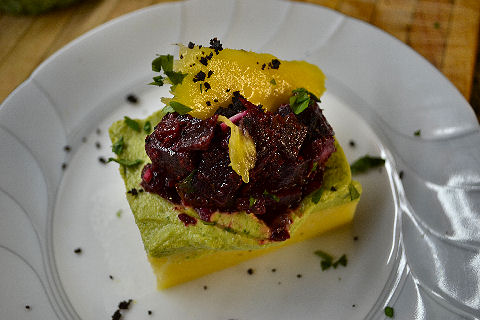 Started off with our ever popular roasted beet causa – a layer of mashed potato flavored with ají amarillo (yellow Peruvian chilies), lemon and olive oil; an avocado mousse; roasted beets flavored with onion, parsley, lemon, tamarind, and mild smoked chili; fresh mango; black olive crumble.
"I normally don't like causas and I'm not a fan of beets. I love this!"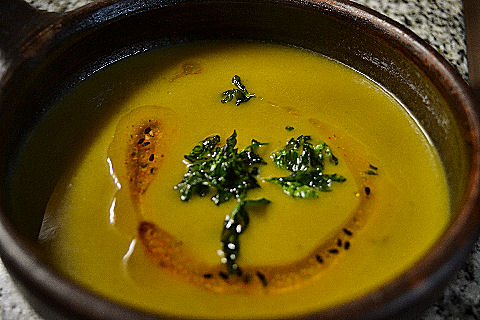 Brussels sprout bisque with fried parsley and chili oil.
"I smelled brussels sprouts when it came to table and thought, 'oh my god no', but I want the recipe for this!"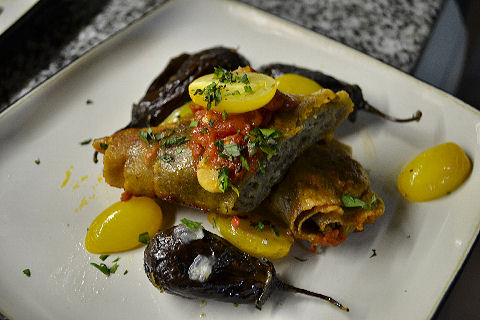 Not quite the dish I'd envisioned. Almost, but the pasta didn't come out quite like I'd planned. The idea was rotolo, long strips of basically lasagna noodles rolled around a filling and then cooked in a sauce. I flavored the pasta with baharat, the classic middle eastern spice mix. All well and good, but the filling, a mix of ricotta and smoked eggplant, wasn't enough in contrast to the pasta – too much of it leached out into the sauce, so basically these became thick pasta spirals without much filling. The flavors were all still there – a garlicky tomato sauce, roasted baby eggplants stuffed with slivers of garlic, cherry tomatoes, fresh herbs (mint, parsley, rosemary). Working on a way to get the filling to stay where it belongs.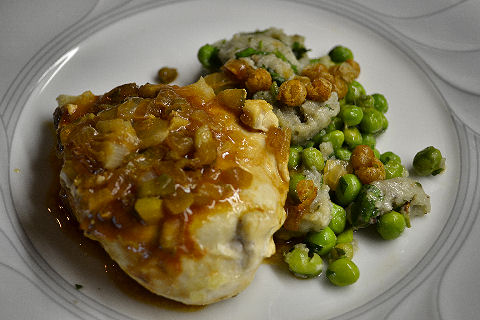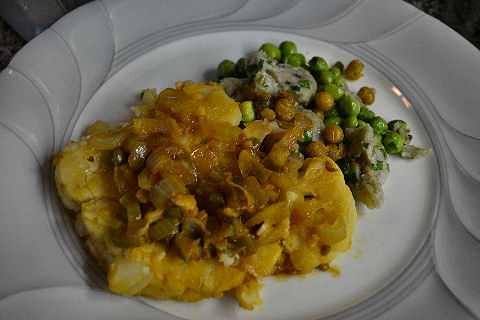 "Piquant Chicken", a classic Italian dish with the chicken cooked in a sauce of gherkins, capers, anchovies in a mix of tomato paste and reduced wine vinegar; for a vegetarian guest, the same with a cauliflower "steak" and substituting some miso for the anchovy. On the side, gnocchi made from ocas, the Andean/New Zealand yam, so a slightly sweet gnocchi – I like the texture and flavor though, and served with fresh peas, all sauteed together in a little olive oil and butter, and then garnished with some crunchy deep-fried chickpeas. I'm thinking the chickpeas would make a better accompaniment to the previous dish with its middle eastern flavors.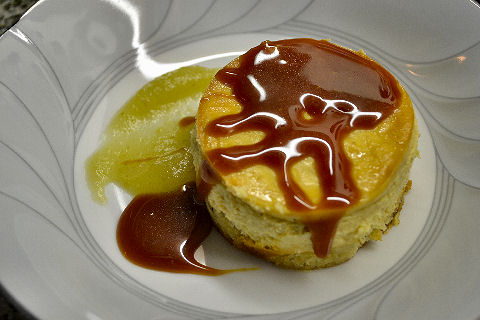 We're still in persimmon season, so a persimmon cheesecake with a brazil nut crust; vibrant lime puree; orange liqueur infused caramel.