While there have been a lot of green salads in my diet the last couple of weeks making up for the massive food intake at the end of last month, man does not live on green salad alone…. Not that I've claimed that with little posts on home pizzas and other casual bites. So, a few more.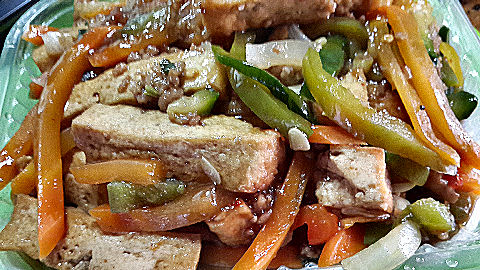 There has been Chinese takeout from
Fu Hai
, and one of my favorite Szechuan dishes,
mapo tofu
. Their version could use a bit more spice, but it has some, and I can always add more. Henry's particularly fond of their version of kung pao chicken, which they simply call spicy chicken.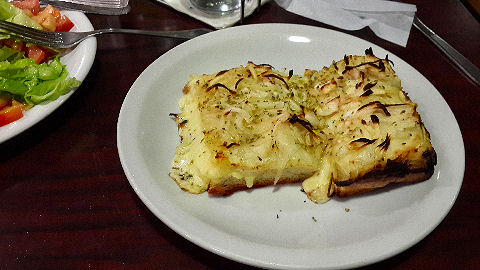 You'd think after nine years or so here I'd have checked out a branch of
Banchero
at some point (this one on Av. Pueyrredón by Plaza Misere), given their claim to be the "inventors" of
fugazzeta
– essentially focaccia topped with cheese and onions (versus
fugazza
which is sans cheese) and with a cheese-stuffed crust. I would dispute their claim to the invention, cheese, and onion, topped focaccia or pizza dough have been around in Italy since, likely, before Argentina existed as a colony, though I'll accept that they may have introduced the idea locally. On the other hand, they may have introduced the stuffed crust innovation. It's not bad
fugazzeta
either, though for my tastes could use more of those lovely caramelized onions. Note there's a green salad accompanying.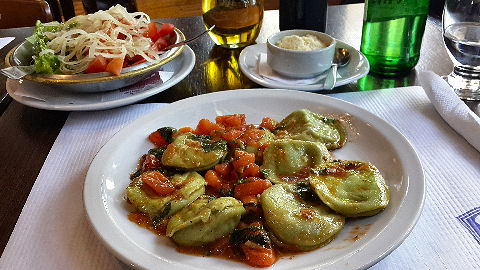 And save your time and energy on dropping into
Jetro
, corner of Anchorena and Cordoba. It registered too late that this is an Italian restaurant that features corn oil rather than olive oil served with its salads and pastas. The sullenness of the waitstaff is palpable (and in later review, a virtually universal "tip" on Foursquare critiques), and the pasta, at least the one I tried, mediocre at best.
Sorrentinos sures
– round ravioli stuffed with unseasoned squash and mozzarella – and topped with "basil sauce", which turned out to be chopped tomato, a bit of sliced basil, no noticeable garlic, and, corn oil, all, also completely lacking in seasoning. Note, salad.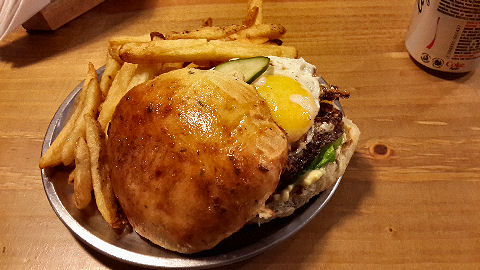 I'd vaguely heard about
180 Burger
, Suipacha 749 in Microcentro, but checking around my usual cadre of burger loving friends, no one had been there. Everyone is still quite enamored of
Burger Joint
and
Perez H
. The latter I've been to three times now and been disappointed each time – the meat quality is good, but they overcook the burgers and they over-salt everything. The former I've only been to once and should really go back to and try it again since it's still getting raves from many folk – my experience was that the burger was tasty but likewise overcooked, and they didn't even have fries available the day I was there because they hadn't gotten around to making them.
Back to the current burger. Let's make this easy. Wow! Juicy, well seasoned meat. It came out medium rare without my asking, because, "that's how a burger should be cooked" according to the counterman. Toppings fresh, and a decent selection of them – in this case, crispy bacon, a perfectly fried egg with still runny yolk, lettuce, tomato, cheese, caramelized onions, housemade pickles – choice of bun, I went with the oregano flecked one. Fairly thick cut fries for BA, crispy and golden on the outside, creamy soft inside. Choice of condiments, and a decent array of them too. Easily, easily, easily, the best burger I've had in BA since moving here, toppling the excellent but expensive as hell burger at Pony Line from its throne. Oh, and vegetarians, they offer a veggie burger as well – I promise to check it out one day.