Having just read about the imminent opening of what's intentionally intended to be the world's most expensive restaurant (I'm sure that will bring out of the woodwork either a) someone claiming there's someplace else more expensive or b) the imminent opening of someplace that seeks to top the expense), I am left wondering. What I'm left wondering is when dinner stopped being about sitting at a table and enjoying food and the conversation of one's fellow diners. There was even an article just a week or two ago that I've lost track of about how "now that dining out has replaced going out to the theater as the theater itself, restaurants have to start taking that into account in their timing for turning tables", or something to that effect. The video for this new restaurant goes on for nearly six minutes and during that time we see little and find out nothing about what the food will be like (other than a bit of the visual) for shelling out somewhere around $2k per person for dinner, but it becomes pretty clear that the intent is to make sure that we don't stop paying attention to "The Restaurant", "The Room" and most especially, "The Table".
What I want is a nice ambiance, pleasant service, a table that's clean and steady, and most importantly, good food. I'll happily take an ugly plate that tastes good over a jewel box presentation that has flavors that bore me or make me want to gag. I also want enjoyable, stimulating dinner conversation with the people I'm dining with, or if I'm dining on my own, engaging with a good book, not with a table. Sadly, that's not true for everyone. But, here at Casa S I intend to remain stalwart in the defense of flavor over looks and providing a comfortable place for people to get to know new friends over a meal. So on to this week's parade of dishes, smack full of flavor, and no blue goo poured from a flask.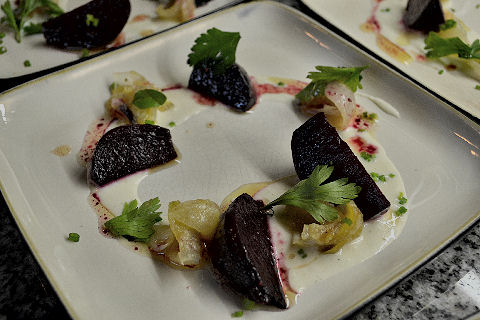 Roasted beets dressed in a vinaigrette made with an herb infused vinegar (thyme and rosemary), and a morel mushroom infused olive oil (that's been in the works for a few weeks, finally flavorful enough to use); caramelized shallots; sauce soubise (onion infused bechamel, or "white sauce"); fresh herbs.
"I don't like beets, but I loved these!"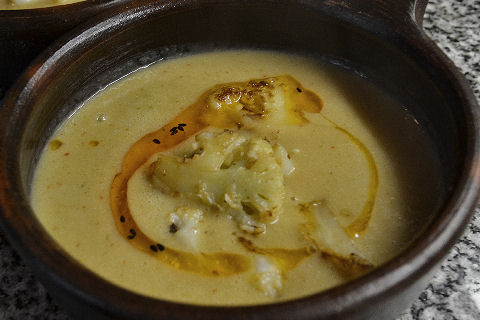 One of our favorites, "hummus soup" – onions, garlic, chickpeas, lemon peel and juice, parsley, a little potato for body, smoked chili (merquén from Chile), tahini, toasted cumin, salt, pepper – all simmered away in vegetable stock, pureed, and then topped with lightly charred cauliflower that's dusted with a little salt, pepper and coriander, and a drizzle of chili oil.
"This might be the best soup I ever had, do you share recipes?"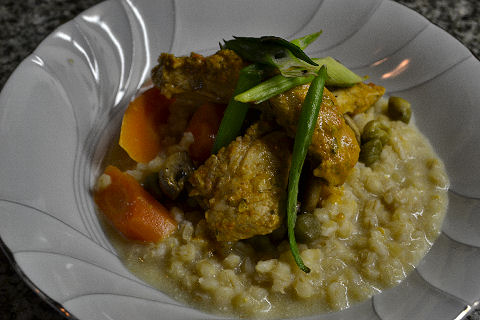 My favorite dish of the week, barley risotto – the barley cooked in herb stock the same way you'd cook a rice based risotto – finished with roasted carrots infused with a little coffee and coriander seed oil, and yogurt. Topped with capers, caramelized mushrooms, grilled green onions, and cecina. The latter a marinated pork that varies from region to region across Latin America – my version, the pork marinates for about 8 hours in a puree of orange and lime juices, rocoto chilies, red onion, garlic, oregano, parsley, olive oil, smoked paprika, salt and pepper and then is quickly stir-fried. Ideally I'd love to grill it, but we're not setup to do that.
"Oh my god, the flavor combination, I love how the capers just add a little zing every few bites."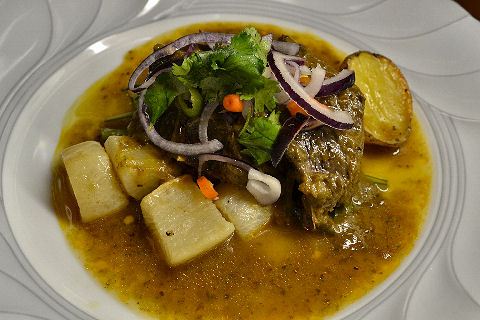 Huatia Sulcana – braised aromatic beef with roasted daikon and andean potatoes and a reduction of the braising liquid. This photo's from the first night, the later nights I reduced it further and then finished it with a knob of cold butter to make it glossy and emulsify it, so that it looked thicker and more sauce-like, but the photos didn't turn out well. I've been playing with the manual settings on my camera after spending an afternoon with local friend Beatrice who showed me the ropes on how to use that, and I'm still getting the hang of it.
"This is so tender and full of flavor I could cry."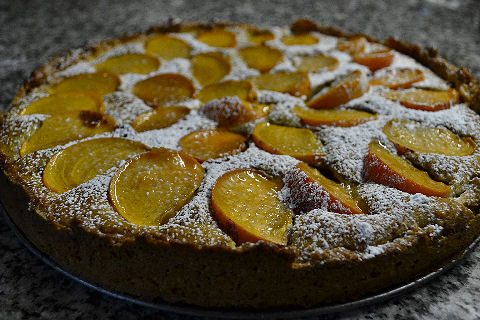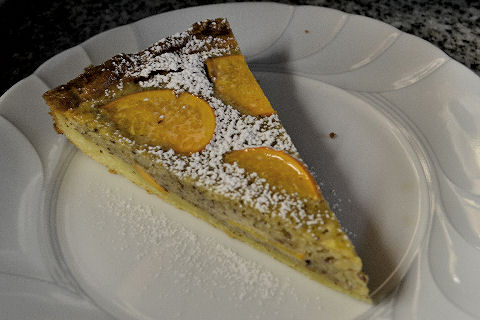 Persimmons are in season, and just for a very short while, so I wanted to use them. Almond crust, hazelnut and ginger frangipane, fresh persimmon slices.
"I can't eat another bite… oh wow, okay, I'm going to finish this."
By the way, the whole dinner was gluten free except the barley in the risotto, which none of the folk who'd asked about either gluten free or light had an issue with. We asked.