I completely missed one dish in yesterday's post. One of Henry's favorite Argentine dishes is pastel de papas norteño, which is essentially an Argentine adaptation of a shepherd's pie. Since we've been lightening things up on our days off I decided to go with a vegetarian version: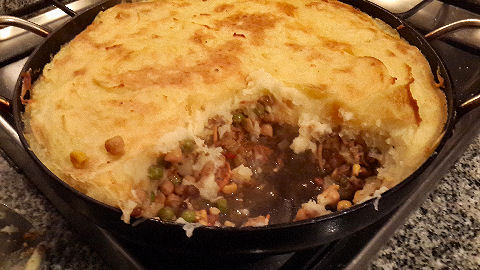 The base, a saute of onions, carrots, celery and a couple of really hot chilies (not traditionally Argentine, but our preference) with salt, pepper, and cumin. Added to that equal amounts of cooked lentils, soaked chickpeas (canned is fine, and one can, or about 200 gm is about the perfect amount for each of these), frozen peas and corn (fresh is fine to if in season, though boil them for a few minutes to at least par-cook them). Separately, peeled and boiled several potatoes, then mashed them with a little butter, milk, and grated cheese. Spread the potatoes over the top of the legume mixture and popped it into a hot oven for about 45 minutes until golden brown on top.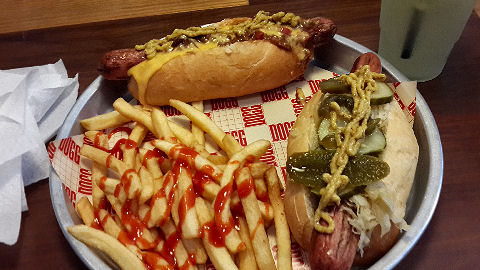 Let me get this one out of the way with. For the last couple of months the expat community has been abuzz with the opening of
Dogg
, San Martín 657 in Microcentro. Gourmet, housemade hot dogs with all the fixings. I like a good hot dog now and again, not so much the classic "dirty water dog" (my very first job in the food industry was a hot dog cart at the University of Michigan stadium one season when I was 14 – one of my best friends and I got a cart and on day one we wheeled it over to its spot, and started getting it ready for business – we found that inside the tank were about a dozen hot dogs leftover from the past year's season, floating about in murky water – our boss told us to just change the water and leave the hot dogs in among the "fresh" ones that we were to top it off with). But a good grilled hot dog with a selection of condiments I can go for. So I met up with a friend for lunch there recently.
Can I just say "meh"? The hot dogs, pretty tasteless and not so much grilled as simply heated on one of those roller thingies. The special made buns – why don't they fit the length of the dog? The toppings, first off, really limited selection, most local pancho places have far more sauces and condiments. Really skimpy amounts (come on, a chili dog should be smothered in chili, not have a tablespoonful of chili and a squiggle of cheddar cheese sauce placed atop – and they put the toppings on top after sort of closing up the bun around the dog, rather than packing them inside, so they just fall off (and again, two slices of cucumber, two slices of jalapeño and a tablespoon of sauerkraut just don't do it). The fries aren't crisp, at all. About the only thing I liked about the place was that there's a selection of hot sauces available (that's sriracha over the fries, not ketchup). All in all, especially for pretty pricey hot dogs at around 30 pesos apiece, a fail from my point of view. I'd rather get one of my grilled salchichas alemanes from Pancho Hot, two blocks away from home.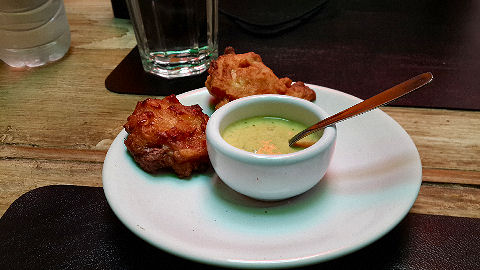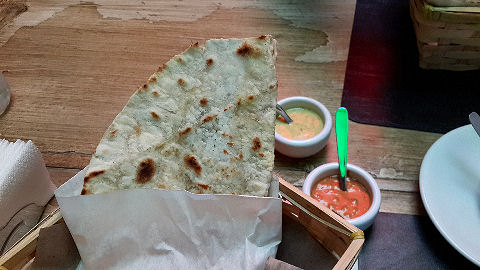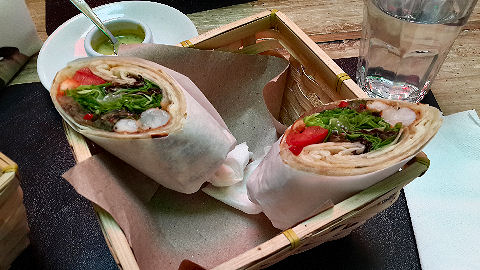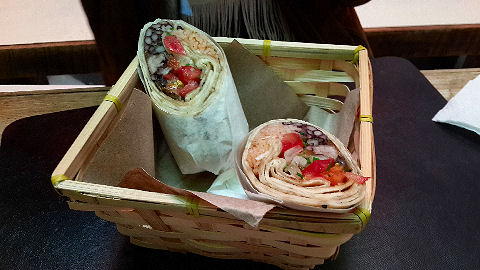 Now, at the other end of the "junk food" scale, spotted a new Mexican place in Palermo in the midst of all my eating out over the last month and had to go back and check it out. Met up with Liza from NOLA for a superb lunch at this newly opened spot (as of right now they've been open just over two weeks),
Real Revolución
, Honduras 5143 just off Thames. Big spot, very casual, picnic tables filling it, bright colored wall murals. Short menu – tacos, burritos, quesadillas, and a couple of more "plate" type dishes. A couple of great little corn fritters were brought to the table with a little ramekin of jalapeño sauce to dip them into, right away we knew it was going to be a good lunch. We split a plain cheese quesadilla, smoky from the grill, with flavorful, melty cheese inside, the sort that ought to be being used on pizzas around here instead of the more common cheap, oily stuff. Then two burritos – a prawn one with lettuce, tomato and avocado, and a grilled pork one with black beans. More jalapeño sauce plus a milder guajillo chili sauce on the side (plus we told them up front that we wanted
picante
so the chef added some grilled jalapeños into both burritos. Not junk food at all. This will become a regular spot to visit when in the 'hood. Definitely Recommended. 
[Closed]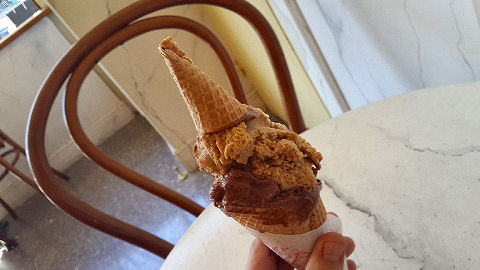 And, I realize it's been about a year since it reopened in a new location, but it's not exactly close to home, so I hadn't been to the new address of
Scannapieco
, Av. Alvarez Thomas 10, right across from the Mercado de las Pulgas. It's as good as it ever was. Still my fave combination – a cone packed with half coffee and half "chocolate holandés" (bittersweet chocolate with burnt orange peel).