The search for shawarma continues, albeit more slowly than in recent months. It's kind of like my 92 bus pizza project, it sounds like a fun way to explore upfront, but at some point starts to become a bit of a chore. So, I take a break and come back to it refreshed. It's also hard when you confront both really good and really bad versions of the food in question – really bad is obvious, it's just discouraging, though there's also the "it can't get worse than this, so anything else will be better" view, which unfortunately doesn't always hold, and really good is the opposite, "it can't get better than this, so why keep going", but, thankfully, I keep being proved wrong on that one too. Neither of those happened this round, though it left me feeling like I'm reaching the point of just hitting the average, middle of the road places.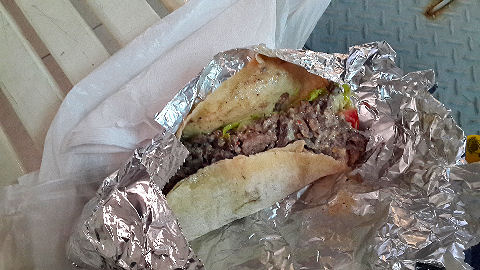 I headed off to check out a trio of listed shawarma spots near to the Juramento station on the D line. The first one turns out to be gone, replaced by a hotdog stand, the third is only open at night and will have to wait until another time. The second, however, is located inside the Mercado Belgrano, around in the back passageway, it's called El Mercado de Medio Oriente. It was as sweltering day, there was no air conditioning in the place, which is set up like a little restaurant, and nothing in the kitchen was turned on – the spit loaded with meat was just sitting there. But the proprietor, a nice gentleman from Paraguay who I chatted with while he got to work, turned on a burner on the stove, carved off some meat, sauteed it, and loaded it into some decent flatbread with a good amount of lettuce, tomato and onion. The only sauce available was hummus, which is sort of odd. The meat is well seasoned, though because of the cooking method was missing that nice slightly charred quality. It was okay, and under normal circumstances I'd probably give it a pass, but I may stop back one day after he gets his AC fixed and can keep the rotisserie on. Then again, the lack of either yogurt or hot sauce, leaves me thinking maybe not.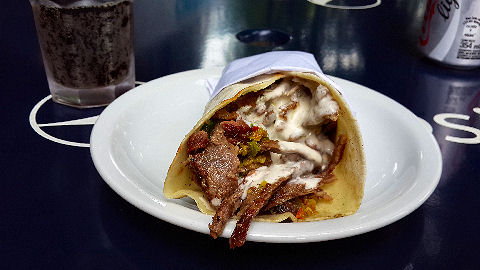 As I'm venturing further afield in search of shawarma I'm finding little pockets of the city where there are Middle Eastern neighborhoods. Out in Villa Urquiza all the hype seems to go to this little hole in the wall, Al Rayan, Blanca Encalada 4902, where the consensus seems to be that it's the best around. To be honest, if that's true, then I'm sorry for Villa Urquiza and the local community. Poor, inattentive service – someone who was apparently the waiter was outside chatting with friends (all Middle Eastern of one stripe or another) – I didn't know he was the waiter, but I finally went to the counter to ask if there was one or if I had to order at the counter – the woman behind it came out, went over to him and told him he needed to start working – his response, "you're a woman, you don't tell me what to do" – hers, "I'm your boss, either start working or you don't need to worry if I'm a woman or not, you don't have a job" – his friends started making fun of him, but he got to work, albeit with a pretty poor attitude. The shawarma itself – the thin flatbread was okay, the beef, however, was dried out and mealy – had it not been visually clear that it was actually sliced meat I'd have thought it was that press-board stuff. A decent hit of lemon and salt, but also way too much baharat, the classic Syrian spice mixture – it was overwhelming. And the hot sauce didn't have enough kick to warrant the name. I'll pass.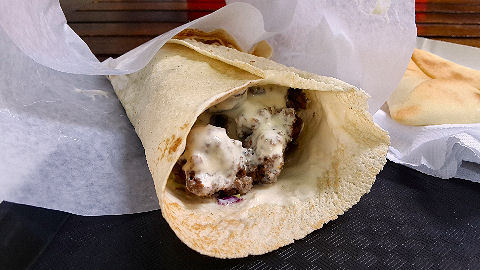 Headed over to a friend's house for a bit of a photography tutorial – learning how to use my camera on manual settings better – I stumbled across Shawarma – Kebabs – Gyros at Chile 354 in San Telmo. Not much question given the name what they're about. It looks to be pretty new, I haven't noticed it before, and given that its Foursquare check-in history is pretty much non-existent (2 people), I'd guess that to be the case. It's mostly a takeout spot with a couple of tables inside and a few more out on the sidewalk. They don't have a rotisserie style shawarma where they're slicing off the meat as it grills – the meat is in small cubes and then looks to be cooked in spices. Everything's also pretty much pre-prepared – it looks like they're just reheating to order in a small convection oven, and both the shawarma and a couple of other things I tried came out just lukewarm at best. The seasoning isn't bad, a nice hit of baharat and a touch of salt, could have used a little lemon. The sauce is just thin yogurt, there's not much in the way of vegetable inside – a little bit of lettuce and tomato. On request, hot sauce was brought to the table, and it wasn't bad – a little tomato-y for my tastes, but had a little kick to it. Still, overall just kind of a blah shawarma – not bad, not great, just sort of a quick inoffensive version.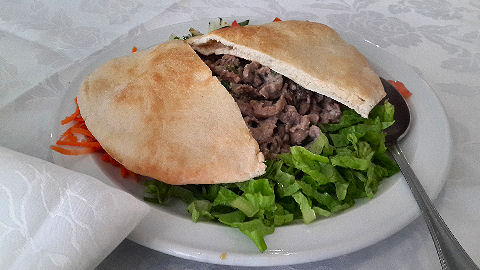 I've heard about Hanan, Julian Alvarez 1272 in Chacarita on and off over the years. It's generally been pretty positive comments, but for one reason or another I haven't been. Wandering up to it and looking through the gate that bars the door, it looked familiar… the sign said it was open and to ring the bell. The place appeared near empty, with two people sitting at a table at the far end – the place is huge, seating maybe 120 people – but I couldn't tell if they were eating or just hanging out. But, ring the bell I did. And nothing happened for a minute or so, and then I saw someone peer out from way in the back and then he slowly shuffled his way to the door. I asked if they were open, he said yes, but made no move to open it. He looked me over and said, "are you planning to eat something?" Well yeah, that's why I wanted to come in, what other reason would there be? He opened the door and sort of expansively gestured to the empty dining room, as if to say, sit where you like, as he then shuffled his way back to the kitchen and disappeared. I think I stopped here years ago and had much the same, except he chose not to open the door that time. Menu on the table, so I perused it. No one appeared from the kitchen for about ten minutes, when finally a cook came out and just stood next to the table – I ordered a lamb shawarma, he wrote it down, walked away – still silent. Twenty some minutes went by and he showed up with the plate above and a bottle of water, set them down, disappeared again. Shuffling man had reappeared by now and was sitting at a small table doing paperwork. The shawarma – while not packaged sandwich style, comes with two fairly commercial pita breads, and a heap of actually pretty tasty filling – more than enough to fill two full pitas (you can see one on the plate the other is on a side plate) – with well seasoned lamb (though very different seasoning than I've ever had on a shawarma – lemon, onion, and it seemed like maybe cinnamon or nutmeg, but just a hint), chopped lettuce, tomatoes, carrot shreds, and a vinegary onion and parsley salad. No sauces of any sort, and given that there was no one to ask, I couldn't find out if there might be some available. Still, it was actually rather good, just different. I finished what I could, it's really a plate big enough to split. Then I waited, as did, by the way, the other two people. Finally, both they, and I, went to shuffling man and asked if we might get checks – he wended his way back into the kitchen, and maybe ten minutes later the cook popped out again, dropped checks on both tables, still without a word. Paid and left. I can't imagine that with a place this size that that's typical service – with no waiters in attendance, it almost seemed as if they were letting us in for lunch just because they happened to be there, preparing for dinner? The shawarma itself was fine, but nothing I'd rush back for, especially at a whopping 80 pesos (plus a 15 peso cubierto, so it's really a 95 peso shawarma), though admittedly that's enough for two people.