The sandwiches they keep a'comin'…. Welcome to round 10 of The Great Sandwich Hunt, and another five bites of filled bread goodness, badness, and ugliness.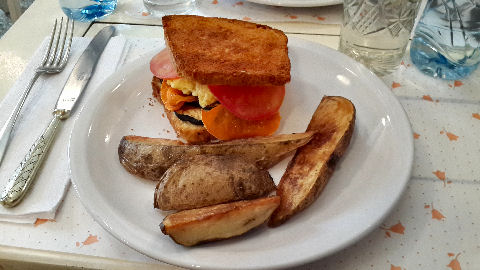 Porota
, Gorriti 5881 in Palermo has been recommended to me more than once as a cute little cafe with great pastries and sandwiches. In particular, the chicken and vegetarian sandwiches have been recommended – since there are two of each out of seven sandwiches, they obviously make up a fair share of the menu – and no one ever told me WHICH chicken or vegetable sandwich to order. My lunch companion went for the
pollo verano
– with bacon, tomato, avocado, basil and mayo; and I left the decision in the hands of the waitress, she recommended the sandwich on toasted brioche, with grilled eggplant and squash, tomato, brie, and scrambled egg. Neither of us were sharing, so I can say that my companion liked his chicken sandwich quite a bit, though felt it needed some zip, and we asked for hot sauce, which turned out to be a nice puree of chilies – I'd guess they're the canned, pickled jalapeños, just blitzed up, not particularly
picante
, but added nice flavor. I liked the flavors of my sandwich, even more with the hot sauce, but the brioche bread, sliced thin, didn't hold up well – the whole thing fell apart after a bite or two (even cut in half), and I ended up eating the sandwich with a fork. We also both felt that for 47 peso apiece sandwiches they were a little small. The potato wedges rock.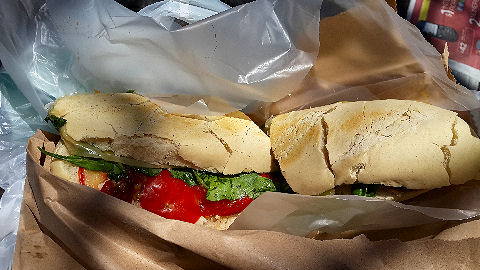 In our
last round
I had one reservation about the generally delicious sandwich at Latino Sandwich – namely that they make them ahead of time, wrap them up and keep them in a warming oven that basically ensures they're all steamed to the point of through and through sogginess. On the other hand, out of the many selections, they're all available pretty much instantly, ready to go, and Latin speeds through the lineup of customers. Enter the other extreme –
Mordisquito
, Esmeralda 278 in Centro. While also offering up a dozen and a half different preset combo sandwiches, nothing out of the ordinary, this place goes one step further – you grab a number as you enter, along with a little green menu paper and proceed to design your own sandwich – bread, meats, cheeses, vegetables, dressings – the works – by checking off various boxes. And then you wait for your number to be called, present your form to one of the two sandwich makers, who then proceeds to build your sandwich in front of you. At a snail's pace. Everything's fresh, everything's made to order, and it's an absolutely delicious sandwich – when you finally get it. I waited a solid ten minutes for my number to be called (there were easily twenty some people either waiting to be called or waiting for their sandwich), and then proceeded to wait another 15-20 minutes for them to make and grill my sandwich. Of course, if I'd not ordered a panini it would have gone faster since no grilling would have been necessary. But, silly me. I can't imagine being willing to wait for a sandwich like this on a daily basis if you're on a quick lunch hour, as many seemed to be, and while I'd happily eat there again, I'd go outside of lunch hour. Great sandwich – doesn't displace any of the current winners, but if you have the time, it's a fantastic option. Take out only – sorry about the photo, I was balancing it on my lap while sitting on a concrete pylon nearby.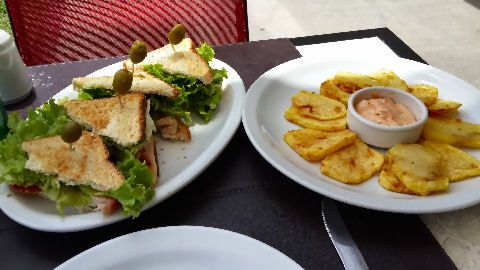 Wandering the southern end of Puerto Madero I stumbled across
Tandem
, Olga Cossentini 1175 and spotted a club sandwich on the menu. One of my favorite sandwiches, just not here. Beyond the slow service (a common complaint on their Foursquare page as well), taking well over half an hour to serve up a club sandwich and some patatas bravas, despite there being no one else waiting for food, it just wasn't that good. Crumbly, falling apart thin slices of toasted white bread, dried out slices of paper thin chicken – oddly in contrast to thick chunks of barely warmed bacon that was just unpleasant, a little lettuce, a little tomato, and no condiments. A request for mayonnaise resulted, ten minutes later, in a small ramekin that barely had enough for half of what was on the plate. The patatas bravas, the potatoes nearly raw – I'd guess they don't double fry them like a french fry, and just dump the slices in very hot oil – the outside browns quickly, the inside barely even gets warm let alone cooks. I asked for them to be cooked more, twenty some minutes passed before they returned a completely new plate, little different from the original. The sauce, mayo with some paprika or something else equally mild in it. A "club" I'd rather not belong to.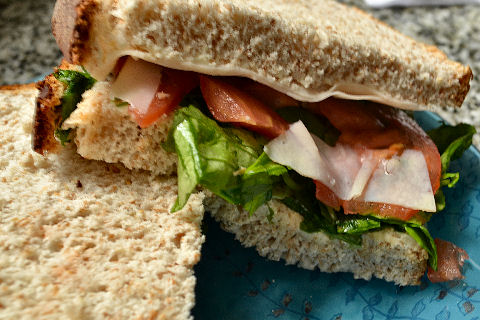 Although I haven't stopped in to
Punto Sandwich
, Av. Cordoba 1758 in Recoleta, I spotted them on one of the online delivery services (Sinimanes). It was a rainy day so I thought I'd have them deliver something. The most interesting sounding of the "gourmet" sandwiches was a turkey, arugula, tomato and olive oil on whole wheat. Their sandwiches come in three different sizes, I picked the mid-size version, which purported to be 39 pesos. In short order the doorbell rang and my sandwich was at hand, though the bill was for 46 pesos. Now, not a huge difference, we're talking less than a dollar, but at the same time, it's not the price they confirmed and it's an 18% increase. Delivery guy stood his ground, I decided to just pay it and let Sinimanes know my dissatisfaction. They got back to me in about an hour to say that they'd contacted the sandwich shop, prices had indeed gone up (apparently months ago, according to the delivery guy), and their apologies. They haven't changed anything on their site though. On to the sandwich – good bread, fresh arugula and tomato, other than the turkey, which you can see is that sort of wispy lunchmeat loaf – square slices, tasteless, uninteresting. If they'd have used real sliced turkey this sandwich might be a winner, but as it is… not. 
[Closed]