Maybe it was eating at a couple of French restaurants during the whirlwind review series, but somewhere in there I found myself thinking a bit French. Not entirely, mind you but a bit, and so I went with it in the planning of this last week's menu. I started leafing through the pages of one of my favorite French cookbooks – not so much for its recipes, but it's really pretty to look at and that can be quite inspiring – France: A Culinary Journey by Alexandra Michell – out of print, but if you can find yourself a copy, it's one of those that's a delight to have around.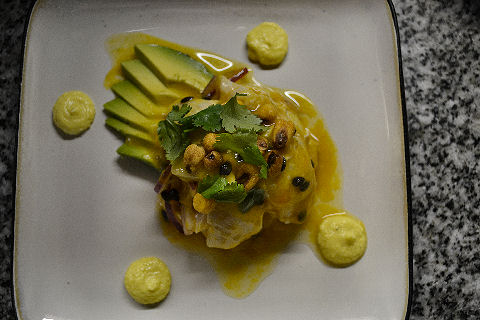 As I said, not entirely, so there's no French influence here. A fluke tiradito – a type of ceviche where the fish is cut more in strips and generally the curing liquid is more cremoso. In this case, the fish is cured in a mix of lime juice, passion fruit pulp (and seeds, which add a little pop when you eat them), Peruvian ají amarillo, salt, pepper, and hints of garlic and ginger. Mounded over sliced avocado, garnished with finely chopped little limo chilies, slivered red onions, cilantro, fried and salted corn kernels, and corn puree. For some vegetarians who came, diagonally sliced palm hearts in place of the fish.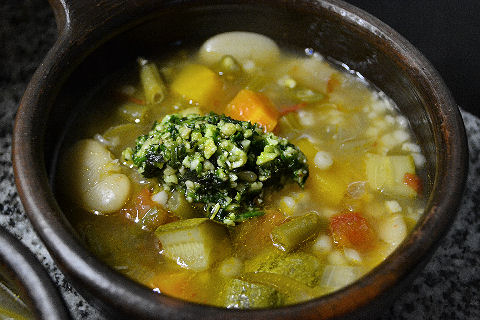 "This is the best soup I've ever had!" – J.J.
I was focusing on the southern French regions in the book and the picture of soupe au pistou reminded me it's been awhile since I've made my version. Pre-cook white beans. In a little olive oil I saute onions, garlic and celery until soft. Then I add carrots and diced butternut squash, water to cover and cook until those are just soft. At that point add in zucchini, blanched and shocked green beans, tomatoes, the white beans and some ave maria or ditalini pasta, and cook until the pasta is done. I like a hint of smokiness, and while sometimes I might use rendered bacon in the base rather than the olive oil, since we had several vegetarians coming this week I used smoked salt for seasoning. The pesto is made by pulsing basil, nira (Japanese flowering chives), romano cheese, pinenuts, peperoncino, salt, pepper and olive oil in the food processor until it's the consistency you see in the photo, and then we put a heaping tablespoon of that atop the soup for people to mix in.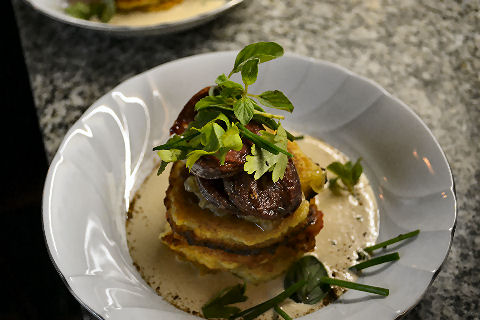 "Très jolie!" – V.S.
A mix of Spanish and French here. Remember back to episode 4 of Top Chef Spain? Of course you do. (I really need to get back to the series and finish off the last few episodes, before season 2 comes around.) The "quickfire" challenge was to reinterpret a classic tortilla española, a sort of potato cake layered with onions, tomato and often chorizo. I had this thought that it would be interesting to make thin crepes using instant potato flakes rather than flour and I've been playing with the idea. I haven't gotten there yet – they tend to be too delicate to hold together, but I'm getting closer. In the meantime, they make a really light and delicate potato pancake, and what I did here was stacked a trio of them – on top of the first, roasted garlic puree; the second, tomato fondue, and atop the third, caramelized onions and sauteed spicy longaniza sausage. The whole stack sits on a pool of raw mushroom cream, slightly foamed (100 grams raw button mushrooms, half teaspoon of bergamot infused olive oil and another of soy lecithin, 200 ml cream that's been simmered for about ten minutes with a crushed clove of garlic in it, all pureed together and then seasoned with salt and white pepper – this has to be done to order as the puree will almost immediately start to oxidize and turn a very icky shade of dark brown). A little shiitake mushroom dust scattered around and mixed herbs – parsley, thyme, oregano and chives – scattered over the top. For the vegetarian folk, sauteed portobello mushrooms in place of the sausage.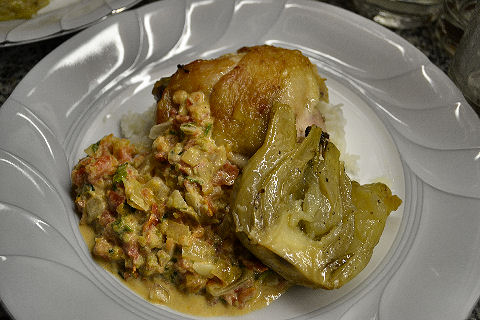 "I normally hate chicken and won't eat it, I love this. It's so good!" – S.L.
One of my favorite French bistro dishes is poularde portugaise, the recipe here. A few differences from that recipe – Chicken thighs instead of breasts because I wanted it to hold up in pan roasting; I wanted it to have a little kick, so I subbed in chopped rocoto chili for the milder sweet peppers; and because I wanted to use the sauce for both the chicken and vegetarian (roasted cauliflower) versions, I didn't cook either in the sauce to finish, but just sauteed the chicken and then finished it in the oven, making the sauce in a separate pot. Served over rice, garnished with a half of a roasted fennel bulb. The presentation isn't going to win any points anywhere – I tried it the first night with the sauce ladled over the chicken and rice but that didn't work, it's nice to see the golden brown of the chicken. To be played with, but flavorwise, a hit.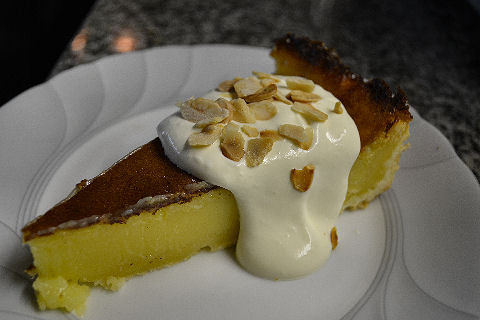 I spotted a tarte au citron et amandes in the book, a lemon and almond tart, and it reminded me of one I haven't made in a very long time, Lemon Kiss Pie. It's a very intensely lemony tart. Topped with whipped cream and toasted almonds. I experimented a little with putting some toasted and ground almonds into the filling, but it comes out grainy, so that idea went out the window. Thinking about it now, perhaps subbing in a little amaretto for some of the lemon juice, or maybe making an amaretti cookie base…. To be played with.