While there are still more reviews for Fodor's to come, I can see the light at the end of the tunnel. I should be able to finish them all up this week with maybe one or two left for next. Then it's green salads for a week.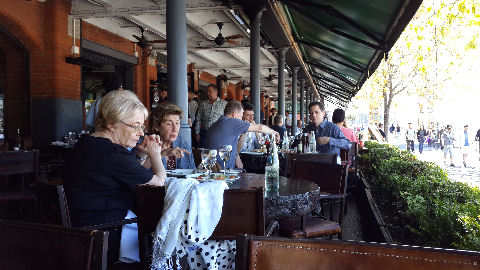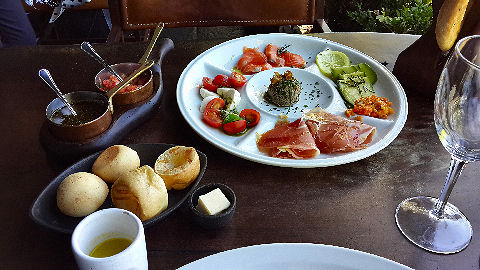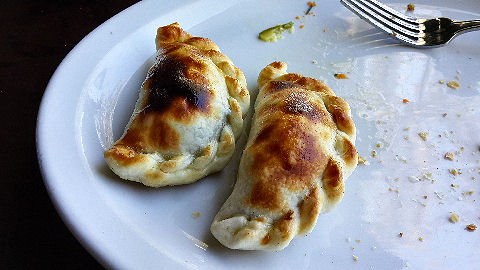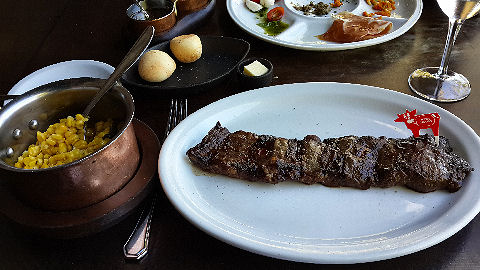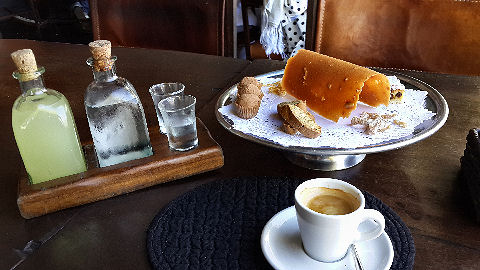 You would think that with as long as I've been in BA I'd have written up
Cabaña Las Lilas
, Av. Alicia Moreau de Justo 516 in Puerto Madero, but I actually haven't been since prior to moving here when I was just down for vacation – pre-blog era. It's arguably the most internationally well known steakhouse in town, mostly due to a prolific PR machine. Let's be clear though, despite it's fame, it's a shade under twenty years old, basically having been one of the early tenants of the Puerto Madero tourist trap complex. And it primarily is a tourist trap, designed to separate folk who don't know any better from large (for Buenos Aires) sums of money. There is a local clientele, mostly the wealthy who probably don't care that much about what they spend, dining here is a bit of a status thing. And, of course, it's got great views over the water. And, it's got some of the best service in the city – service geared to put people who are out of their comfort zone (
e.g.,
tourists) at ease.
Now, is it the much touted best steakhouse in town? No, not by a long shot, if I were to think it through I'm not sure it would even make it into my top ten. They have very good steaks, seasoned and cooked well, and yes, they're from their own pasture raised herd. But great steaks? For my money, not really, and with prices running around 275 pesos per steak (and on up to over 800 for certain cuts and breeds. But is there some value here?
Yes, beyond service. Let's see, when you sit, you get a whopping tray of quite good hors d'oeuvres to pick at – now, it's the same size for every table, so while it was overwhelming solo and I just picked at it to taste the various goodies, if you're 3 or 4 people at the table, or more, it's much more manageable. There's a lot of bread. You get a little plate with two each of two different types of rolls, plus (off to the far upper right of the photo, just barely seen, in a vertical holder) a sort of pretzel looking focaccia-ish bread, and plus, a roving bread server who constantly shows up with a selection of half a dozen other breads (overall, the buttered steak toast is the best). A couple of small empanadas were good, but were they 57 pesos good? Not so much. Portions are decent sized – that's a half portion of a hanger steak, coming in at 150gm, or just over 6oz, and it was cooked perfectly rare (and being "only" a half portion came it at 143 pesos). A side dish of fresh sweetcorn, oddly flavored with sage, runs a whopping 69 pesos for about as much corn as there is on two cobs. Possibly the best part of the meal is coffee service, a choice of four different blends created just for them, served up with a petits fours tray (again, not so overwhelming if there's more than one person at the table), and complimentary limoncello and grappa. All told, not a bad afternoon out for 536 pesos with tip – which, let's face it, by international standards is really only $67 – though for BA, that's high for a steakhouse.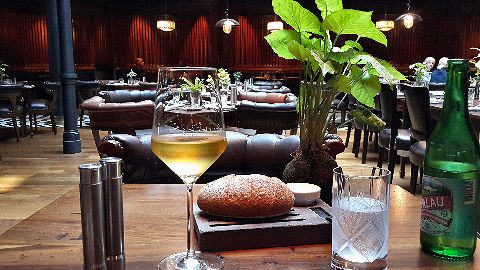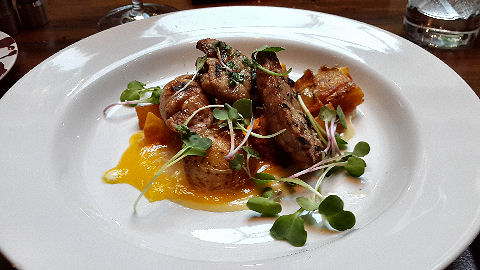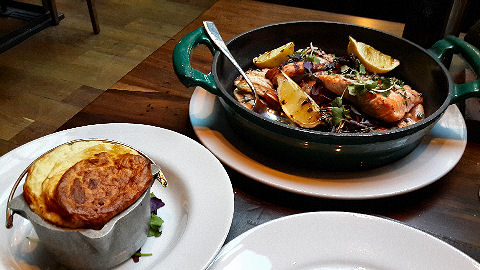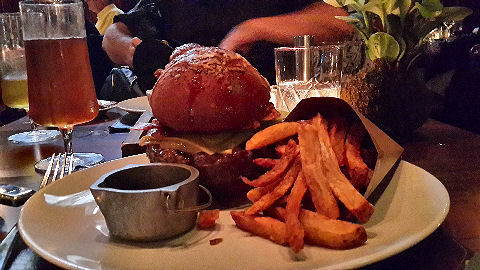 About a year ago I reviewed the newly renovated bar in The Four Seasons Hotel here in Recoleta,
Pony Line
, and while I can't say that it's a place I go to all the time, mostly just because it's pricey, I do make it over there often enough. I'd been thinking about trying
Elena
, the new main dining room, and since the former restaurant in the hotel, Le Mistral, was on the re-review list, it made sense to make that an overhaul priority. Now, I have sat in Elena before – for some reason Pony Line isn't open every night of the week (very weird for a hotel bar), and so if you stop by on a night they're closed, you have the choice of going elsewhere or taking a table in the dining room. The nice plus, the entire bar menu is on offer in Elena as well as their own a la carte menu, and since PL offers up
pretty much my favorite burger
in the city (expensive, but worth it).
Service is friendly, efficient, helpful, all the boy scout words. The room is beautiful. The customers are a mix of local businessmen, well-off neighborhood folk, and, of course, hotel guests. The menu leans towards parrilla, but not totally so, and there are a good number of intriguing dishes on offer. I started off with grilled sweetbreads over crunchy oven roasted potatoes and a gooey, soft poached egg. Completely heaven! On to the main course, they had on offer a mariscada, pretty much the mixed seafood grill that I've spent time exploring in various locations around the city, and on request will prepare a half portion – which is still enough food for two – with two fillets of salmon and two of sea bass, and a plethora of prawns, baby squid, and octopus tentacles, all grilled to perfection and drizzled with olive oil, salt, pepper, and accompanied by wedges of lemon and good olive oil. Just for the heck of it I ordered up a side dish of a truffled cheese souffle. I can't say that the truffle was particularly in evidence, but it was a decent cheese souffle.
Not surprisingly, like the bar, it's expensive, with appetizers running a little over 100 pesos and main courses ranging from just under to well over 200. Wine pours, again like the bar, are pretty skimpy given the prices (75-90 pesos/glass), I'd venture to guess they're getting six glasses to a bottle instead of the more usual four, and are charging the full retail price of a bottle for a single glass. Still, the food is great, the ambiance too, and all told with tip it came in only one peso different than lunch at Las Lilas, for a far better food experience.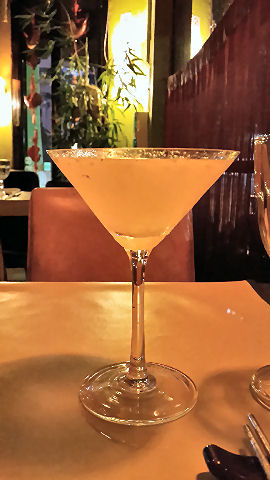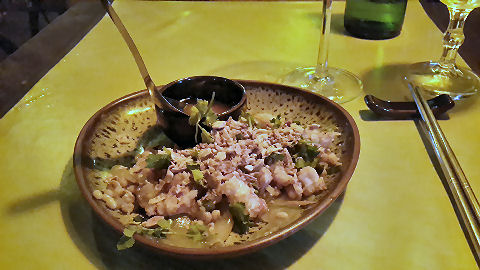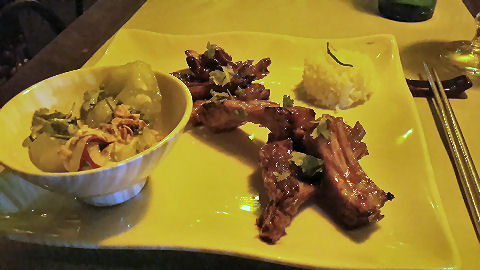 It's been seven years since I first reviewed and six years since I re-reviewed
Green Bamboo
, Costa Rica 5802 in Palermo. I've probably been back twice in the intervening time, and had a meal that more closely resembled the second review, in the comment section there. Truthfully, I probably didn't need to venture back and visit it again, the menu never changes, and other than, it seems the occasional off-night, it's consistent. But, a friend of mine wanted to visit it, and so I made the reservation, unfortunately she had to cancel and I ended up soloing – probably should have cancelled the reservation myself and hit another place on the list. But, at the same time, it's good to get a refresher, and it was nice to just settle in for some "different" food for the night – a bit too many steaks and heavy dishes recently. The room hasn't changed any, other than there are more knickknacks on the bar than ever before, to the point you can't take a seat there and place a drink anywhere.
The bar is known for its creative cocktails and the eponymous Green Bamboo, with gin, ginger, lime and mint, turned out to be an excellent choice, sort of like a less sweet mojito with more complexity. I started off with a plate of banh beo, rough cut rice noodles with a sort of crispy prawn and peanut mixup. I can't say that the nuoc cham remotely lived up to its "spicy" billing, but then I didn't expect it to. Still, it added some nice flavor to the dish with a good hit of fish sauce and vinegar. For the main course I went with the five-spice coated ribs, asking if they could add some picante to it. They supposedly did, but there was no heat, and I thought, I wonder if they have hot sauce these days – they didn't used to – and sure enough, they do now, and in moments I had a ramekin of sriracha on the table to dip the ribs into, much to the consternation of my waitress, who assured me that it was "killer hot". The lightly salted melon salad on the side made a great contrast, especially once we got some chilies into the mix.
Pricing isn't too bad except that I found the portions of both dishes, particularly the ribs, to be a bit small. Appetizers run around 70 pesos and main courses anywhere from 120 to 170, cocktails 65. They do tack on a 17 peso cubierto. So, dinner ran 347 pesos, or $44, acceptable for the only Vietnamese restaurant in town these days.
Coming up next – Tancat, Tegui, Brasserie Petanque, and more….