No, I'm not putting on weight – I'm getting in good exercise each day in the morning and again in the afternoon, and just because I'm putting up pictures of massive amounts of food doesn't mean that I'm a) finishing each and every plate, and b) doing it by myself – there's some splitting going on here too when someone's available to accompany me. On to Monday, a bit of a food marathon all by itself, especially because it was a day I was on my own….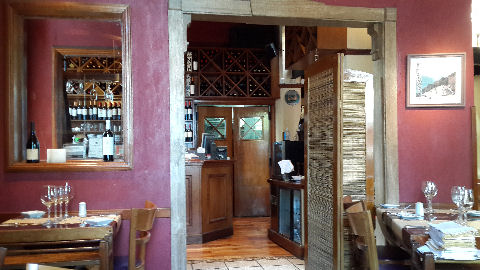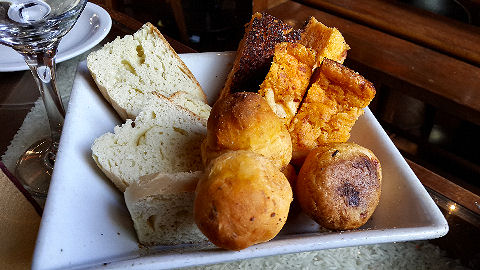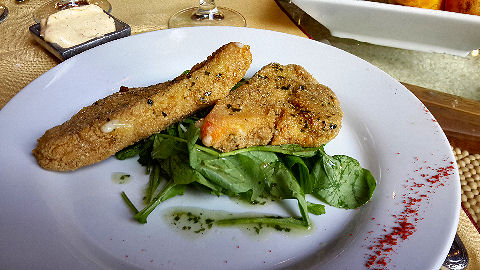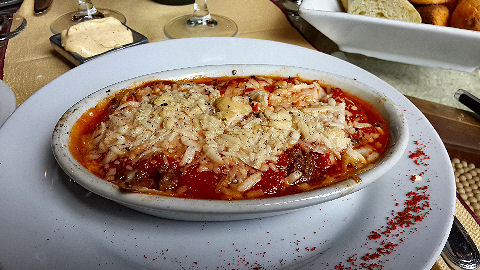 First up, La Baita, Thames 1603 at the corner of Honduras in Palermo. It's an Italian spot that I've heard mixed reviews of. No one ever said, "you must go there" or "they have the best ___ I've ever had". Well, except more than once I've heard, "you have to try their tomato focaccia". So first off, small space, maybe 30-35 seats, despite being casual it feels kind of classy, like an upscale trattoria. Friendly service. The mentioned tomato focaccia isn't something you order, it's just there in the breadbasket. It's really good, but given what I'm doing these couple of weeks, I only ate one small piece. Next up, mozzarella in carrozza, well, technically, fritto di mozzarella:
A precursor to the ubiquitous American bar snack of mozzarella sticks, there are two basic versions of this recipe. In the traditional mozzarella in carrozza, triangular slices of mozzarella (pizza cheese type, not usually the fresh) are sandwiched between triangular slices of white sandwich bread – all trimmed to the same size. Dusted in flour, dipped in a mixture of beaten egg, a splash of milk and a pinch of salt and then fried until golden brown and served immediately. In the fritto di mozzarella version, closer to the American version, the slices of cheese are dipped in flour, then in eggs beaten with a pinch of salt, then in breadcrumbs and then back into the egg. Then deep fried. In Naples these are traditionally served plain, though the custom of serving a bit of pommarola to dip them into is not unheard of and is clearly the impetus for the American version. – from our Casa SaltShaker Campagna regional cooking class notes
Either way, tasty, though I could certainly have used some kind of sauce to accompany them, and two of them were one too many for one person on a food mission for the day. Ever since finding that amazing lasagna at Trattoria Olivetti I've been checking out other lasagnas when I spot them – which hasn't been often, lasagna just doesn't seem to be a popular Italian menu item here. This version was just kind of average – nice tomato sauce, a bit of ground beef, decent pasta, but overall a little watery and lacking in any complexity of flavor – I wouldn't bother with it again. It's a place I think I'll go back to and try again after all this nonsense is over, just to give it another shot to impress. But for now, just okay. Relatively inexpensive with appetizers running 50-80 pesos and main courses from 75-100, though there is a 20 peso per person cubierto charge.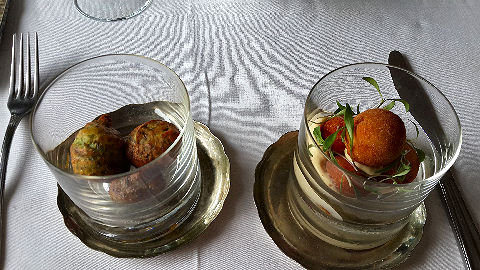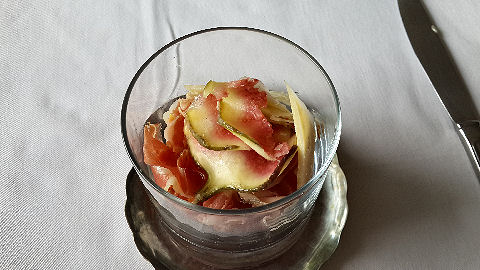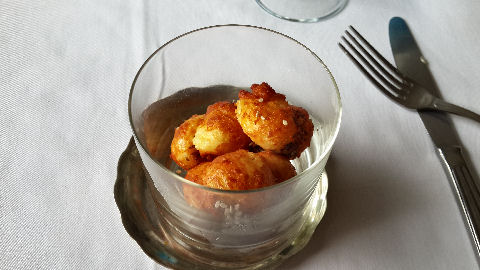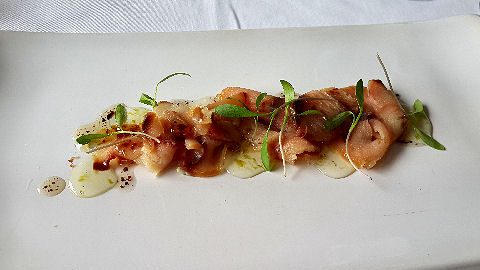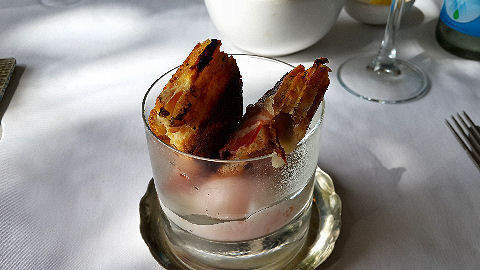 Seven years ago I'd visited a well thought of restaurant, Freud & Fahler, and had a decent lunch with friends, though nothing all that special. The food just didn't seem at all like the creative vision that I'd heard rumors about, and if you look at the followup commentary from one and two years later, a couple of readers truly disagreed with my assessment. But, the food they had was also completely different in style from what we were presented with the day we went. I don't know what it was about the timing, if chef Pol Lykan was trying out something different, but it was like we'd visited two unrelated spots. I'd made a note to try it again, but then it closed and went off my radar, obviously. Then, about two years ago I went on a wine tasting tour with Time Out, and one of the places we went to was the space that used to be everyone's favorite empanada shop, La Cupertina, which had been taken over by what seemed to be a little cafe, NCF&F.
Cue forward and discovering that NCF&F is Nueva Casa Freud & Fahler, now located at Cabrera 5296, corner of Godoy Cruz in Palermo, and an invite from chef Pol to come and sample some of his food. He left it up to me to try whatever I wanted – given that I'd just left off eating half a plate of fried mozzarella and part of a lasagna, I decided it might be interesting to just try some little bites – much of the menu these days is devoted to creative tapas sorts of things – I figured that might give me a better sense of his cooking than just picking a main course. So I turned it around and left it up to him, and then just sampled each of the dishes he sent out. By the way, a bit more digging – Chef Pol trained at the Culinary Institute of America and Cordon Bleu, and then worked for Joel Robuchon and Michel Bras in France. (Has everyone in Buenos Aires worked for Michel Bras at one point or another? Sometimes it seems like it's on the resume of half the chefs I meet – maybe one of the culinary schools here has a connection with him – the other half have all worked for Ferran Adria at El Bulli, it seems.)
The pictures don't do these plates justice, it's hard to get a decent photo of something in the bottom of a glass. First up, little fritters of spinach and cheese and little fried balls of ají de gallina with an aioli dipping sauce; then shaved prosciutto with frozen figs and an almond cream; next up little gruyere cheese puffs; then a lovely plate of cured bonito with lime gel; and finally, what actually was my favorite (and Pol says is his too), mini-grilled cheese, crispy bacon, poached egg in the bottom – I could just go back and eat a couple of those. Overall, great flavors, interesting creative touches on each dish – the last two were definitely the real winners out of what I sampled, but I liked everything. This seems more like the food that my commenters were talking about. I'd go back with friends, share a bunch of tapas (each running 25-35 pesos) and a bottle of wine and be perfectly happy.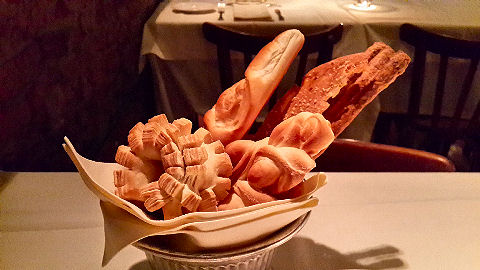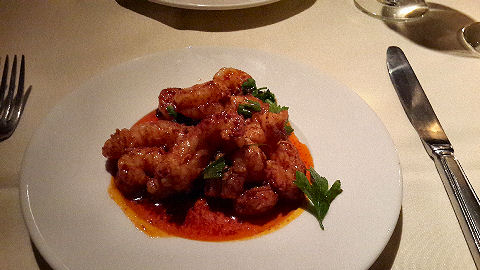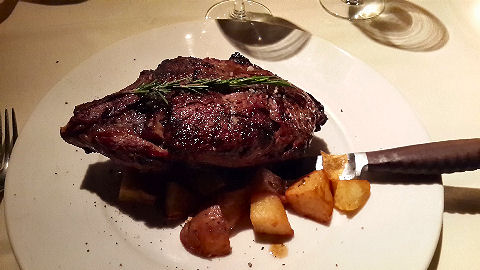 Late evening, a visit to Bella Italia Ristorante, Republica Arabe Siria 3285, corner of Segui in Palermo Botanico, the new Little Italy I've mentioned a couple of times recently and been working my way through. I've heard about this place for years, but it always looked really stuffy and so while it was on my list to try, I just never had. It is, indeed, a little bit stuffy, though not near as much as I expected, it's just a bit formal feeling. Early on there were few people in the dining room and all of us were dressed up, later on, the place filled up and t-shirts and jeans seemed to be the order of the day – who knows. The waiters definitely need to loosen up a bit. Beautiful room.
Also, beautiful basket of breads, which I only admired and didn't try, there was just no way. Ordered an appetizer of prawns in garlic and pepperoncino that were supposed to be "from the oven". Okay, they came out in a sizzling cast iron dish and were quickly dished up onto a plate, but they also came out roughly 2-3 minutes after I ordered them – no way they were cooked in the oven, they were clearly cooked on stove top and then tossed into the dish which was probably heated under the broiler while the prawns were cooking. Still, a good plate of prawns, even a decent kick from the pepperoncino. Oh, and great wine list, surprisingly well priced – actually, everything was surprisingly well priced, far less expensive than I figured it would be. With the prawns I had a glass of Fin del Mundo's reserve Viognier. Then, the piece de resistance, Bella Italia is known for this, their rosemary veal chop. They may actually be one of the few, if only places in town, that serves up an on the bone veal chop. A solid inch and half thick, a salt, pepper and rosemary crust that actually crackled a bit when cut into. Perfectly cooked medium rare meat, tender as butter. Amazing potatoes cooked in the meat drippings. Truthfully, for a non-steakhouse experience, I think that it's the best piece of meat (no jokes please) I've had in Buenos Aires in nine years. It's also huge – it was so good I made my way through around half of it, and brought the rest home, it still weighs in at 230 grams, just over half a pound (I'm not sure why I brought it home, with all these reviews, I'm not going to eat it). A glass of Masi's Passo Doble, which I haven't seen in years, was perfect with it. I'll definitely be back to this place to try more. (Two courses, two wines, bottled water ran 385 pesos plus tip.)