Another round of mini-reviews as I work on the dining section for the next edition of the travel guide. It's a little more intense this time and I'm not able to pack away what I normally might as I'm kind of hitting one place for lunch and one for dinner over a couple of week stretch (part of why Casa S isn't open while Henry's in Peru) – last time I had five months for the section revision, this time I have five weeks. New editor. In the long run, that's better on both waistline and wallet, but in the short run, not so much.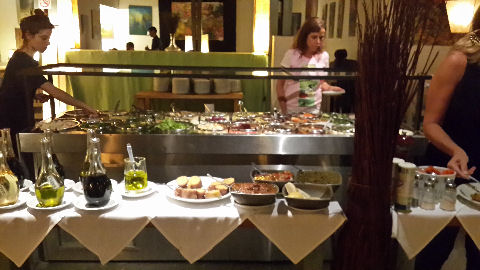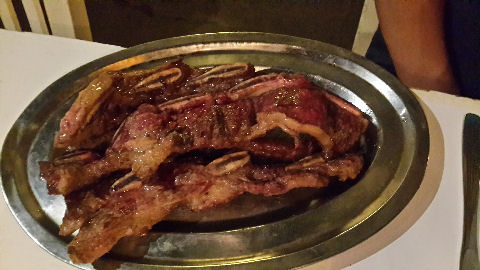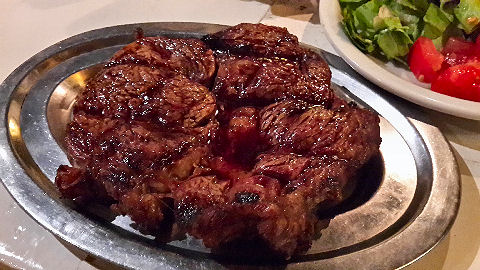 Oh
Juana M
, Carlos Pellegrini 1535 in Retiro, what would we do without you and your salad bar? A mainstay of both the
porteño
and expat crowds, I've always wondered why this place seems to get so few tourists. It's been written about in every guidebook and blog about the food scene here, and everyone always carries on about the salad bar. Maybe it's plunging down that darkened metal staircase that puts them off. But in truth, that's okay, as there are almost always tables available when we want to go (except last minute on Mother's Day).
I've purposely not been going back and reading my original reviews before going to places, just to try to give myself a little bit more of a "fresh eye" approach, and somehow I had it in mind that I'd only had the salad bar and pastas whenever having come here, though now looking back it seems at least once I had a bife de chorizo with mushroom sauce. Henry and I decided on steaks – he got his favorite tira de asado strip of ribs, which were all seasoned and cooked perfectly except, strangely, for that one strip in the front, which for some reason when flipped over was completely raw on the other side, as if the grillman had simply forgotten to turn it over – easily corrected with a few minute return to the grill. My ribeye was dead-on perfect and easily takes the lead in our "Best of" list. You did know there was a list, right? Salad bar is still included with any main course, which these days run around 130 pesos apiece, the salad bar by itself is now 65.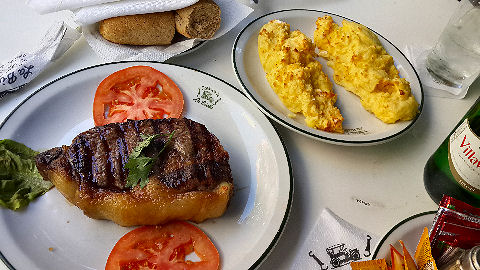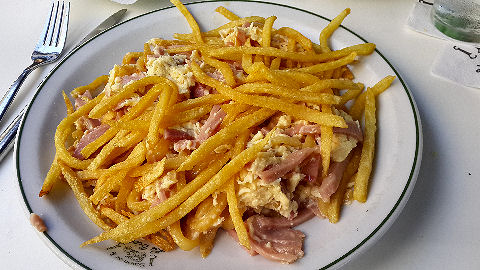 I've never written up the classic cafe
La Biela
, Av. Quintana 600 in Recoleta, before. I've mentioned it here and there – it's where we started our day on the
Nat Geo Traveler food tour
a few years back and I included it on the recommendation of some locals in my first
hamburger round-up
way, way back. But generally, other than meeting a visiting friend there for a coffee, just because they've heard of it, I ignore the place. It's pricey, it's not that good, and the only reasons to include it in the travel guide are it's historical value and because it's too famous not to. It's like an Italian restaurant in the U.S. having to have Santa Margherita Pinto Grigio on the wine list – a battle I fought only semi-successfully during my sommelier years – last I heard it's on something like 96% of the wine lists of all Italian restaurants in the States.
Service is perfunctory, inattentive and slow as can be. We sat outside and while there were three waiters lined up in front of the place, not one of them made a move towards us, or anyone else, as they chatted away for about ten minutes. A bit of waving finally brought about what looked like a quick roshambo moment and finally we got a waiter. Henry went for a bife de lomo, a sirloin, with duchesse potatoes on the side – surprisingly a little undercooked for the way he ordered it, and completely unseasoned, not even a touch of salt, which also wasn't on the table and had to be asked for. My revuelto gramajo was little more than a heap of thin, oily french fries and strips of ham with maybe one whole scrambled egg scattered among them. Like the steak, completely unseasoned. The place is really little more than a money pit for tourists and wealthy locals. Oh, and the mentioned 1-5 peso upcharge back when I mentioned it five years ago? It's now a 20% across the board upcharge to sit outside versus inside (it might actually have been 20% back then, it just looks more excessive now with the inflation of prices – both of our plates were over 100 pesos, even if we'd sat inside).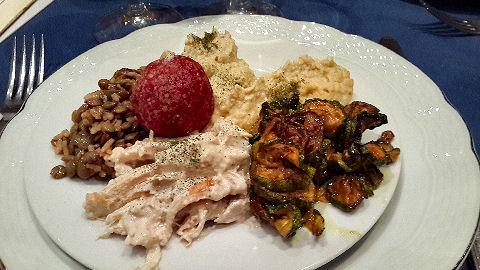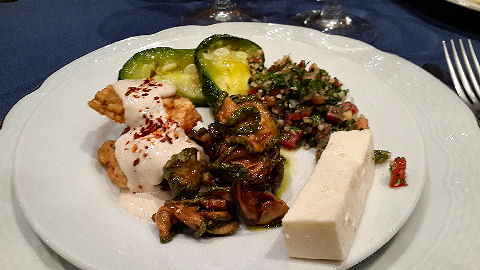 Club Sirio
,
Abdala
, Ayacucho 1496 in Recoleta, is a place we've been to often enough that we get recognized when we arrive, and of course there was that series of
classes
that I took from them awhile back as well. It continues to be good, it's not my favorite middle eastern food in the city, but it's the only place close to home – a mere two blocks away. Like everywhere else in town it's been subject to the steady up-creep of pricing, weekdays for the buffet are now 190 pesos while weekends are 235 (which, let's face it, for visitors means a mere $20 dinner). But, it's unlimited food from both cold buffet and hot dishes from the kitchen (we each managed two plates from the cold buffet and ordered a plate of falafel and one of
arroz sharie
– rice and vermicelli – but only managed to eat about half the latter, and Henry managed a selection plate of pastries as well. Then again, as I said, we're not used to eating out all the time like this (all three of these places were visited in two days), we could do a lot more damage to the all you can eat model if we had time to recuperate.