Coming up over the next few weeks there will probably be a bunch more mini-reviews. It's time for the next round of the Fodor's dining guide updates. New editor, slightly different setup, definitely less time to try to pack in what there is to review, especially because these days Casa S tends to be open 4 nights a week rather than the 2-3 we were open during the last round. But we also have the entire latter half of March coming up when Henry is going to go spend some time with his family in Peru and I'm going to take the time off to do a little local exploring and a whole lot of writing. But a boy's gotta eat, so there will be a lot of that.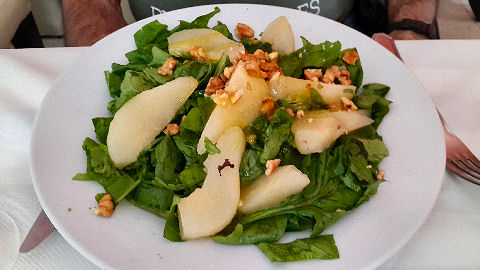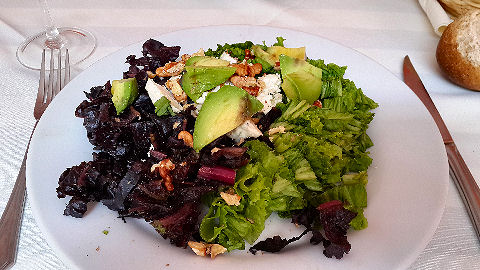 Many, many moons ago I wrote about one of my favorites spots (at the time, I was still new here) in San Telmo, La Farmacia. That was back in early 2006, the place closed up in 2008, and has sat empty, with a for rent sign on it, for the last six years. A couple of months ago I noticed the sign was gone and it looked like work was being done on the place. The other day bike riding over to a friend's house nearby I saw that it was open and suggested we go check it out for lunch. We wandered over to find Telmo Mio, Bolivar 898 at the corner of Estados Unidos ready for business. The menu is extensive. Really extensive and covers a range of everything from standard cafe items to salads, pastas, meats, fish, pizzas, and more. It's the kind of menu that scares me because no one can do all those things well unless they have a huge staff in the kitchen and really good quality control. It's also a little pricey for San Telmo, even in today's market, with salads and other more simple things running close to the 100 peso mark, while main courses soar to around 50% higher than that. We decided on a couple of salads – spinach and pear with a honey mustard dressing, and mixed lettuce with avocado, blue cheese and walnut, undressed, with oil and vinegar on the side. No salt and pepper on the table and asking for them yielded just a pepper shaker. The salads were fresh, decently made, but for 90-100 pesos apiece, pretty meager. They also sock you with a cubierto charge – when oh when are restaurants here going to get over doing that? The trend, thankfully, is away from them, so it's surprising to see it in a new place, but there it was, adding more than 10% to the bill. So, salad, bottle of water, cubierto and tip and this was a 140 peso lunch, apiece. Okay food, but the value's not there.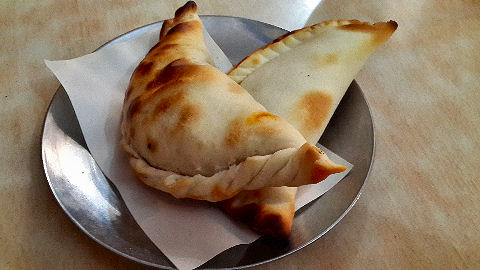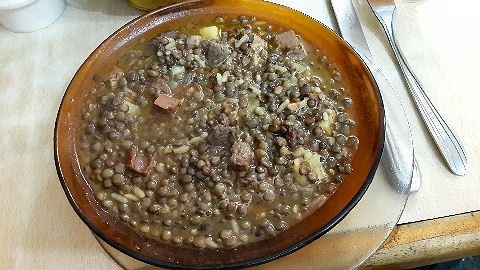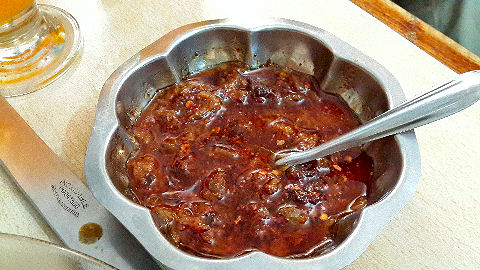 Another way back when, the first time I ever tried locro was at a little hole-in-the-wall, Ña Serapia, Av. Las Heras 3357 here in Barrio Norte. I've been back only occasionally and tried various dishes, but not followed up with any kind of review – it's really just a place to drop in, have something quick, and be on your way. The food is good, not great, but it's always comforting, and it's quite reasonably priced. Above, a couple of empanadas, the carne picante was tasty, if not remotely spicy, the corn one a bit lacking in filling, it was pretty much empty inside. The lentejas a little more like a soup than a stew, but delicious, if pretty mildly seasoned. At that point I asked if they had any hot sauce, figuring on tabasco or some pepper flakes, but instead got a spot-on, sweat inducing, fresh chili oil that I'd happily buy a jar of to have at home if I couldn't just make it myself. Made the meal. With empanadas maybe slightly pricey at 10 pesos apiece, but a good sized bowl of lentil stew at only 60, plus a soda, dinner was 100 pesos with tip (certainly up from that first visit where if I recall my bowl of locro was 5 pesos and a soda was 1, so with a tip, lunch was 7 pesos).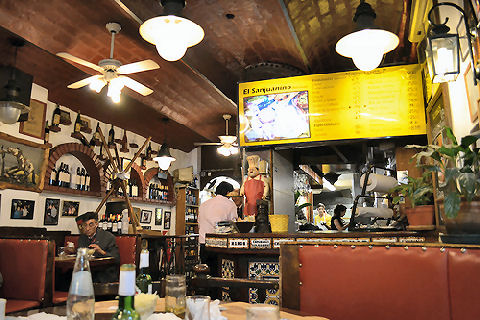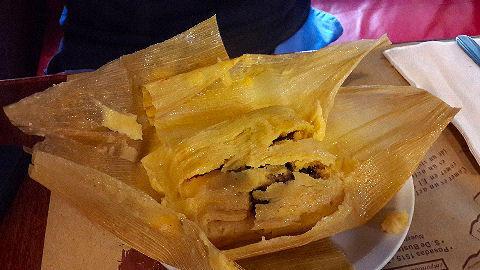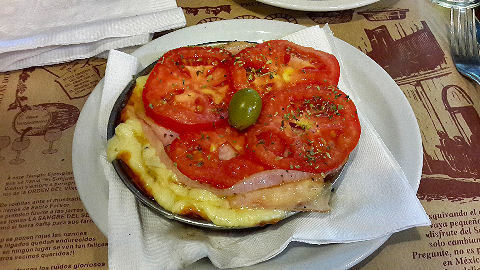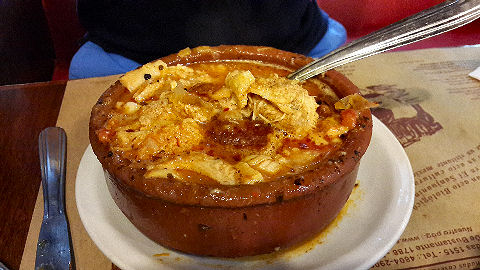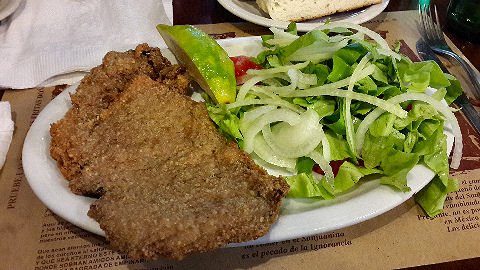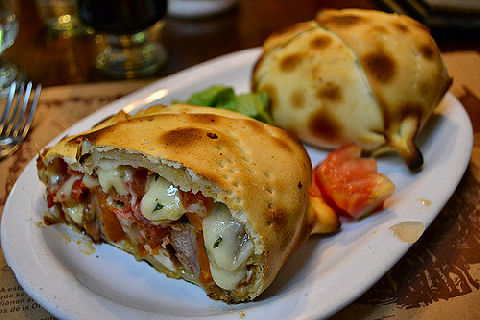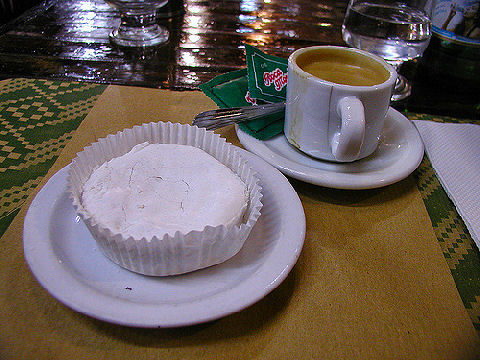 And the last blast from the past for today, a return visit (of many visits over the years, with photos from a mix of visits), to El Sanjuanino, Posadas 1515 in Recoleta. As I stated on that first visit and in the followup commentary, it's kind of touristy, and not surprisingly at least half the people in the room were speaking anything but Spanish. Same waiters as have been there forever. And the food remains on the quite good side of things – for the most part no wows, but nothing ever disappoints. Like everything else, especially here in Recoleta, it's gotten pricey, and Henry and my lunch for two with two apps, two mains, and two bottles of water this week came in at a hefty 350 pesos with tip – on the other hand, it's a great lunch and especially for those visiting, it's some of the better "regional" cuisine for right around $40 for two for lunch or dinner (obviously you can up that with wine or beer, dessert, or whatever). Starting from the top, the upstairs room, there's also a downstairs but it feels a lot like you've been dumped in the cellar; delicious tamal; the house provoleta cuyana, melted cheese topped with ham, peppers and tomato; a bowl of mondongo (tripe stew), one of Henry's favorites; a decent if not great milanesa with salad instead of fries; my all-time favorite and one of the few dishes on the menu that edges into wow territory is the matambre rescoldo – flank steak, peppers, onions, cheese, all wrapped in dough like a giant empanada, then wrapped in foil and baked in the coals of the wood fired oven – and it's big enough for two to split, easily; and an alfajor with coffee, both decent but nothing to write more about. Always recommended as a place for visitors to the city to try out some classic dishes.