Neither Henry nor I spend as much time as we used to in La Plata. I get tired of the family visits where we all sit around and do nothing but chat about people I don't know. On Henry's side, though his sister, niece and nephew are still there, several of his friends who used to live there now live here in BA or elsewhere, so I imagine that's a lot of it. But we do make it now and again, and often when we go, we stop in for a bite at one of our favorite little Peruvian holes-in-the-wall, Machu Picchu, Plaza Italia #61 at Calle 7. (Now, I've been informed by one of my regular readers that he doesn't like the place and there's another one we have to try, so we'll give it a shot on another visit, but we like this place.)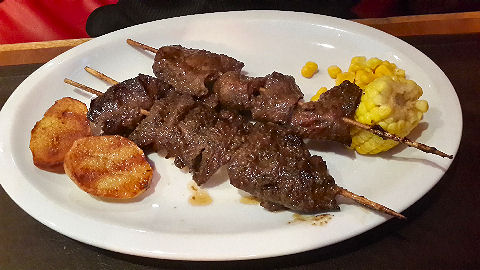 The menu is very classic, traditional, more or less home-cooking Peruvian food, done right, and that's its big draw. Nothing fancy or creative here. On our last visit we started off with a plate of anticuchos – perfectly cooked, mildly spicy and well seasoned. One note, the ají, or hot sauce, that's put on the table when you sit down is pretty mild, just ask for the hot version with fresh chilies in it, they're happy to bring it out and it's delicious!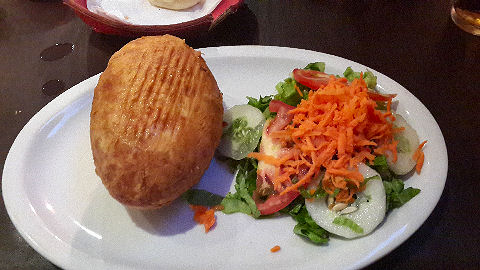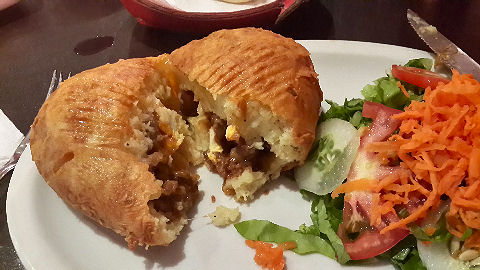 Their papa rellena, stuffed potato, is one of the best I've had, anywhere. The potato light and fluffy, the filling flavorful. I could make a meal out of just two of these.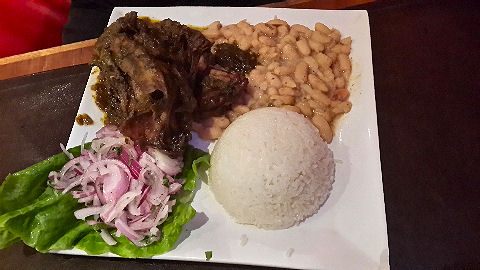 But, of course, we move on. Henry goes for a seco de pato, a quarter duck in a mildly spicy cilantro sauce accompanied by great rice and beans.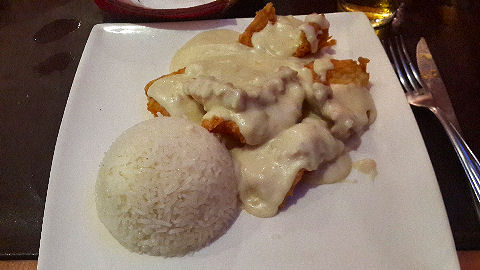 And I go for one of my favorites, corvina al ajo – fried fillets of sea bass in a smooth, delicious garlic sauce.
As usual, we can't quite finish the huge portions and we get the balance to go for lunch the next day. Next time you're in La Plata, which is worth a visit if you've not been, drop in and give Machu Picchu a try – Recommended.
Here's my version of the garlic sauce:
Coarsely chop up a head of garlic, it's not necessary to peel it, just remove the root. Put it in a small sauce pan with half a cup of olive oil and two tablespoons of butter. Over really low heat simmer it for about twenty minutes. Then add half a cup of white wine and a cup of fish stock (or, if you're using it for chicken or something else, use chicken or vegetable stock), and cook another ten minutes over medium heat to blow off some of the alcohol. Now, classically, you'd then add some cornstarch – about a tablespoon and a half dissolved in a couple of tablespoons of water, and thicken it, then puree it in a blender with a little salt and white pepper to taste, and pass it through a sieve to remove the bits of garlic paper and such. I tend to find that version a trifle "gloppy", though still delicious, so what I usually do these days, in the era of molecular gastronomy and all, is simply while it's pureeing in the blender I add about a 1/4 teaspoon of xanthan gum, a little at a time until I get the consistency I want, and then strain it. Much lighter and it doesn't change the flavor the way cornstarch or flour can, plus it stays stable, the cornstarch versions sometimes separate if you let them sit.