Just time for another little mini roundup of dining out and dining in, actually, mostly dining in. And then I have a couple of full reviews coming down the 'pike, so to speak.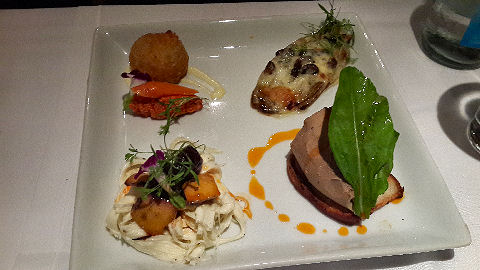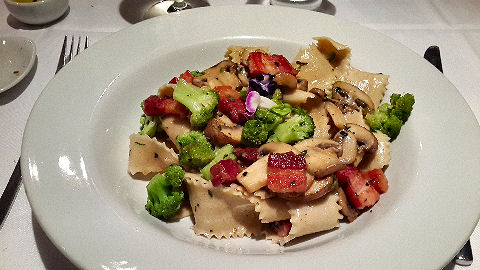 About five years ago one of the local sommeliers that I got to know casually back when I was participating in the tasting panels for the Austral Spectator wine guides opened up a restaurant. Somehow, despite keeping it on my "to try" list, I never made it there until just this month. It's a relatively small, neighborhood Italian restaurant in Belgrano, called Doppio Zero, Soldado de la Independencia 1238, the name, my best guess being, for the type of flour, "double zero", used in making pasta in Italy. It makes for an odd choice of name, because here the zero scale works the reverse of the one in Italy, where double zero is what we would call pastry flour, very low in gluten; here, double zero is bread flour, extra high in gluten. To go the same route here you'd need four or five zeros. But let's get back to the restaurant. Casual setting, fairly bright lighting, a mix of booths and tables. Waitresses friendly and welcoming, I got a bit of the royal treatment as the owner, Mario, took me around and introduced me to them and the kitchen staff as an old friend. [Closed in early 2014, reopening as a new place, Chiuso, in Retiro, to be reviewed.]
Although there's a tasting menu available I decided against it, it just sounded like too much food for the evening. Instead I opted for the antipasti selection – there's a menu of both cold and hot antipasti and you can pick four of them to mix and match as you like – I had a lovely rabbit croquette, some caramelized fennel with gorgonzola, a country style pate, and a little roasted beet salad. All delicious, perfectly prepared. Now, during my tour of the kitchen I noticed one of the cooks just rolling out some fresh pappardelle, so I thought that would be a perfect way to go and ordered up those fat noodles with pancetta, mushrooms and broccoli. Flavors, excellent, I mean, what's not to like with bacon, two of my favorite vegetables, and good olive oil? Maybe a trifle more al dente than I tend to like, I think mostly because the pappardelle seemed slightly thicker than I'd normally have them or make them, but that's more personal preference. Delicious, and I didn't leave a bite behind. Great bread basket on the table too, particularly the excellent focaccia.
I let Mario select a wine with each plate, he threw in a welcome cocktail and a glass of grappa at the end of the night. And then, full disclosure, comped the whole meal, unexpectedly generous. I will say it's not a cheap place – you could certainly eat there fairly reasonably with just a single antipasto selection and a plate of pasta and glass of wine – but I added up what it would have cost had I paid for the two plates, water, cocktail, wine, digestif, and a proper tip and it topped out to 600 pesos and change. That's the way of things here with the economy, but still feels a trifle high, especially given what we offer up at Casa S for 10% less than that – and which is only that high because of the recent and sudden 23% decrease in the value of the peso versus the dollar.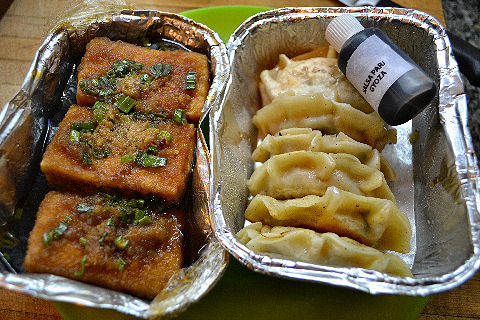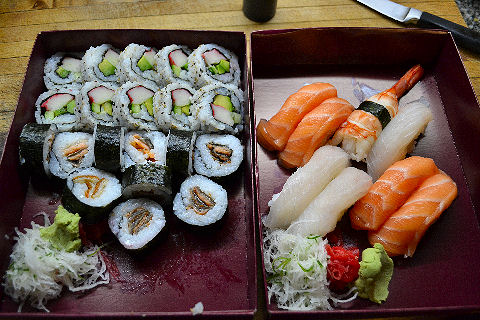 Okay, the dining out part done for this post, on to the various dining ins. New sushi place tried, Kyodo, Ecuador 1175 Ortiz de Campo 2670 here in Recoleta. Gave them a shot via delivery. Arrived swiftly, in about half the time they estimated. Nicely packaged, fairly priced. First time I've seen agedashi tofu on a takeout menu here – one of my favorites. Good version of it, taking into account that it got a little soggy sitting in the sauce during the delivery – I think it would have been better to keep the fried tofu separate and have the sauce there to add to it on arrival. Delicious salmon gyoza. Nigiri sushi was fresh and decent sized, and I like that they offer an option for a mixed selection rather than the "5 or 10 of one item" that seems to dominate the local sushi scene. The rolls were a bit wan. They didn't quite live up to the other stuff in the boxes, but that could have just been my selection (California roll and a salmon skin roll). On my list to go check out at the source. [Edit: It hadn't registered at the time as a couple of years had passed, but Kyodo had come to my attention negatively in relation to their online approach to competition. Hmmm… maybe since they didn't wow me, I'll just leave them in the past.]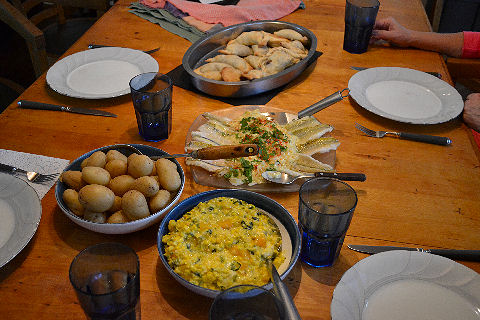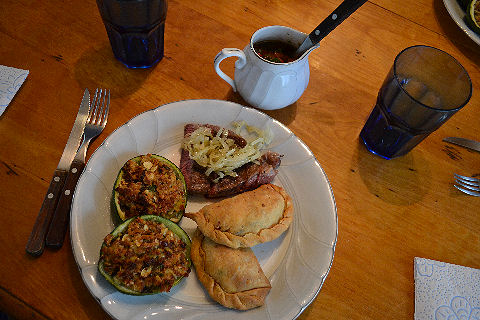 I seem to be getting more requests for Argentine cooking classes these days than anything else, and the ones I put up on our schedule, the Italian and vegetarian, and Chinese, and other "exotica" classes that used to fill up rapidly, are just not drawing any attention any more. I'm surprised actually, given the economy I'd have thought there'd be more expats, and locals, looking for cooking classes than before, but there seem to be fewer. Then again, it seems like every couple of weeks I'm finding out that one more person I've met here in the expat community is packing up and headed back to wherever they came from. So it's been mostly visitors, who understandably are more interested in local cuisine than from elsewhere. Two classes this last week, one where a trio of students made both beef and mushroom empanadas, pejerrey a la colonial, and humita en la olla (a stew of coarsely grated corn, green onions, squash, chilies and cheese); and the other a private class for another visitor in which we made our own ricotta, used to to make ricotta, longaniza sausage and plum empanadas, grilled some steaks with a little onion relish, made chimichurri, and some zapallitos rellenos. All, of course, delicious!