Enough of a break from pizza eating, right? After all, it's pizza! We pick up in Velez Sarsfield and continue on into Parque Avellaneda, and maybe even just edging into Mataderos, which will be our last barrio headed this direction on the 92 bus pizza trek.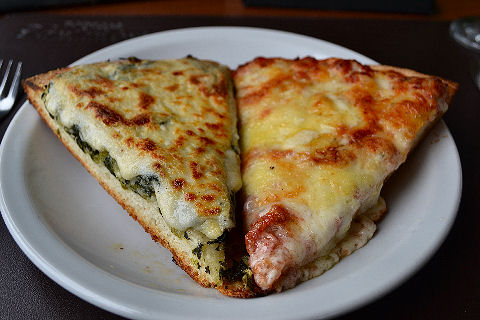 We begin just a block further on from our last entry, at Pizzeria Plaza del Sol, Av. Rivadavía 8802, corner of Olivera. Looking like any of a zillion other casual diner sort of spots here in BA I didn't have high hopes. They've got a nice selection of pizzas, nothing particularly unusual, but a good array. And, about half of them are available by the slice. I decided to go with one plain mozzarella, and one white pizza with spinach, just to see how they fared with that (I had yet to find a really decent "white slice" anywhere in this city). It was such a pleasure to have my low expectations dashed to the ground and stomped on when these beautifully browned, delicious looking slices arrived in front of me. The crust was excellent, and just light charred on the bottom, the cheese melted and browned rather than goopy and greasy, and a decent amount of tomato sauce on the plain slice, and one with good flavor to boot. The white slice, plenty of fresh spinach, and a flavorful bechamel, if still not quite what I'm looking for (not so stodgy, it should be as fluid as tomato sauce is on the other pies, and it was in need of more garlic), still, the best I've found of the genre. Recommended.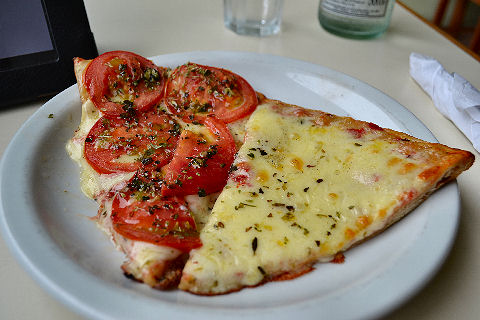 From a relative high to one of the lowest of the low, almost directly across the street at #8825 is La Porterita. The only people in the cavernous space in mid-lunch hour were the three employees, and they were busy eating their own lunch. The waiter seemed mystified by my attempts to order a plain slice and a napolitana slice, as if no one had ever done such a thing before. But after four attempts he headed off to put in the order. The pizza arrived in short order – no more than 3-4 minutes. The crust is no thicker than a wheat tortilla, and may have actually been one. And somehow, despite the cheese being melted and hot, the crust was completely raw – my guess is they stick the pizza underneath a broiler just barely long enough to melt the cheese and little else. No sauce to speak of and what there was tasted of canned tomato juice. The napolitana only fared better because at least the slices of tomato were fresh. Not remotely recommended.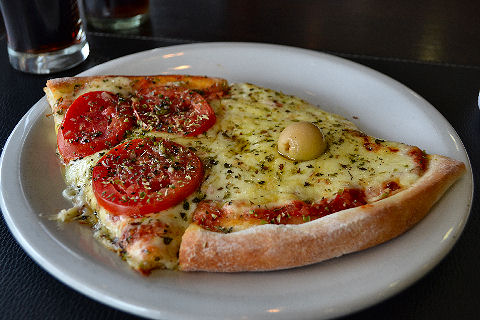 Thereafter follows a significant gap in the pizza world – another couple of blocks along Rivadavia, left onto Santiago de las Carrerras, then onto Falcon, then right onto Lacarra, all the way to Alberdi, and then right numerous blocks to the corner of Bruix, where the path turns left once again to head into Mataderos. During that entire stretch there were only two pizzerias, with hours posted that they should have been open, but they weren't. To be checked again in the future. Here at El Viejo Torino, Alberdi 4902 at the corner of Bruix and Encalada as well, I had higher hopes. It just had the decor of a good Italian pizzeria, they're into wine with a selection on display, and the pizza selection is once again quite decent. I went with another plain slice and napolitana, just to offset the last place. The crust, good, nicely charred. The sauce, decent, zesty, though for me a bit salty. The cheese could have done with the browning from the first place above, but was at least a good quality one. Really, other than being notably salty, it was pretty good pizza, and I'd put it in the midrange.
On to Mataderos in the next round.