One of the first places I ate at after moving to Buenos Aires, and the first "fancy" place, was Tomo I ("Take 1"), Carlos Pellegrini 521 in the Panamericano Hotel, right by the Obelisco. I didn't have my camera along, it was a night out with some local friends in the wine biz, and we were just relaxing. I gave the place a relatively cursory review, liked it quite a bit, for the time I'd put it on my Highly Recommended selections – in fact I think it was likely the first place to get that designation. Relatively classic French style food, done really well. I wasn't thrilled with the room, which at the time was done up in a dark red – pretty much every surface in the place, which made us feel very claustrophobic, and for that time period, it was expensive. If you look at my review it won't seem so, dinner for three cost us 495 pesos (us$165 at the exchange rate then), including wine, but that was at a time when Henry and I could go out to dinner at a decent restaurant here in Recoleta and spend under 100 pesos, including wine as well.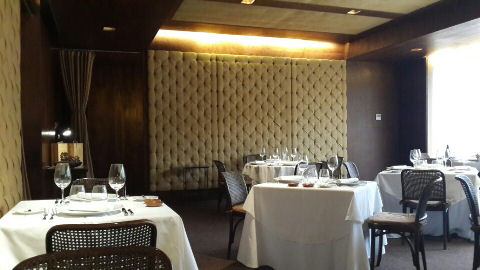 Though I'd not been back since, I'd heard that the place had been remodeled and the menu revamped – still classic French but a little lighter and with some modern touches to it. As to the first, yes, without question – it's now done up in lighter earthtones which just gives the room a brighter feel. I don't know that quilted burlap is quite what I'd have chosen for the walls, but so be it, my lunch companion, Kelly from Adentro Dinner Club, liked it. The clientele is still mixed – we were there for lunch and there were a couple of tables of businessmen in suits, one table seemed to be locals, the other not, plus a couple of couples, all well dressed, and at the same time, a young man in his early 20s wandered in with a massive trekking backpack which he tossed to the floor, he was dressed in t-shirt and ripped jean shorts, and he plunked down and ordered a meal as well. Hey, even rattily dressed folk gotta eat, right?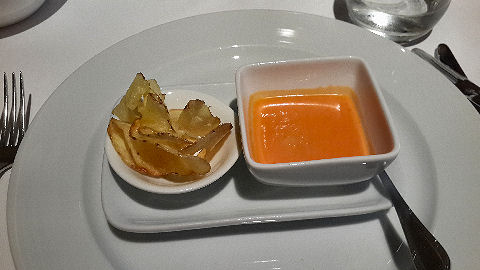 First off, the menu. Yes, still pretty classic French, and yes, some modern touches as well. We hit a minor snag, Kelly being vegetarian – we'd both heard that the menu had several vegetarian friendly options on it, but it really doesn't. It has one pasta on it that's vegetarian and that's it out of a couple of dozen dishes. The other pastas look like they could be, but turn out to use some meat in their sauces, and the soups, even the vegetable soups, use chicken stock rather than vegetable stock. Interestingly, we received an amuse bouche after ordering, with quite good potato chips and tomato soup, and it turned out that the latter is made with vegetable stock, so why not when she asked about soups, offer up a bowl of that? And, I think any restaurant of this caliber, and particularly one in a hotel setting with a lot of foreign visitors, ought to have more options.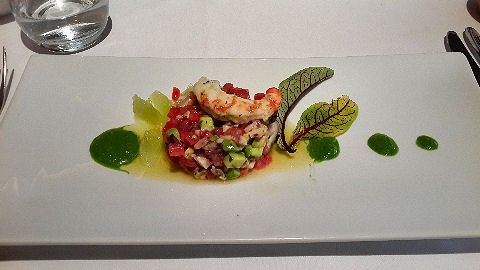 So just one appetizer for the table,, well, for me, a "tartare" of jibia, or Humboldt squid. Delicious dish, though come on, for 190 pesos, that's a skimpy little plate of food, and most of the tartare was tomato and avocado. And, it wasn't even a tartare, which is a dish of chopped, raw meat – the jibia was cooked through, as was the prawn gracing the top.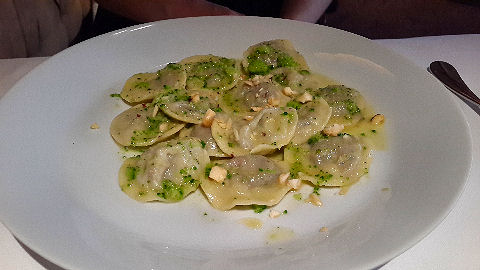 Coming in at over 200 pesos, we'd also expected a bit more from the ricotta ravioli with a broccoli and almond sauce – there's not a whole lot of sauce there, and I thought the pasta was a touch too al dente, still chewy. But good flavors.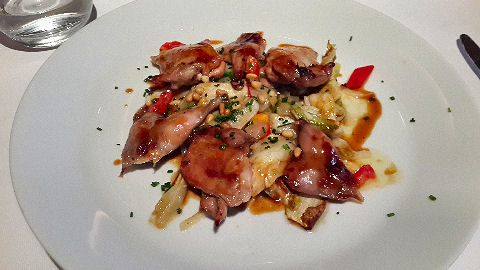 And, while easily one of the best quail dishes I've had in BA, the glazed 1-1/2 birds over a bed of roasted endive seems a trifle paltry at nearly 300 pesos for the plate.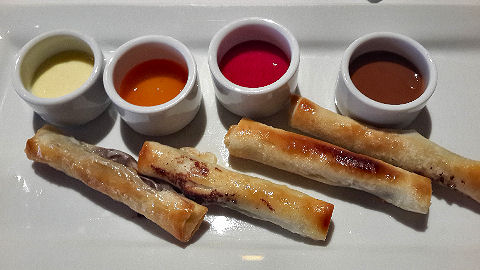 Kelly's dessert of thin, crispy, chocolate springrolls were, for me, just okay, I think she liked them a little more than I did – the dipping sauces are interesting, orange, raspberry, dulce de leche, vanilla, though the promised varied spices in them seemed missing.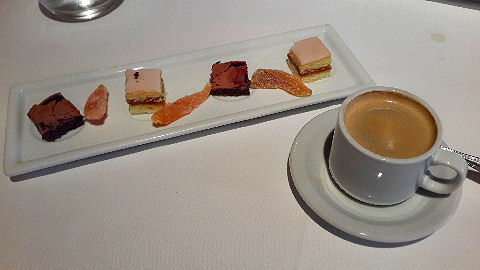 I went for just coffee, but Tomo I won't serve just coffee, you have to get it with petits fours (38 pesos). Good coffee, lousy petits fours except the candied orange peels.
So, overall. Ambiance is pleasant, keeping in mind the hotel setting and that if you're looking for a fancy night out, you may find yourself seated next to someone who considers it pretty casual, you take it as you get it. Service was friendly, but not overly helpful and really quite slow – I realize that timing on dishes is a kitchen issue (and we waited 50-55 minutes after my appetizer was cleared to get our main courses, including that at around the 40 minute mark we asked about them), but even waiter controlled stuff like water and wine were handled at a snail's pace – and there were two waitresses for a grand total of 15 customers. Food, excellent, flavorful, well prepared, beautifully presented, but rather small portions, particularly given the high prices, albeit a fancy hotel (we shelled out 500 pesos and change apiece for lunch, with only two courses each and one glass of wine – essentially the same thing we charge here at Casa S for a five course dinner with five wines, cocktail, bottled water, and coffee). I realize that prices are high all over these days – and I wouldn't mind the prices at all at a place like this if I didn't find the portion sizes rather on the light side. I should note that there is a three-course lunch prix fixe available with a selection of dishes from the a la carte menu on it, but the portions are even smaller, and by the time you take into account bottle water, a glass of wine if you like, and tip, it will still run you 300 pesos per person. And, had we been there for dinner (same menu) and ordered a three course meal with wine, as my friends and I had the first time around, it would have easily run over 1000 pesos per person.
So, do I still consider it Highly Recommended? No, in particular because of the lackluster service and inordinately slow kitchen, despite the quality of the food, I'm dropping it to just Recommended.