"When one has tasted watermelon he knows what the angels eat." – Mark Twain, author
It never occurred to me that it was such an odd thing to do, roasting a watermelon. Plenty of fruits have been roasted in many a dish. There's even an eHow entry on how to do it (though I do it differently). Yet it seemed to be a hot topic on more than one evening over the last two weeks' worth of dinners. 'Tis the season and all that, and I wanted to make use of this juicy, fresh, summertime favorite. And so, it became a part, a small part I thought, of the two most recent menus.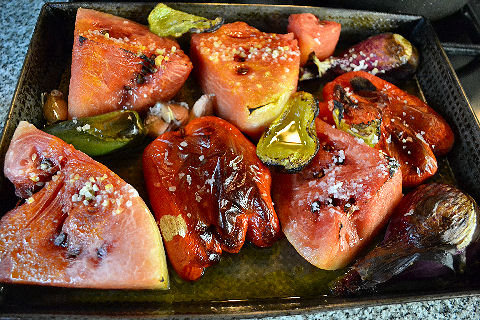 So let's start here – and then we'll get into the menus themselves. I treated the watermelon differently the two weeks. The first week, as here in the photo, I stuck it under the broiler (so it's really, I suppose, broiled watermelon rather than roasted) along with red bell pepper, red onion, garlic, and rocoto chilies, all sprinkled with coarse salt and drizzled with olive oil. And then simply let it brown away. The watermelon loses a decent amount of its water weight, but not by any stretch all of it, and the sugars start to caramelize and the flavor concentrates. Obviously it was destined for a savory presentation. The second week, using just the watermelon and rather than the broiler, just roasted for about half an hour, no other veg, no salt, no oil, it was headed for dessert. So, on to the menus?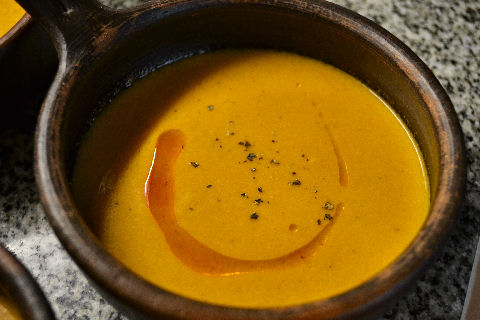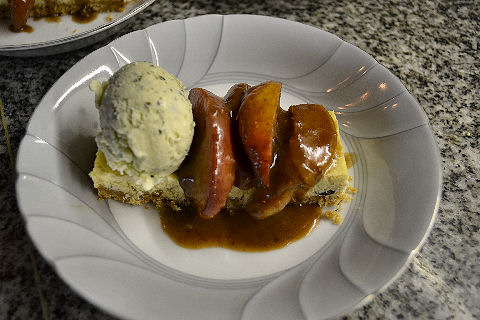 Since most of the dishes have made appearances before, I'm going to cut down on both photos and verbiage. Two weeks ago the menu began with our latest iteration of trout ceviche, a dish I covered in depth back in October. Then followed on with a gazpacho, using the above roasting pan of fruit and vegetable – pureed, seeds and all, along with peeled cucumber, coconut milk, red wine vinegar, olive oil, basil, salt and pepper, and then strained and chilled, drizzled with smoked paprika oil and a grind of black pepper over the top. The following two courses were our heart of palm tart and then lomo saltado served over rice and with quinua impregnated pappardelle. And we finished off the evenings with a new dessert, a peach cheesecake – infused with peach blossoms, peach juice and peach liqueur, topped with brown sugar caramelized peaches and a fresh mint gelato.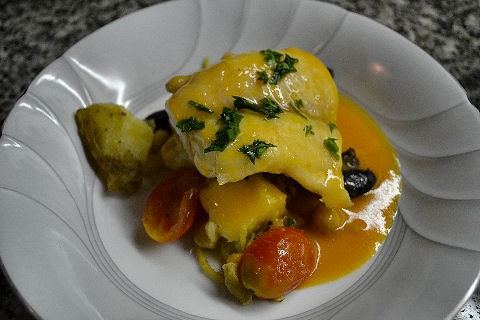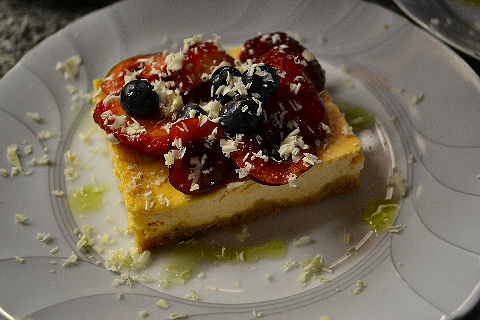 On to this last week and a menu that launched with our vegetables "a la tahitienne", the only difference being that fava beans are out of season and corn is in. Chilled beet soup with jalapeño gelato – it still looks like the linked photo but these days I use honey instead of corn syrup and fresh jalapeños in the gelato. Then on to the fish course pictured above – our latest take on sudado, slightly inspired by one of our meals in Trujillo last year – I quickly broil the fish, in this case pez gallo, served over a saute of diced potatoes, halved cherry tomatoes, black olives, garlic, thyme and oregano and finished off with some lemon juice, and then all the ingredients that go into making the sauce for sudado cooked down together, pureed, strained, and then thickened. The main course was our pepian de pollo with peas three different ways. And, finally, onto the watermelon dish, a watermelon cheesecake using a strained puree of the roasted watermelon in it, topped with a mix of cherries, strawberries and blueberries, grated white chocolate, and mint syrup.