"There is an infinite difference between a little wrong and just right, between fairly good and the best, between mediocrity and superiority." – Orison Swett Marden, Author
We're always up for checking out new, or old, Peruvian spots as we find them. So when Henry recommended that we pop in to Los Trujillanitos, Corrientes 3564 near to the Abasto, I happily tagged along, as did different family members while visiting us. Twice. I assumed that we'd get a bit of cooking from his part of Peru, and that the draw for him was that the menu was closer to the home cooking he grew up with than the more common Lima-oriented restaurants that Buenos Aires plays host to. And, to some extent the menu is a little different, not extensively, but there are at least a few dishes from his area. Portion sizes are large, the pricing is reasonable for the area and the way things are going these days. But I wasn't convinced.
And then, as I was posting this, I discovered that I'd already reviewed this place and forgotten about it. I see that I felt overall the same way about it almost eight years ago, though some of the dishes tried then and now I had different feelings about. So maybe it's just inconsistent.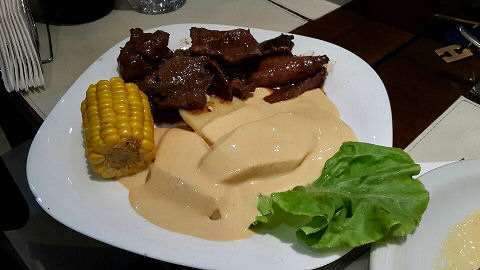 A plate of anticuchos isn't bad. The meat is cooked right. The sauce, unlike at many places here, isn't overly salty, but it isn't overly much of anything either. We all found it a bit bland. Likewise the accompanying papas a la huancaina – the sauce just doesn't have the kick of the traditional yellow chilies. We ask for hot sauce and it really isn't any hotter.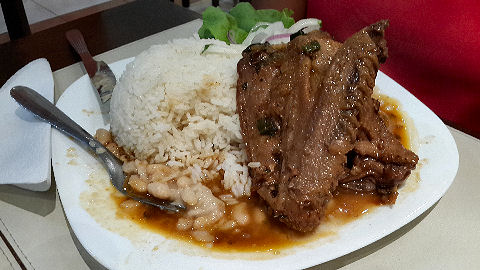 Stewed duck – pato estofado – is once again cooked to a perfect tenderness, the duck itself nice and flavorful. But, the accompanying beans and the sauce on the duck are just lacking. It sits well with Henry's sister who isn't a big picante fan, but for us, just not doing it.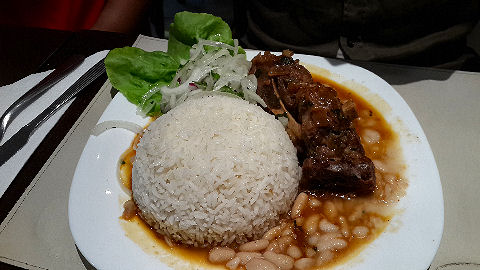 Ditto the seco de cabrito, stewed baby goat.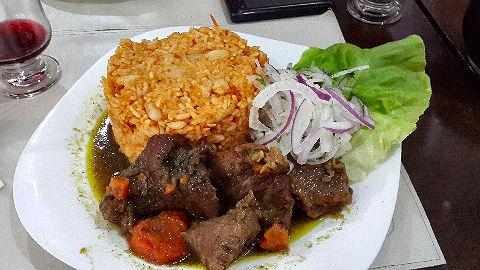 The tacu tacu con cabrito is a bit better – here, once again, the baby goat stewed beautifully. A bit of a kick at least. The tacu tacu on the other hand, classically made by frying up a mess of leftover rice and beans to form a sort of cake, is little more than rice with a few scattered beans, and some vague seasoning added – it's not bad, but it's not tacu tacu.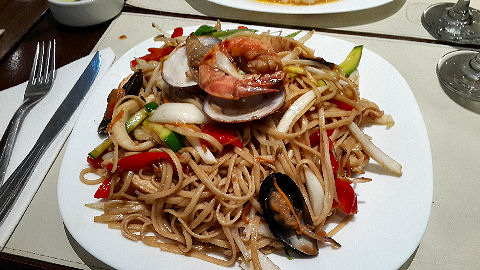 Fish and shellfish a mixed bag. I don't have a photo of the jalea de pescado, essentially a big platter of fried fish and french fries. It's actually pretty good if you're in the mood for a big platter of fried stuff. On the other hand, the tallarines con mariscos are pretty mediocre. The noodles are dressed in an eye watering amount of ginger, the shellfish are all rubbery and taste old. I eat some of the noodles and push the rest around on the plate, finally just shoving it away. My gastrointestinal tract confirms the past due date on the marine critters within a few hours. Trust your instincts….
So, overall, I give this a pass. It's just mediocre at best, and I have to admit I'm surprised that Henry lets that pass, he's usually pretty critical of less than acceptable Peruvian food, and I can't imagine it's just because of the connection with his home city. Far better for this type of Peruvian food, and with a more extensive menu and better prices, is Sabor Norteño, just a few blocks away near Plaza Miserere, which probably deserves a more thorough and current write-up than I gave it back there eight years ago yesterday.