When I have a day with no plans made, I'll often start it by checking out the Cultural site of the city government here to see what's happening around the city. It's got a very searchable agenda base, you can specify day, type of activity, free or with cost. They even have an iphone and android app, but I have yet to find anyone who's been able to get it to work on their phone or tablet – mine both say that the android app is incompatible, which given that they're as current versions of android as exist right now, means someone on the city's end is not overly competent at their app programming.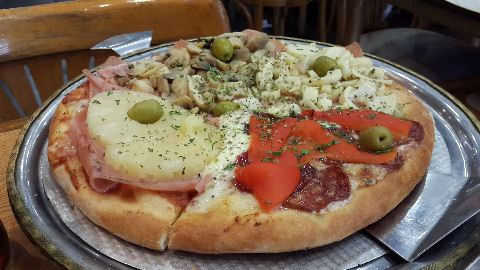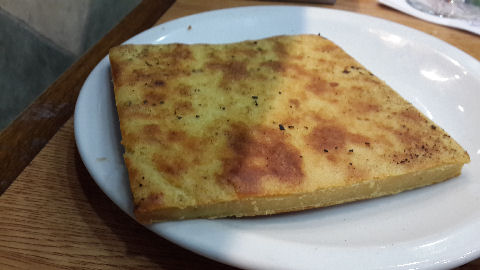 Yesterday I spotted a photography exhibit, La Hermosa China, that sounded interesting, and it also gave me a chance to head to a historic museum, Cornelio de Saavedra, that I've not been to before. Turned out to be relatively easy to get to, a few block walk to Av. Santa Fé where I grabbed the 111 bus out to the corner of Av. Constituyentes and Crisólogo Larralde, a half block from the museum (took 50 minutes from Recoleta). Of course, I had to grab some nourishment, it was almost 2 in the afternoon at that point, and Foursquare offered up a pizza place right on the corner, El Ombú, where I was subjected to what has to be one of the worst pizzas I've had in this city. The crust was so hard I couldn't cut it with a steak knife (really, I had a steak knife on the table and could not saw my way through the crust), so ended up eating the toppings off of it. And the "cuatro estaciones" pizza, which had said that it had four quarters, "sausage and peppers, ham and pineapple, mushroom, and palm heart" didn't mention that the ham extended to the latter two vegetables as well. All the ingredients were cheap, canned, and not particularly fresh, the tomato sauce was pretty much a missing, and the cheese was plastic and oily. The small pizza was also massive for a small, easily the size of a large dinner plate. The fainá had the texture and flavor of corkboard. Service sucked. Failure all around.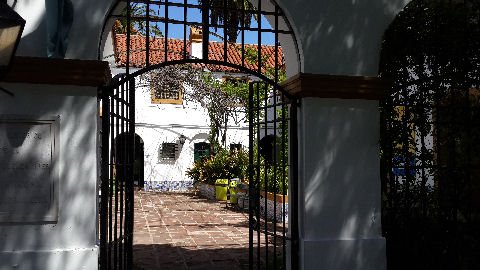 The museum is housed on the grounds and in the two buildings of an old colonial era house. The grounds are a bit unkempt and home to numerous ducks, geese and chickens, most of whom seemed to have wandered in from the adjoining Parque Sarmiento, which was packed with sunbathers and folk playing various outdoor sports – it was probably a refuge from all of that.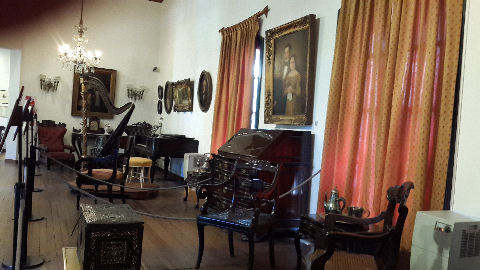 As long as I was there I figured I'd check out the museum's permanent collection as well. I have to say it was a very pleasant surprise. One of the more interesting collections of historic ephemera, well curated and displayed, that I've seen in smaller historic museums here. Of particular interest were a room of peinetones – I'm not sure quite how to translate that – they're a comb but the type that back in the 18th and 19th centuries women would place into their hair and leave "on display" – almost like a tiara without the jewels, and built atop a comb. I'm sure there's a word for them in English…? The other room that I really liked was one of a series of paintings of the Plaza de Mayo from the point where it was little more than a mud field with a couple of adobe buildings around it until some time in the late 1800s or early 1900s.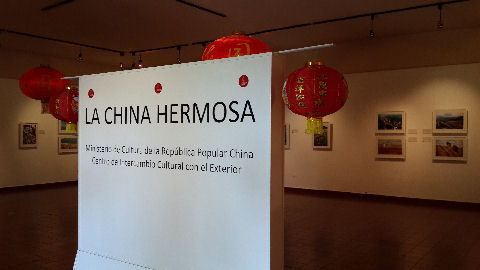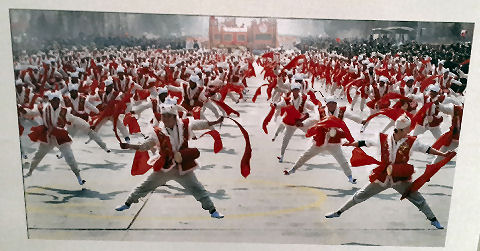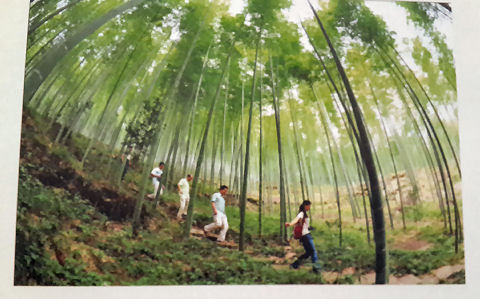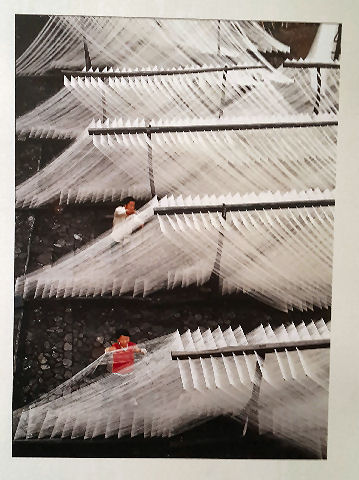 It always seems strange to take photos of photos, but some of these were so amazing I just had to to give you some examples, and also to inspire myself to take better ones. The traveling collection is on display until March 9th and consists of around fifty beautiful photographs of various aspects of life, nature, cities, etc. in China. It's impressive, and if you're into photography, and/or China, it's well worth the trip out to see this. That last photo, by the way, is not some sort of silk or thread, but noodles being dried in the open air. Very cool.