A round-up of the places we ate at in Ushuaia that are worth mentioning for one reason or another. I'm leaving out grabbing sandwiches at the very cool Xpresso Café Gourmet (Laserre 108 just off San Martín), where we also tended to grab excellent coffee in the morning; a couple of late night snacks on pretty decent empanadas at El Viejo Bar, along with a selection of local beers, or even grabbing an all you can eat lunch at Arco Iris along San Martín when we just needed a salad bar.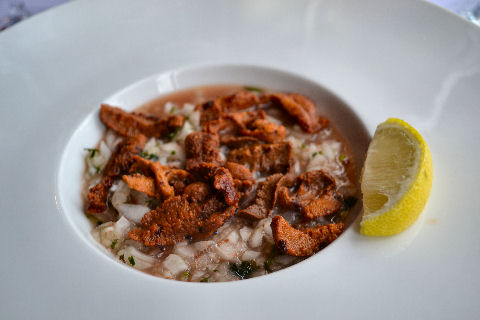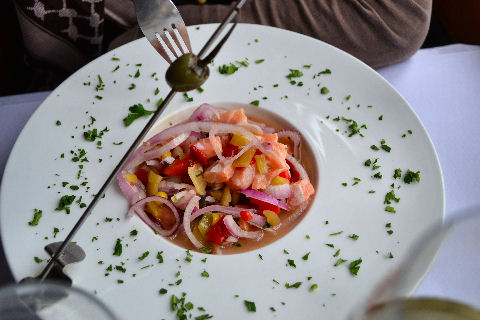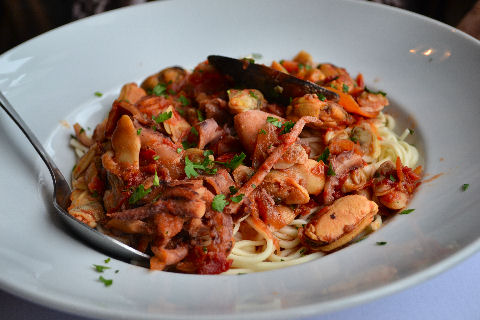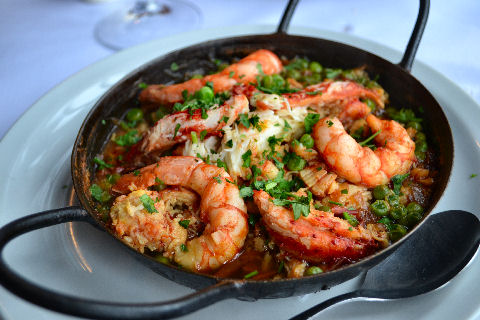 Volver means "to return", and on my last trip it was one of my favorite meals and places to eat, at Maipú 37. So it wasn't a stretch to have it be our first meal this time around. We arrived, hungry, promptly at the opening time of 7 pm, but the matron told us we'd have to wait, they weren't ready yet – it took them about 20 minutes to get the place ready to open and by the time it did there were others waiting as well. I love my sea urchins, so the chance to have that dish again was a no-brainer. Except that what arrived just wasn't up to par with the previous visit (compare the photos) – these were dried out, spindly little tongues of urchin and the dish was basically all onion. It was also completely unseasoned. Henry thought he'd try the "ceviche de puta madre", which our hostess assured us was as picante as it gets – the only chili was that little one on the skewer hovering above the plate, and the chef substituted salmon for white fish ("I don't know why she does that sometimes, I can't control her, she just does things."), which Henry hates in ceviche, but it wasn't worth sending back as the plate was nothing but some chopped salmon, onions, and lemon juice – no seasoning again, just sour. His spaghetti with shellfish was mediocre, bland, and overcooked. My king crab and prawn casserole only hinted at the promised garlic and spice, it was mostly just floating in cheap oil and unflavored broth. And the prices are almost double what they were five years ago. We won't "volver" again.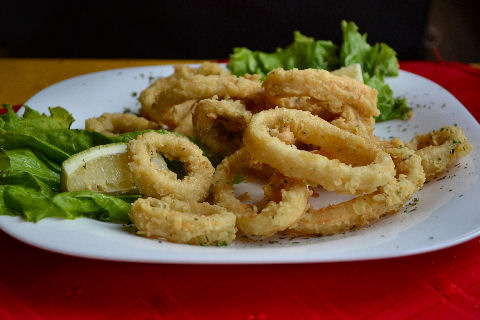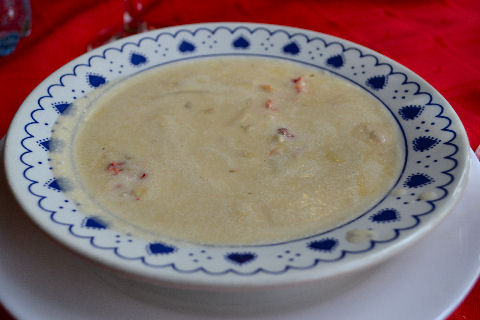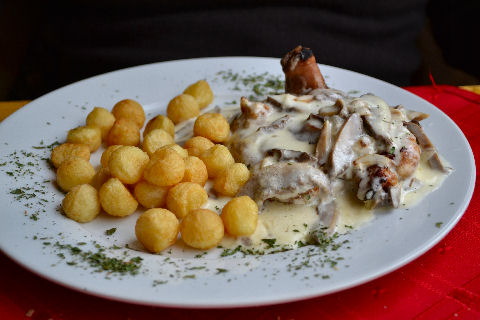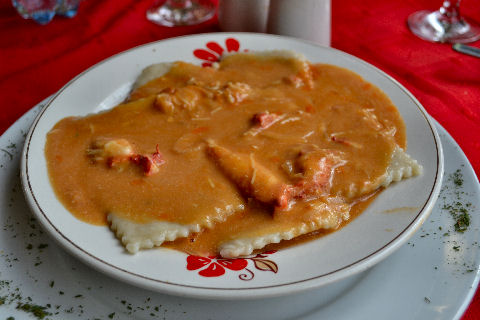 Lunch at Kénos Restó, Godoy 46 just off the waterfront, recommended by one of the folk at the docks where we were booking our sailing tour for the day. Not great, not bad, certainly a better meal and at a far gentler price than the previous evening's venture. Well cooked and properly seasoned fried calamari for Henry and a decent king crab soup for me – perhaps a touch too much sherry added at last minute – but hey, they added sherry to it. His chicken in mushroom sauce was a touch overcooked but very flavorful and the noisette potatoes were perfect. My merluza negra (Chilean sea bass) ravioli in a rich, tomato-ey shellfish broth were just right. Service could have been a bit less rushed feeling – it's not like they were packed, but it seemed like the waiters just wanted to get everyone moving along quickly. On the other hand, that meant a very quick lunch and back out to the streets to see more of the city.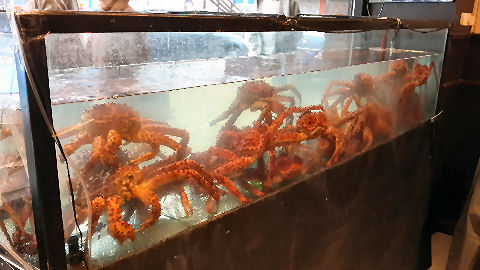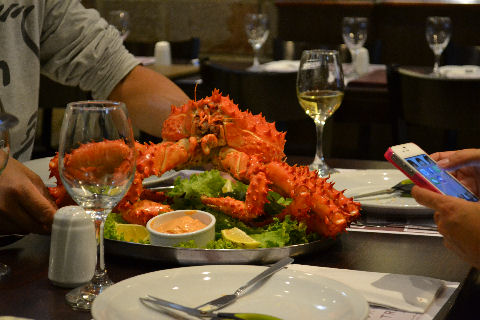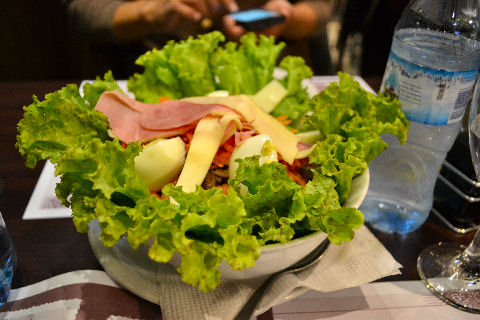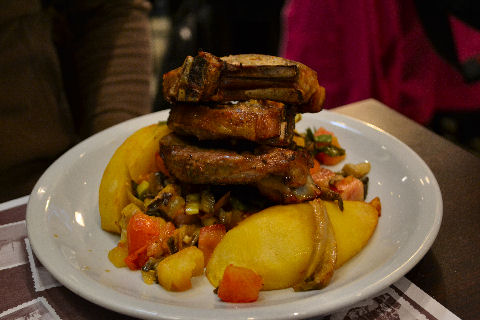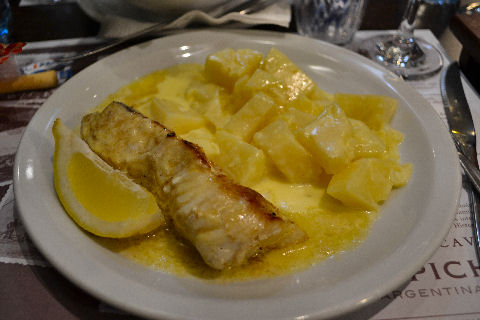 Dinner that night at Villagio Restaurant, San Martín 326. Now, I suppose when you're greeted by a tank of live king crabs, and people are picking out the one they want, holding it up for photos, and then getting it back cooked, as our neighbors at the next table did, that's the route to go. But Henry's not into tearing apart a whole crab like that, and while I might, had I been on my own, have gone for it solo, I decided on a touch of discretion. We decided to split a salad to start – and what a salad it turned out to be – loaded with vegetables and ham and cheese as well as the lettuce and tomatoes that we envisioned. Then Henry turned to the house special lamb with potatoes and a vegetable compote – three good sized lamb chops, all cooked properly and the dish full of flavor. My Chilean sea bass in lemon cream sauce accompanied by potatoes was tasty, if a bit skimpy on the fish. Expensive but not outrageous. I'd go back for the crab, just because, you know?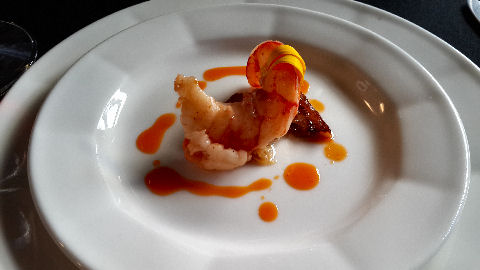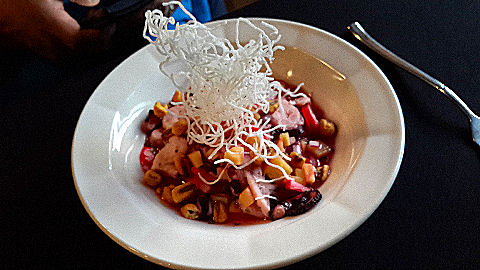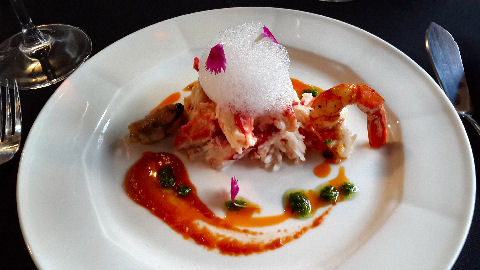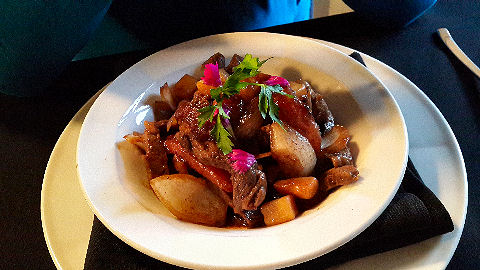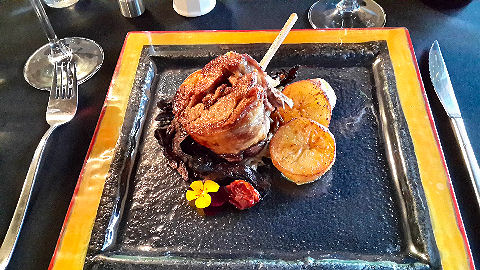 Next night out we took a chance on the new hotspot in town, Kalma Restó, Antártida Argentina 57. They've got a sign on the door letting you know it's by reservation only, and it's a small place, fewer than thirty seats. The chef greeted us at the door, there were only a few people in the place, and he asked us to wait a moment while he went and consulted with his partner. They discussed for a minute or so and then he offered us "his last table". A bit of a conceit I'd say, as no more than half a dozen more people came in over the course of the evening. It's a pet peeve of mine when restaurants do that – if you've got space and you know it, don't make people feel like they're putting you out of sorts or you're doing them a favor – just give them a table. Thankfully, that was the only service misstep the entire evening. Kudos, first of all, to the gang there for simply doing something different to basically every other restaurant in the city. Top class service, beautiful setting, and creative, interesting, gorgeously presented cooking. It did take a little while for the first plates to come out (over 30 minutes) – a lovely prawn amuse bouche, but it was worth the wait – I don't know if the kitchen is slowed down by the chef spending his time out in the dining room greeting every reservation and talking with them about the food and taking their order – it's a nice touch in some ways, but I'd bet his partner/hostess could have done it too – then again, with so few people in the place, it probably wasn't being slowed down by his absence from the kitchen – and after the first plate, everything flowed at a quite reasonable pace. There's a touch of Peruvian inspiration to the dishes, and Henry's octopus ceviche, while not as spicy as he'd normally eat it, was delicious, as was my king crab and prawn dish. His lomo saltado could have used some rice on the side or under it instead of being just a bowl of the beef, but it was packed with flavor. I'd probably say the same for my lamb, which was perfectly tender – the three little slices of potato were delicious, but not filling (especially because Henry snagged two of them). Expensive but worth it, just a little more substance on the plate in the form of an accompanying starch wanted – but then, that's maybe just our personal preferences, I grew up on the meat and potatoes diet of the Midwest and Henry grew up on the meat and rice diet of northern Peru.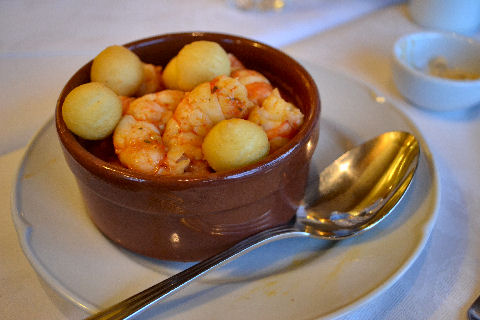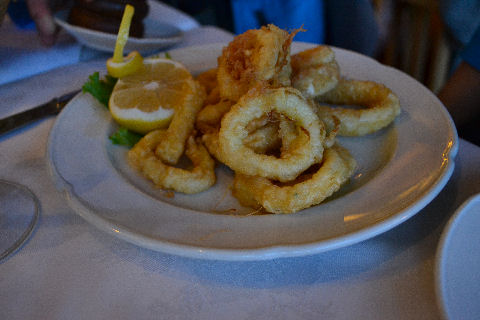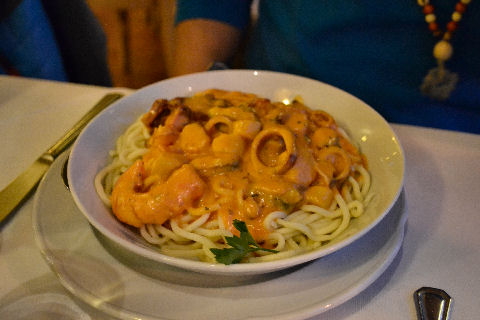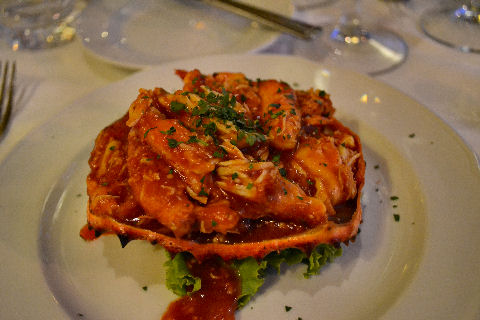 Last evening out we met up with my friend Gloria from my first visit, she was the docent at the Parque Yatana when I last visited and we've kept in touch. Originally we planned on dining at a place called Moustacchio, it smelled wonderful and I liked the name, but the waitstaff were so rude and unaccommodating when we arrived that after sitting at the table for about 20 minutes we decided to get up and leave without ordering. We walked down the street to Tante Nina, Gob. Godoy 15, overlooking the waterfront and got a table in the window looking out over the bay and proceeded to have an absolutely delightful meal. The waiters were friendly and helpful, making recommendations, and the kitchen was spot-on, including responding positively to requests for the food to be picante. We shared some calamari rings – tender, nicely seasoned, the batter maybe just a touch too soft for my tastes, I like a little crunch to it; and a steaming bowl of gambas al ajillo – prawns in garlic sauce – packed with garlic and even a bit of chili – everything this dish should be. Henry and Gloria both went for the seafood spaghetti – in a whole different league from the version at Volver above, creamy tomato sauce with lots of mixed shellfish, garlic and spices, and the pasta cooked only a tinge past al dente. One of the chef's specialties was a centolla endiablada – deviled king crab, which the waiter said was spiked with "a touch of" chilies and black pepper – I asked for it extra picante and they delivered in spades, I broke a sweat just smelling it. Again just meat and sauce, but I asked if there might be some rice around and the waiter jumped right on it, delivering a bowlful of rice to accompany it in just a few minutes. Service was delightful and we were enjoying the place and each other's company so much we ended up closing the place down. It may not have been as creative and interesting as Kalma, which we enjoyed thoroughly, but I think it was our best meal, and best value meal, of the trip.
And now, back to Buenos Aires.