Just some quick thoughts on last week's dinners. We're off on a well deserved (we think) break in the far southern reaches of Argentina after a very busy end of year.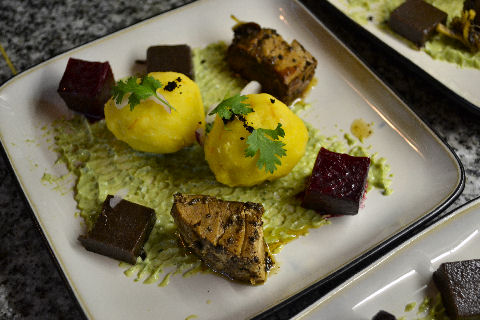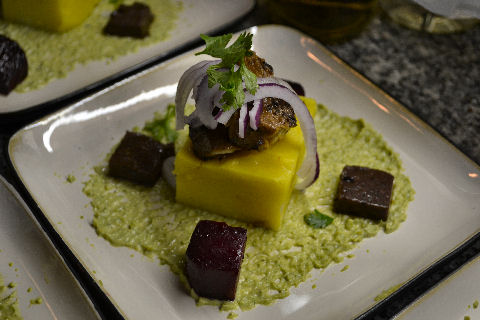 Combining the idea of a classic tuna causa with our roasted beet causa, and I popped up at some point in my musings with the idea of laying out a little bed of our guacamole mousse, putting a couple of spheres of potato causa on it and surrounding it with roasted beets, tuna – which I decided to preserve in a marinade of ginger, soy and mirin, and a tapenade and tomato gel. I wasn't so sure about the spheres because everything else was squared off, so I tried it with a larger cube of potato causa and put the tuna on top. Decisions, decisions. I'm still not sure. But all the flavors worked!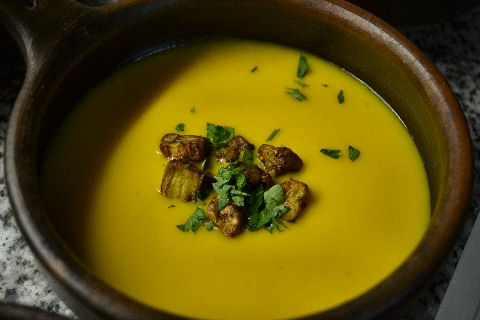 Then it was on to a chilled carrot soup flavored with orange, coconut and garam masala. Several guests have asked for the recipe, one describing it as "quite possibly the best soup I've ever had" – and it's pretty easy to make. Into a pot with some chopped up vegetables – a couple stalks of celery, a large onion, six or seven carrots, a medium hot chili (I used a red jalapeño), a couple of garlic cloves, then I add the juice of four oranges, a can of coconut milk, and just enough water to top it off and submerge the vegetables. About a tablespoon of salt, teaspoon of white pepper, some blades of mace (or half teaspoon of ground), and two teaspoons of garam masala (we make our own, but a store bought mixture is fine). Simmer it all together until the carrots are soft, puree it, strain it, chill it. I garnished it with some deep-fried eggplant cubes as croutons and a little parsley.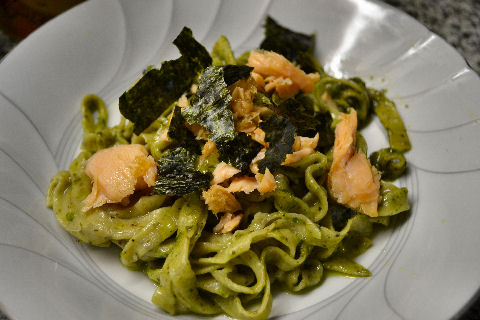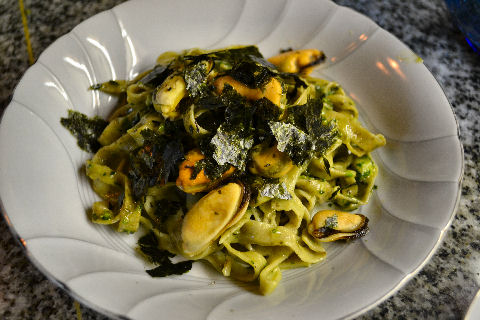 This one may not have been so much a matter of rethinking as it was necessity. Brought back a favorite – green tea fettucine with a mixed herb (cilantro, basil, mint, parsley) pesto, topped with sauteed smoked salmon and some crumbled nori. Second day, no smoked salmon to be found – tried four neighborhood fishmongers and all three major supermarkets. Decided to go with some fresh mussels instead, and in the end, I actually like it better, though I missed the slight smokiness from the salmon. So hmmm, next time, smoke the mussels.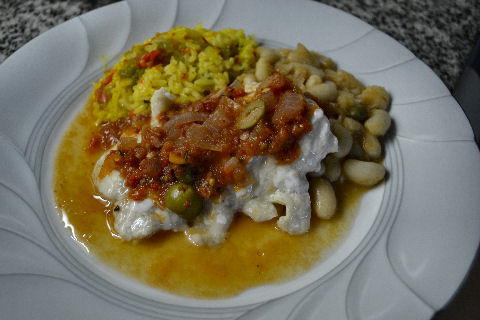 It's been years since I made a little fish "veracruzano", a spicy mixture of tomatoes, capers, green olives, onions, garlic, oregano and wine, and I was just in the mood to give it another go. Much better this time around, and served up with mildly spicy white beans and a "mexicali" rice.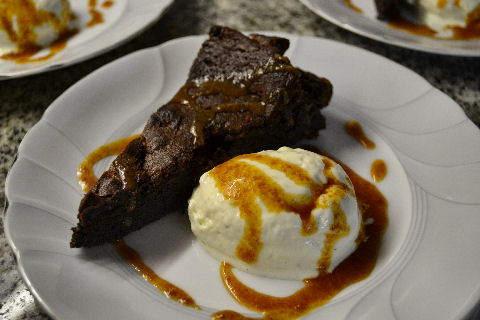 Flourless dark chocolate ginger cake with cardamom gelato and Moscato caramel sauce. That is all.
Signing out for now, I'm going to wait until we're back to do any kind of writeup on this short trip – maybe a slideshow or video of photos….