Although in yesterday's post I took a look back at the year as a whole, we haven't quite finished with varied and sundry moments of December. First up, the last full week of dinners for the year – two menus, one for the 24th and 25th, another for the 26th through the 29th. Yes, six dinners last week (it was planned to be five, but a young couple who have been here before asked if they could book a private night to celebrate the 30th birthday of one of them).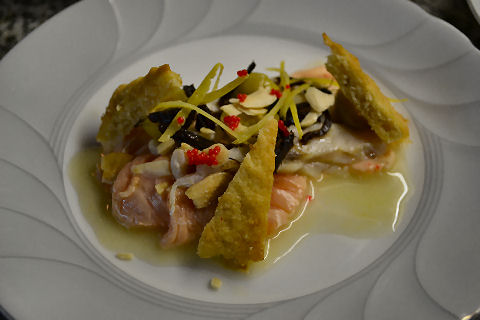 We kicked off the holiday dinners with a reworking of the salmon carpaccio dish that I mentioned in yesterday's post. I'm trying to move it along a little further away from its origin and add more of my own personal touches. A mix of salmón rosado and salmón blanco, the first being actual salmon, the second being the Argentine Sandperch. Rather than just brushing them lightly with a ceviche curing liquid I decided to make it more of a ceviche and so the fish spent about 20-25 minutes curing in a mix of lemon, lime and orange juices with salt before going on the plate. The fish is placed over a puddle of taramasalata, and is topped with sliced green olives, toasted almonds, threads of blanched lemon peel, thin shreds of ginger pickled in soy, mirin and fish stock, garlic financier (remind me to do a little step by step on that one, I think you'll like it), some red lumpfish caviar, and a dusting of caper powder. Maybe we could call it a Mediterranean Ceviche….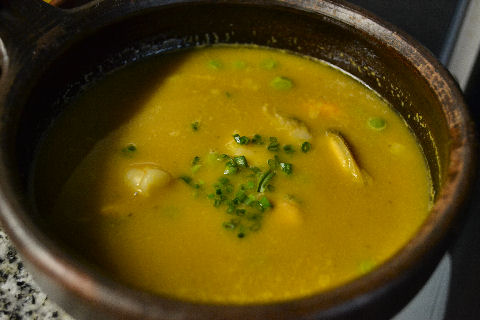 A little picante shellfish soup, loosely based on our reinterpretation of parihuela – a fish bones and shrimp shells simmered away with tomato, onion, leek, garlic, rocotos, ají amarillo and panka, smoked paprika, bay leaf, parsley, white wine and soy sauce. Removed the shells, bones and bay leaves, pureed the rest and strained it over sauteed shrimp, clams, mussels, corn, peas, green beans, carrots, and potato.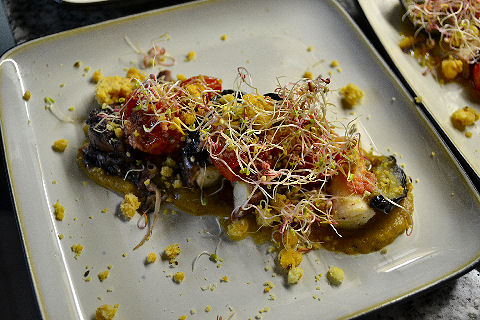 Minor changes to our warm jibia (Humboldt squid) dish, adding in a base of charred eggplant puree underneath – the olive oil confited tentacles still tossed with roasted cherry tomatoes, sauteed eggplant, a fontina cheese and fennel seed crumble, chorizo oil, and quinua sprouts.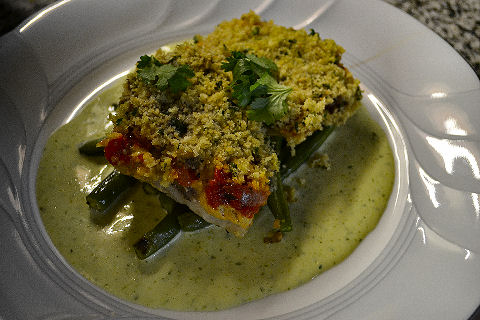 A reprise of our new version of cod viennoise with the salsa nieve andina below. Had to go back to green beans as asparagus simply up and disappeared from the markets for a couple of days – or maybe I just got there late and it had sold out all over the 'hood.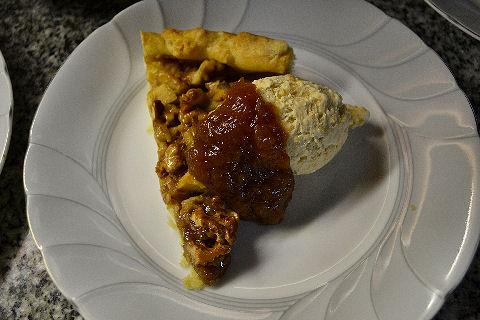 And, brought back our apple walnut tart with cheddar gelato and apple butter. Not a bad little lineup for the holidays – and we got in our "seven fishes" with the various dishes.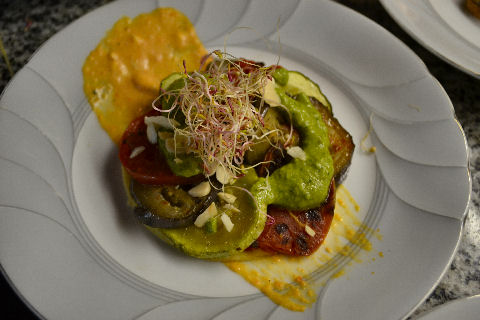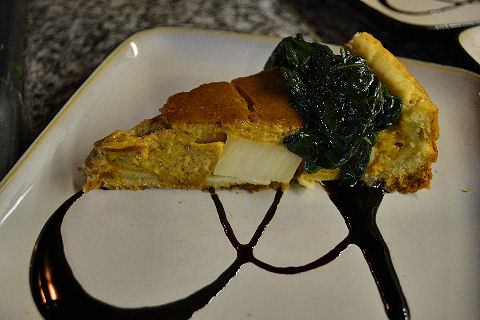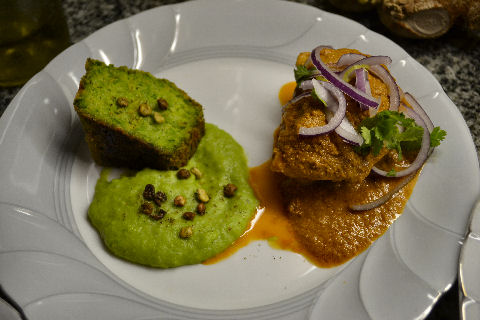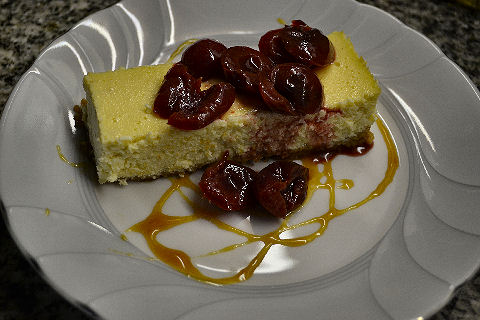 Moving on to the rest of the week. The first course was our ratatouille galette, then we continued the same soup as above (except for the private party – with one vegetarian in the group we made it an all vegetable soup with all the same flavorings, using vegetable stock and adding in some more vegetables). For the third course, our palm heart and manchego cheese tart with a little sauteed spinach added to the mix. Main course, a reworking of the accompaniments to our new pepian de pollo dish – instead of the wheatberries tossed with yogurt I decided to to a three way play on peas – a pea mousseline, a baked pea pudding, and fried, spiced split peas. Need to work on the design of the plate, but the flavors work all around. For the vegetarian guest, I roasted a wedge of cauliflower with olive oil and then finished it in the pepian sauce in a separate pot. And, topped off the dinners with our white chocolate and pear cheesecake with a Moscato caramel sauce and fresh cherries poached in port and Chinese five-spice.