Ahh, here we are in episode 4 of Top Chef España (the show has actually finished, but with the holidays and such, I'm way behind – plus each episode is between 1-1/2 and 2 hours long, and I'm still muddling through with the accents.

The show opens with head judge Chicote once again explaining the rules. Now, this is the fourth episode, and the third one in which there's been the format of a Trial by Fire followed by the Main Challenge followed by the Last Chance to Cook. But he explains it again, and reminds them that once again, at the end of the show, one of them will be eliminated from the competition. They all look completely shocked as if this is news to them. I'm starting to wonder if either a) they've been asked to play stupid along the way, or b) they've really never seen a television cooking competition.

The trial by fire today is going to be reinterpreting the classic tortilla de papas, essentially a potato omelette, of sorts. And, as we've seen in the past two episodes, a guest chef is brought in to demonstrate what it is they're talking about. Marco Sandoval, a one Michelin star chef from restaurant Coque demonstrates his idea – he cooks diced potato in sheep's milk and cream with some chopped walnuts, seasons it, spoons it into small oval molds and freezes it, then dips the frozen potato mixture into beaten egg yolk, quickly griddles it and sets them out on a plate to be eaten as canapes. I'm actually inspired to come up with my own reinterpretation of the dish and it's in the works, of course, I have more than 40 minutes and a limited pantry to work with….

They all set to work with gusto, and with some interesting ideas as the two judges wander around chatting and sampling. Some of them are a little overly ambitious. Jesus and Antonio C. end up with nothing on their plates when time simply gets away from them. The judges visit each one, pretending for the camera to be completely surprised, Chicote searching their benches for evidence of their plates as if he didn't already know they hadn't finished. He lectures Antonio C. on the need for a professional chef to understand timing and cooking processes and asks if he wants to just be sent straight through to the Last Chance round. Jesus, who was cooking his tortilla in a steam oven but who forgot to put any water in it to create steam, tells them, not that he forgot to do so, but that he's mystified as to how the oven just didn't seem to have any steam. They're not buying it and Chicote tells him so. He says he feels like he's being treated like a child.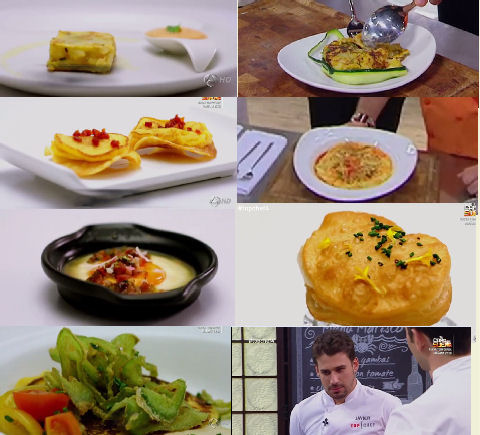 Elisabeth's potato pudding with a tomato bread foam on the side is pretty to look at but both judges agree has zero seasoning. They make sure to tell her that half a dozen times. Barbara has basically just made a plain potato omelette with some mascarpone and set it atop some confited onions with balsamic vinegar and then wrapped a couple slices of zucchini around it all to keep it from oozing across the plate, which it immediately does when the judges pull the zucchini away. The judges express their disbelief that this is all she's accomplished in 40 minutes. Javier has made thick cut potato chips, topped each with a mini-tortilla and a fine dice of fried chorizo and served them as canapes. The judges say this ticks all the boxes. Borja has made a massive, dinner plate sized tortilla de papas in which he's basically incorporated fried potato chips and fried shallots and fried shards of jamon serrano and chorizo, and drizzled the whole thing with melted jamon serrano fat and a ladleful of sweet tomato sauce "to cut the salt". The judges don't really comment on the flavor, just the size. Miguel has made creamy mashed potatoes and topped them with an egg and finely diced chorizo and chilies and a bunch of other stuff. The judges say it tastes good but that with all his various things he's lost the essence of a tortilla de papas in that they can't taste either the potato or the onions under everything else. Begoña has made empanadas out of potato flour and filled them with a just poached egg and onions. They kind of sort of like it but again feel like the essence of the tortilla has been lost. Antonio A. has made a bread foam topped it with a thin potato crepe and topped that with deep-fried tomatoes and green bell peppers and served the whole thing on top of a blini, and dressed it with a little vinaigrette. They love it. The judges first announce the three losers – the two who didn't put up anything, and Barbara, who they say just hasn't done anything original or shown any skill. She says they just don't understand her vision. The three top, Antonio A., Borja, and Javier. In the end, Javier and his potato chip stacks win.

Chicote tells Javier that not only does he have immunity from elimination but that he's going to get a little extra that will be well worthwhile because they're about to do a group challenge facing some of the toughest judges in the world. We then switch to the interior of the transport van where they're on the road and avidly discussing just who these mystery judges might be. Guesses include their own families, chefs from multi-starred restaurants, and geriatric patients. And then they pull up into a rural schoolyard. Really, they couldn't have seen that one coming? They're going to be divided in two groups, cooking for 50 children. They'll use the knife block to divide up into the grey and orange teams and Javier gets to then pick which team he wants to join. He joins Barbara, Borgonja, Borja and Miguel on the grey team because several of them have children and Barbara tells us that she regularly caters school events.

The twists start. Each team gets to pick the other team's captain. The orange team, unsurprisingly, picks Barbara to head the grey team, announcing that while she may understand kids, she doesn't know a thing about running or working with a team. And, the grey team picks Elisabeth to head the orange team because they don't feel she has the strength to rein in her macho teammates. The women both state that the other teams have really misjudged them. And, on to the next twist. While the table displays pasta and burgers and chips and candy and such, but, there are also, under cloches, two pairings – calves' liver and swiss chard, brains and cauliflower. Each team has to come up with a three course meal using the "good stuff" and the "bad stuff". And, Javier's final privilege, he picks which team gets which pairing – he picks liver and chard for his team.

Judges Susi and Angel arrive and set to work priming the kids for what they're about to get – asking them who eats brains, who likes vegetables, etc. The teams get to work. Elisabeth quickly divides the team up and gets everyone going. Barbara is basically overrun by her team who decide on their two main dishes and leave the dessert to her. General chaos ensues on both teams, lots of bickering, lots of commentary behind the backs of co-teammates. None of them seem to get the concept of working as a team.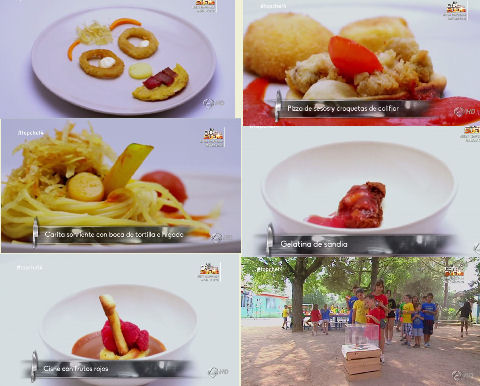 The grey team has gone for diversion – they make faces out of a tortilla and onion rings with cubes of fried liver on it, and have plated their spaghetti and swiss chard to look like a bird's nest with a de-feathered chicken in it, and finish with little swan shaped profiteroles with mixed berries. The orange team has opted for camouflage – brain pizza, cauliflower croquettes for their two main dishes, and a watermelon gelatin with some sort of cake for the dessert. Neither team pulls it off well, the kids don't seem, for the most part, aren't happy with the food. They vote. Susi and Angel opine that the kids liked the fun plating of the grey team. Chicote asks the two captains how things went. Elisabeth thought it all went well as did her teammates, Barbara thought the whole process sucked because none of her teammates would listen to anything she said – ignored her and did what they wanted, and left her to do the dessert on her own. Begoña gets asked her thoughts – she says that while she'd heard negative comments about Barbara in the previous weeks this was her first time having to work with her and Barbara was so incompetent that she never wants to work with her again. The claws are out. Barbara doesn't want to ever work with Begoña again either, and, bursts into tears. It's a theme. Chicote turns to the orange team and basically congratulates them on their strategy. They agree it worked out just how they wanted and expected. And, they're right in the judging. They win.

The four members of the grey team (Javier is immune from elimination, remember) head back to the kitchens for their Last Chance cooking. David de Jorge returns to the kitchen to talk about how on his show, he dedicates the last five minutes to coming up with something that can be made from "impossible combinations" which he calls guardidongada – I have no idea what that means. He shows off some examples – a cocoa omelette, an anchovy, bacon and blue cheese sandwich, a chorizo, ham, bell pepper and chocolate sandwich, and a peanut butter bacon sandwich (I'm not sure why that one is an impossible combination, I grew up on peanut butter BLTs), sweet cookies sandwiching chorizo and mayonnaise, and an open faced bruschetta with tomato, sopresatta, cheese, and membrillo paste. Other than the "Elvis" sandwich, it does look a bit iffy.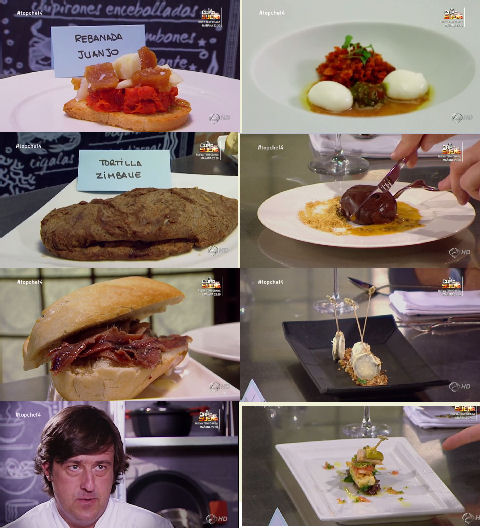 They're given 60 minutes to choose one of the items on the table and turn it into a restaurant quality dish. The three judges will taste the four dishes blind. The time flies. "Sex on Donosti" is a reinterpretation of the "La Rebanada Jaunjo" – the bruschetta with tomato and membrillo – they have a plate of goat cheese spheres in a sweet quince (membrillo) soup with tomato seeds and fried sopresatta (Miguel). The judges like it. Next up a chocolate mousse "bomba" with citrus fruits, passionfruit and curry, taking the place of the Tortilla Zimbaue. They like it, but don't get how it quite relates to the cocoa omelette, as the only common component is something chocolaty (Barbara). Next up, "Blue Cheese, Anchovy Crumbs, and Bacon" made up like "Oreos on a stick" – they like them, but note that it's missing condensed milk, which I don't note them talking about in the presentation of the original dish, (Begoña). And finally, a strange omelette stacked with chocolate, tuna, tomato, olives, bread, and various other ingredients that also is a reinterpretation of the Tortilla Zimbaue (Borja). They find the tortilla rubbery, the chocolate overwhelming, and the mix of ingredients confusing. It comes down to the two tortilla reinterpretations – Barbara is critiqued for straying too far from the original dish, not understanding the task, but is lauded for having produced something tasty, Borja is critiqued for simply bad cooking and flavors, even if he tried to complete the assigned task.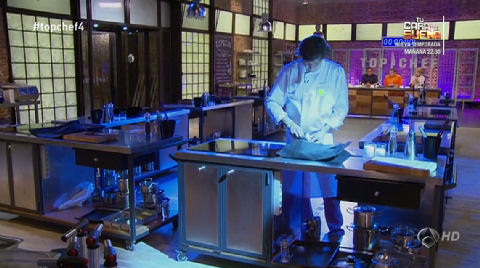 Not surprisingly, Borja is sent home, while the judges continue to talk in the background about how disgusting his dish was. Fade to blue light. Buh bye.