When you've got a city that's as influenced historically by its Italian immigrants as Buenos Aires, there's bound to be some disagreement over what constitutes the heart of the Italian community. Do a search on "Little Italy" and "Buenos Aires" and just on the first page of Google results you'll find out it's located in three different parts of the city. Some folk claim it to be in La Boca, though strangely, each listing I found for La Boca provided evidence by listing restaurants that aren't Italian; a couple claim an area of Palermo SoHo where a particular restaurant group has set-up shop with several relatively new spots, and, recently, Italian apertif producer Gancia got the city to designate an area of Palermo Chico, the Botanico section, as the newest Little Italy so that they could hold their Tour d'Italia festival there.
Now, over my time here in BA I've often been disappointed by the Italian fare on offer at many places. In general, Argentines, despite claims to the contrary, like their pasta cooked well past al dente, and what would pass for that in Italy would (does) raise cries of tan crudo (undercooked) here. Pizzas are often too doughy, overloaded with cheese, and underloaded with anything else. And, main dishes are often just simply lacking in the intensities of flavor that you'd find in Italy as chefs here tone down the garlic, the peperoncino, and other spicier flavors for the local palate, and often use dried herbs in place of fresh. That's not universal here, there are plenty of places I've recommended that serve up good, very good, and even excellent Italian food, but for me, they seem to be the exception rather than the rule. So when I set out to check out a few spots in this newly designated zone, I wasn't holding out much hope, and as I get to eating at and writing up the various offerings, we'll see how it goes.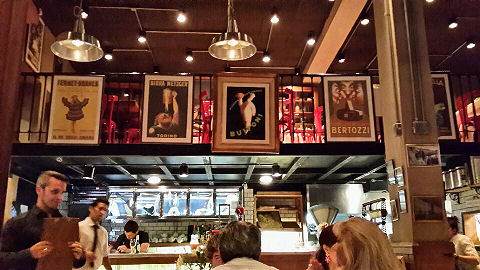 I set out to start at one end of the boulevard Cerviño, specifically at one or the other of the Guido's (both of which I've been to, but long ago, and I've heard that much has changed over time at both), the Bar or Restaurant, but for whatever reason, the particular evening I headed out, one was closed up and dark and the other was hosting a private party. Next down the line I snagged the last available table at Trattoria Olivetti, Cerviño 3800 at the corner of Republica Arabe Siria, 4802-4075. The place was hopping with customers, a mix of locals and tourists, but I'd say mostly the former, and the staff were bustling about. Still, I was greeted warmly by both the hostess, a floor manager, and my waitress, all within two minutes of arriving.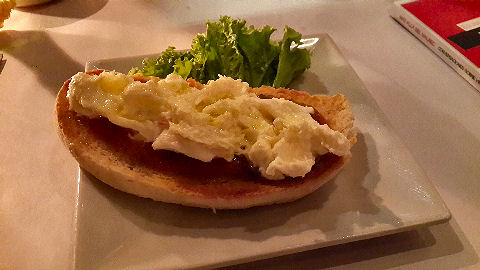 Everything on the menu looked appetizing, and it wasn't a listing of the usual suspects here. An uptick right there. I do wish that more places would treat pastas as mid-courses, a classic Italian approach, where the pasta isn't a huge portion, and allows you to either eat it as a mid-course, or sample two or three of them as an overall meal. Olivetti doesn't, unfortunately, and there were several that caught my eye, but first, a little something to snack on, I ordered the bruschetta with burrata, one of my favorite cheeses, and got a nice size slice of toasted bread with half a burrata on it, drizzled with good olive oil and a sprinkle of sea salt. Delicious start. The waitress sent the sommelier over to the table to talk wine, and it turns out that they have a selection of Italian wines as well as Argentine. I asked about a glass of wine and she offered a couple of thoughts, all Argentine – I asked if any of the Italians were available by the glass and she lit up – there were two that she could pour me a glass of, and we settled on a glass of a Tuscan Sangiovese, though it turns out they serve their "wine by the glass" in cuartinos – quarter liter flasks, or a third of a bottle, which makes what seemed like high pricing actually a bit more reasonable.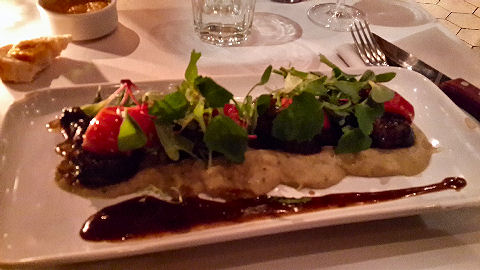 I was in the mood for a little meat, and while the risotto with a wild hare ragu sounded brilliant, the rice sounded heavy – it was a steamy hot evening. And then I spotted the guanciola, slow braised pork cheeks, and that settled it right there. Perfectly cooked, falling apart tender, loaded with flavor, a slightly sticky reduction sauce of the cooking juices with wine and balsamic vinegar, smoked eggplant puree, and roasted cherry tomatoes – oh wait, those last two are classic combinations that I use in my own cooking time and again (see last post). The puree could have been a little smokier for my tastes, but other than that, it was a brilliant dish. And, I was stuffed full, so I toddled off into the night.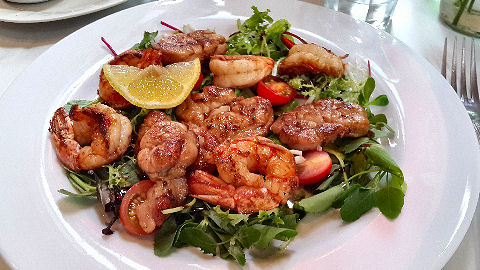 Totally impressed I decided to return and try some more dishes on another day. I arranged to meet a friend, who unfortunately had to cancel at last minute, so I settled in by myself once again. The lunch menu is the same as the dinner menu, though there is a menu ejecutivo for those who want to keep things a bit more on a budget (dinner had run me 255 pesos for two plates, a bottle of water and the wine, and unfortunately includes a 15 peso cubierto charge – I long for the day that those disappear from the local restaurant scene). But, the menu is very limited in selection and nothing appealed to me. I started off with this lovely warm salad of gamberi e animelle, prawns and sweetbreads, the sort of surf and turf that chefs dream of. Spot on cooking and flavors, this chef knows his stuff – I did a little online research after the fact and found that chef Luca Lepri Berluti hails from Senigallia, and Ripe, Italy, both in the Marche on the Adriatic coast, and has solid restaurant experience working both in Italy and Granada.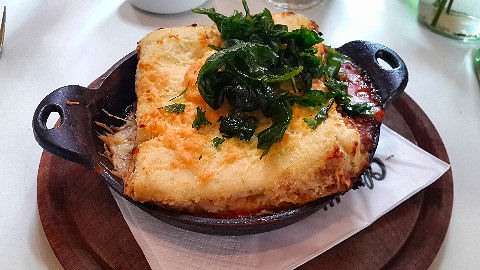 I was ready for my pasta closeup. For whatever reason, lasagna seems to rarely make appearances on menus here. I'm not sure why that is, but it bears investigating, don't you think? So when I spotted the multi-layered lasagna on the menu, I immediately zeroed in on it for my main course. And I'm thrilled that I did. It's easily the best one I've had in Argentina, and one of the best I've had in years, anywhere. Absolutely paper thin, delicate pasta sheets, I think there were seven layers, sandwiching ricotta, bolognesa, tomato, and herbs. No stinting on the flavor components, plenty of garlic and spice in it as well, and a lightly crunchy parmigiano topping, a little fried basil for color. If one can swoon over a pasta, I did.
I was going to try a dessert as well, but just as I was looking over the dessert menu, a couple of young women came in with half a dozen munchkins in tow, all in that rambunctious 5-10 year old range, and all of whom apparently decided that the restaurant was a playground. I'm all for bringing kids to restaurants and introducing them to good food early on, but some level of control please, after one grabbed something off my table and another slammed into my chair at high speed, and moms couldn't have cared in the slightest as their kids wreaked havoc, I decided against coffee and dessert and will leave that for another time. And there will be another time.
Highly recommended – one of my top three Italian spots in town as of right now. I'm updating my Foursquare list. So there.