Two weeks of dinners in one post. A week ago, before our travails with lack of power, I was just looking ahead at the daunting task of taking on this holiday season. As usual I have trouble saying no to people who want to book their end of year holiday parties, plus once again we have a zillion requests for the four holiday nights themselves. Amazing how many people think they're "booking early" just a few days ahead of time. Either they have zero concept of both how many tourists are headed to Buenos Aires in midwinter "up there" and just how few places will be open here, or they're completely clueless about what it's like to eat out on the holidays because they've never done it before.
Either way, we're fully booked through the next two weeks (actually, there's one solo spot on the evening of the 1st still available) with everyone having paid their deposits and confirmed their attendance, and, with 66 requests for reservations on one or another or any of those four holiday nights. 66 requests, not people, requests. Yes, sure, I'll add you to the wait-list, no, wait, of course, I'll just squeeze you in because you've been dying to eat here for months and forgot to make your reservation. No, it doesn't bother me a bit that your first ten choices were booked and you thought you'd settle for us, we'd be delighted to, well, sorry, nothing, we're booked too. By the way, none of this is a complaint on my part, it's just amusing. Oh, and my point, picking up after that tangent, was that for the most part I just couldn't deal with coming up with new dishes, so the last two weeks have been simply variations on past dishes, if different at all….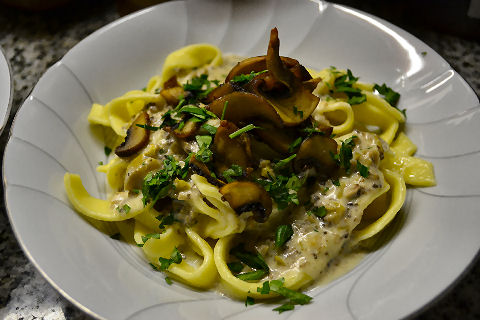 So that first weekend, the 12th to the 15th, we began the evening with our smoked tomato cheesecake, followed by a lovely bowl of our favorite remix of an Amazonian soup, timbuche, this time with a mix of freshwater fish – trout, pejerrey, sábalo, surubí and patí. Next up, pasta, pictured above. Umbricelli with a mushroom and green olive cream sauce and deep-fried portobellos. Umbricelli are like a thick fettucine – where I'd normally roll them out on the machine to a 6 or 7 thinness, here I left them at a 4 and cut them a bit shorter as well.
For the main course, duck ceviche, and finished up the evening with our strange, but almost universally popular after people try it, eggplant tarte tatin.
On to this past weekend.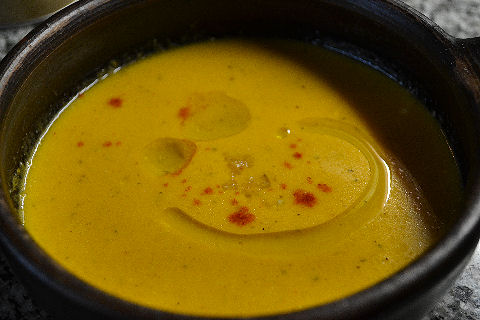 First off, as I mentioned in the last post, we had to cancel two dinners and our apologies go out once again to the folk we had to cancel on and who didn't have another night that would work for them to come. We kicked off the remaining two evenings with our ensalada amazonica. We followed that with a new version of our chilled watermelon gazpacho. I wanted to deepen the flavors, and I also wanted a smooth puree style gazpacho this time around. So what I did was stuck the watermelon, some red bell peppers, some rocoto chilies, red onions and garlic under the broiler and broiled them until their upper surfaces were turning golden and they had cooked through. It's actually kind of cool to see what happens to watermelon as the liquid is forced out and it firms up. All of that went into the blender with some fresh basil, peeled cucumber, coconut milk, red wine vinegar, olive oil, salt and pepper. Chilled, adjusted the seasoning, drizzled with olive oil and sprinkled with smoked paprika and smoked salt crystals.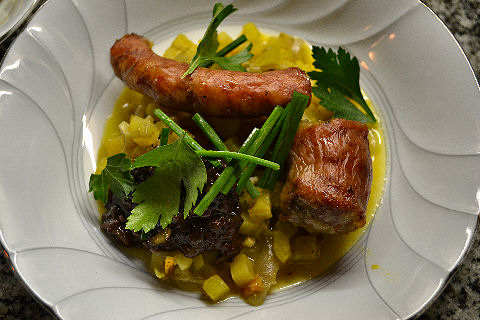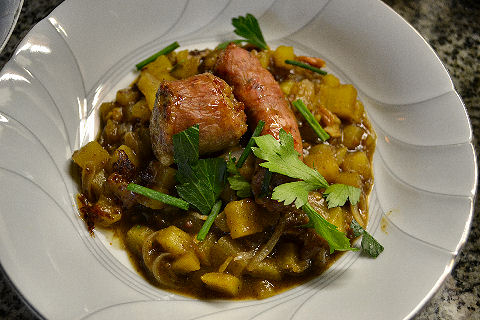 I've made some different variations on this theme, that started out with an idea from the former Moreno restaurant here in BA. Some changes here. The "risotto" is of sweet potato dice cooked with caramelized shallots, garlic, and ají amarillo in a bacon and leek stock, and finished with goat milk camembert. A trio of sausages – chorizo, smoked link sausage, and morcilla. Henry felt that in the presentation the first night the morcilla, after it is heated and turns to goo, looked unappetizing, and I can see his point, so the second night I mixed it into the risotto at the last minute. Truthfully though, I like the first presentation a little better, though perhaps crumbing the morcilla and deep frying it would be an interesting approach. It's a dish that still needs some future tweaking.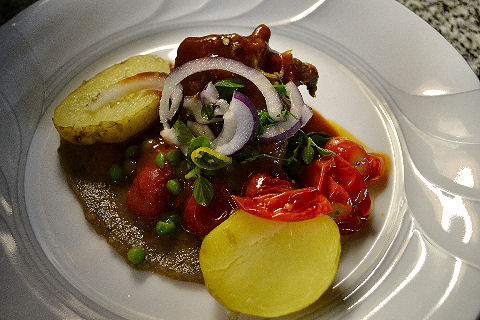 A new take on our adobo de chancho, inspired a little bit by a recent dinner at a local Italian restaurant that I haven't yet written up – sometime in the next couple of days. The pork shoulder is braised the same way as always, then I remove the meat to a roasting pan, puree the braising liquid, strain it, reduce it, and thicken it. Normally I'd use a brown roux, but this menu was a completely gluten free one (between the four original nights I had six requests for gluten-free, so it was easiest to just plan around it – and somewhere in there, I missed that one person on Saturday night didn't eat pork, and we didn't pick it up until she left her risotto untouched and then just stared at her main course – I was luckily able to put together a plate of various vegetables), so I made the roux but used our gluten-free flour mix – it doesn't thicken quite as well, but it works. The adobo is served, and here are the changes, over a charred eggplant puree, and accompanied by olive oil roasted cherry tomatoes, boiled new potatoes, fresh peas, and a red onion and chili salad with cilantro and oregano. Love this version!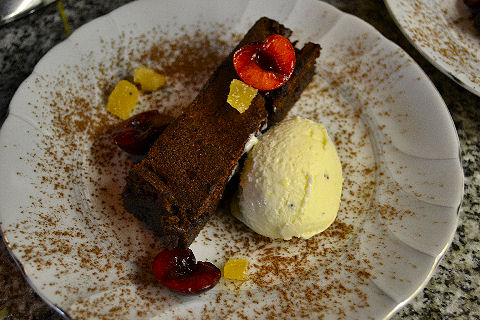 Finished off the evenings with a flourless dark chocolate and ginger cake, sour cream, ginger, and cardamom ice cream, candied ginger, cassis marinated cherries, and a dusting of sweet cocoa powder. Not a bad dinner overall given all the issues getting it together.