Sorry I've "gone dark" for a bit, but literally we'd gone dark – we just spent 91 hours straight without power, and the last dozen or so without water when the rooftop tank finally ran out (pump couldn't run to refill it without power). At least we had the gym for showers. On the other hand, we had to cancel dinners both last night and tonight, and unfortunately, none of the people who were scheduled for either night were available for a different night coming up. It was interesting, however, just to see how differently people reacted – some were concerned for our well-being or just simply commiserated with us over the whole thing, some looked for our help with alternatives, and some were just plain nasty, with scathing notes about how we'd ruined their vacation, one even demanded an immediate double refund on her deposit for us having destroyed all her plans (note, no one was told at absolutely last minute – emails and phone calls were made first thing in the morning both days). But did make me wonder if we dodged a bullet with one or two of them.
On to our pizzas….
When last we visited this project we were ostensibly 40% of the way through, with 37 out of 92 pizza places visited – assuming the whole 92 pizzeria dream is accurate – you know I'm going to make it turn out somehow, right? We pick up just a few blocks into the barrio of Floresta after a quite winning pizza finished us off on the last jaunt.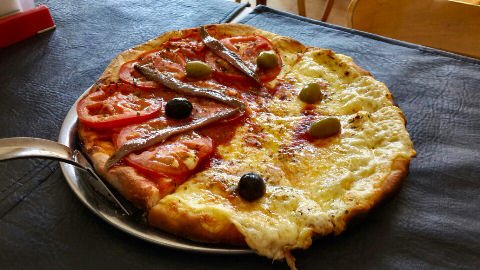 (38) Thankfully, just a block further on on the other side of the street, the good times continue at Mburucuyá, Av. Rivadavia 8144. The name is a Guarani name for a particular type of passionfruit flower, and sometimes applied to the fruit itself, and, here in Argentina, the name of a town up in Corrientes province. Regardless of the reason for selecting the name, they serve up a mean pizza, in this case a classic "mixta" – which here means one side plain mozzarella and the other side anchovy with no cheese – why that became a particular combo that is on most pizzeria menus here, I have no idea. Smoky, charred crust, decent tomato sauce and plenty of it, and good quality mozzarella. They only offer 6-piece and 8-piece pizzas, and I was solo this particular day, so it's a lot of pizza to "sample". Had the pie been mediocre I'd have just sampled it, asked for the rest to go, and given it away to someone homeless on the street, but it was good enough that I finished it off.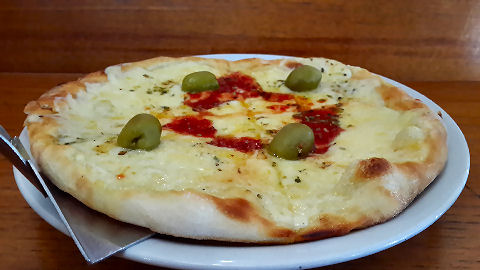 A couple of years ago as part of my walking tour along Av. Rivadavia, I stopped in one day at a little pizzeria called La Posta at #8300, corner of Candelaria. There, I subjected myself to one of the worst white pizzas I'd ever had. I almost passed this place by this time, figuring it was a write-off. But, a white pizza and a regular pizza, and two years passed, meant I decided to give it another chance. It's still not a great pizza, actually just mediocre – the crust is still bland, and the cheese a bit oily, though the sauce wasn't bad. It's not somewhere I'd recommend, but at least it wasn't a pizza to throw in the trash bin, like the first time around.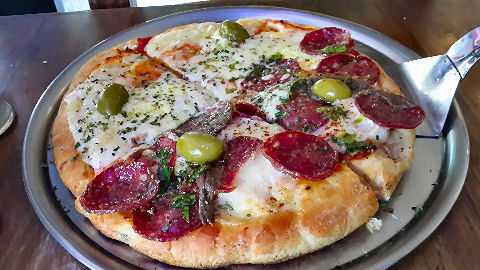 Just a block or so further on at #8516 is El Gran Señor pizzeria, and we've just barely crossed into barrio Vélez Sarsfield. The ambiance could use a pickup – it's pretty spare, and on a 34C/93F and humid day they had no fan nor AC going. The menu, however, is impressive, with several dozens of different special pizza combinations. I went with a half plain and half "Diabolica" – topped with tomato sauce, mozzarella, pepperoni, anchovies, garlic, chili flakes, parsley, oregano and olives. The crust was very weird, almost like the texture of a badly mixed biscuit – crumbly and a bit dry – and had a similar flavor – I actually wonder if they're using a non-yeast dough and just making something more like a soda bread crust, it had a bit of that texture and flavor to it. The sauce was excellent, the toppings great, the cheese good. Fix that dough and it'd be a winner, but without that it's not one I'd care for again.