After yesterday's photo intensive, I'm going to keep this one mercifully short. Two private dinners, four nights of public dinners, three menus in total, and many of the dishes I'll just link to as we've prepared them before, particularly the private dinners.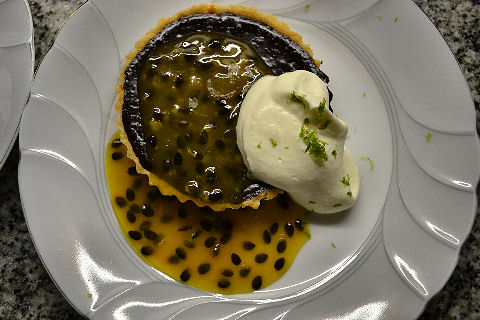 First up, a group of six, arranged by a gentleman who was in mid-Antarctic tour, from the ship's spotty internet access. Kudos to him for his tenacity! It turned out that two of his guests live here and had dined with us once before a couple of years ago.
I picked out four favorites and one new dish. We started the dinner with salmon carpaccio as inspired by my last NYC trip; then our ever popular hummus soup with charred cauliflower; followed by our cazuelita de mariscos, a little mini-casserole of seafood, then our new duck ceviche, and finally, the new dish, a chocolate and chili custard tartlet with almond crust, fresh passionfruit sauce, whipped cream and lime zest.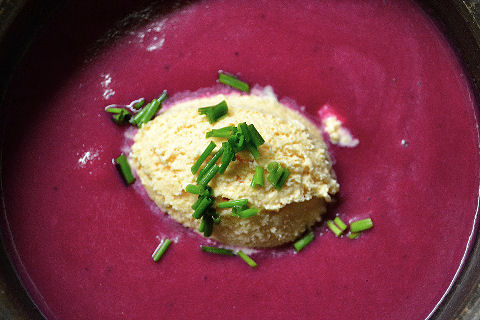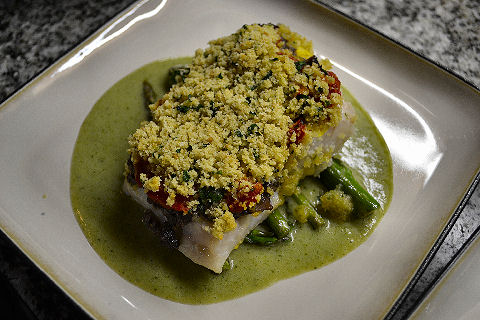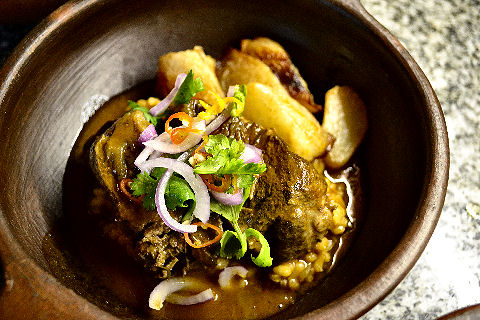 On to the public dinners for the week – we began with our "a la Tahitienne" inspired salad, then, it's that time of year again – chilled soups with ice creams – and my personal favorite, beet with jalapeño ice cream – it was a hit as always, even the people who said they didn't like beets lapped it up. A reworking of our cod viennoise dish, I wanted to give it our little Andean touch, so I replaced the sabayon with our version of salsa nieve andina, which is basically a cilantro and anchovy infused fish veloute, and also I replaced the green beans with asparagus and the dried breadcrumbs with fresh – the changes worked perfectly. Our ever popular huatia sulcana made an appearance, I just changed the accompaniments – it's now served over a risotto made with Spanish arróz bomba, or paella rice, that's been cooked in the broth that the meat is braised in, along with some roasted daikon and a little salad of cilantro, red onion, and hot chilies – love it this way! Finally, good as the chocolate chili tartlet above was, I think I prefer our now classic chocolate lemon ganache tart with passionfruit sauce – hmm, I don't know, a toss-up, maybe I'll sit down with them side by side one day.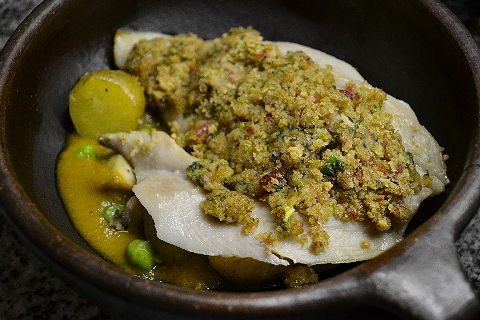 It's always a little bit amusing when someone tells me they want to experience what we do and then proceeds to tell me all the ways they want to change it. So we had a group of local travel agents who wanted to get a sense of our dinners before starting to recommend them to their high-end clients. They'd actually heard about us from numerous of their clients, which is how we got on their radar. But in the end, I think they only got a vague sense of what we do, and mostly just from us telling them, as first off they didn't want to dine with others, the main raison d'etre of what we do, so they booked the whole table for themselves. And they didn't want to do a tasting menu, though in the end we compromised on a four course version, though I think they still really would have preferred a straightforward three plate dinner. And they didn't want wine pairings, at least for five out of the original nine booked (they ended up with just seven people showing up, two of whom really did go for the pairings, two of whom just politely tasted the wines, and three of whom didn't want it). And, though they really wanted to try the food that we offer up, they truly, absolutely, didn't want anything at all even remotely picante.
Interestingly, the first course we served was our heart of palm tart with manchego cheese and a touch of ancho chili – I did cut back on the chili by half, figuring it would just be an elusive note in the background, and interestingly, this was the only course that all of them ate. We moved on to our agnolotti loretanos – this time I made them agnolotti instead of a giant raviolón, so each person got three normal sized filled pastas, and I left out the chilies. Most of the group ate them, but not all. The main course, palometa with bacon and olive crust, sans peperoncino, over mushrooms, Andean potatoes and peas, with a reduced and thickened vegetable broth – not thrilled with the presentation as pictured above, but liked the flavors. Three of them, it turned out, wouldn't eat fish and just ate their vegetables. Almost all of them seemed to think this dish was too spicy – yet there was nothing in it to give it spice other than salt, pepper, and parsley. Very strange. Finished up with our ginger cake and sour cream ice cream from a week or two ago, I made a little big lighter version of the ginger cake and used fresh ginger, even though I knew it might border on the spicy side for them – and, the same three who wouldn't touch the fish only tasted the cake and then ate the ice cream.
What can I say? Imagine if I'd served them the menu from the private or public dinners above…. It remains to be seen if we hear from them again. It was pretty clear that most of the food just wasn't to most of their liking.