[Spoiler Alert – don't read if you plan to watch the show and don't want to know what happens in advance.]
Not surprisingly, the Top Chef empire continues to expand as "reality" tv encroaches on more and more parts of the globe. The newest offering comes to us from Spain. I haven't really commented on the series since the first season, way back in 2006 now (which, note, means they do more than one a year, since they're onto season eleven already, plus spinoffs like "masters" and "just desserts"). I thought it might be fun to take a look at how different the show is coming from a very different culture. We shall see. (The Canada version already exists. Indonesia, France, Portugal are coming soon, Italy, Sweden, Brazil and Mexico have things in the works, apparently.)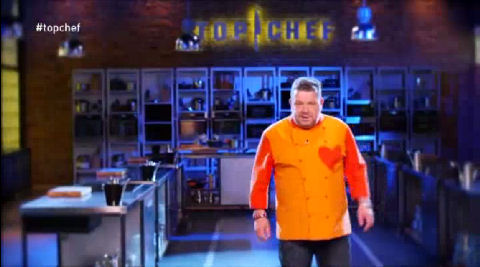 Let's start with some basic logistics. The first episode clocks in at an hour and forty-two minutes – so likely with commercials was a two-hour program. The setting is a very sleek kitchen with lots of glowing colored lights all over the place. In the opening sequence, head judge Alberto Chicote, noted for his fusion cooking in Madrid and for various tv shows including having been the "host" of the Spanish version of Kitchen Nightmares, wearing a bright orange chef's jacket with a large pink heart on it, looking a bit like a jack o'lantern, appears. First off he introduces his fellow judges – Susi Díaz, the 1-Michelin starred chef and owner from La Finca in Alicante, and one of the few female chefs from the region to truly be known for her cutting edge modern cooking (she's introduced holding a massive cleaver behind her back, clearly ready for the dirty work of chopping someone); Ángel León, also a 1-Michelin starred chef, from Aponiente in El Puerto de Santa Maria, where he's known for his experimental "laboratory" takes on seafood cookery – he's carrying an even nastier looking cleaver behind his back. The prize up for grabs for the contestants – money, an Electrolux kitchen makeover, a year's supply of produce and other products from one of Spain's biggest restaurant suppliers, a book deal, and, of course, the Top Chef Spain title. On to the show itself.
We of course get the opening sequence showing the different contestants, and then the outdoor shot of the Museo del Traje (basically, a museum of suits through the ages), where the competition is being held. Sixteen candidates arrive to an outdoor cocktail party where we are informed they are unaware that the competition has already started (have they never seen a season of the show from anywhere else?!) Of course we get treated to some sidebar camera moments as each introduces themselves and why they're there, with overlays of where they work and what their position is. I find the thick accent of several of the contestants near impossible to follow, in fact, the easiest person to understand is a chef originally from Hong Kong who speaks more or less British accented Spanish. We are told that none of them are really in the show yet, as out of 15 who showed up, only 11 will continue on after the upcoming challenge. In the sidebar interviews we find out that some of the candidates have crushes on one or another of the judges.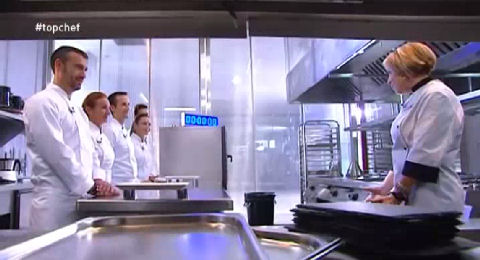 The candidates are told the deal and we find out how shocked, shocked I tell you, they are. Each of the judges then takes five candidates, randomly selected, and subject them to a quick test where they get to invent a dish featuring a particular ingredient of each judge's choosing, in order to win a set of Top Chef knives which will let them continue on. We start with Susi's group. We are, by the way, already 17 minutes into the show before we get to this point. She's selected "rice" as the ingredient they have to feature in their dish. We get side commentary, and candidates seem to also be trying and commenting on each other's plates. We find out that one candidate's rice is so salty no one wants to eat it – he says it's "flavorful" and doesn't want to change the dish. Time's up and everyone cheers and claps and goes around looking at each other's dishes. Antonio makes rice with rabbit and artichokes – Susi says he's cooked his rice well and his dish is good and hands him a set of knives. More clapping. He leaves to go back outside and join the waiting other candidates. Next up a youngster, Ivan, who has made a risotto with rabbit, ginger and cinnamon, a vegetable tartare, and covered the whole thing with "cheese snow" – i.e., he's grated a crapload of cheese over the whole thing. Susi says she can't taste anything but cinnamon and it makes her eyes water, but she says he has potential and while she's not giving him knives she will give him a second chance.
Begonia has created an "anarchy of risotto" that looks like a mess of color splattered all over the plate – she's taken various different colored sauces and thrown them at the plate with a spoon and then spread some risotto out over the top. Susi says it's weird but shows creativity and it's worth giving her a set of knives. Barbara, a caterer who's never worked in a restaurant (the only one in the group who never has) has stuck a cylinder of "creamy rice" with mushrooms, roasted garlic and "arabic touches" – apparently meaning dried fruits – on a plate with little decoration or style. Susi says she can't taste anything but rice and makes Barbara taste her own dish, she does and admits that it has no flavor.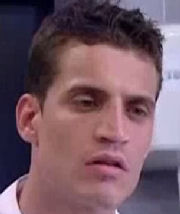 She, too, gets another chance for "attitude" – she leaves crying her eyes out and telling us how sensitive she is to any criticism. Miguel, another youngster has a mystified look on his face during everything, has made a mixed seafood and rice dish. She tells him that the dish is too salty and that his attitude worries her, because he doesn't think things through. She still gives him a set of knives. On to Angel…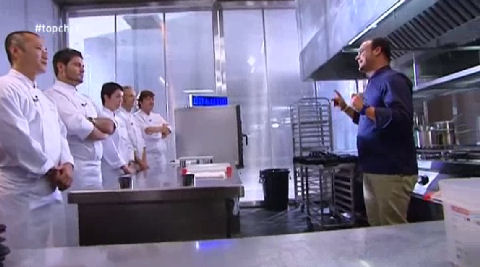 He's picked mackerel as his test ingredient. As he looks over each candidate while they cook during the next hour (we don't sit through an hour), he basically tells us that each one is a disaster waiting to happen – he has no confidence in any of them. He questions them and they all insist they know what they're doing. Borga, one of the older contestants, has marinated some mackerel and served it up with a tomato and nut puree, guacamole, and fried clams. Angel tells him that the mackerel is supposed to be the star and it's lost among all the other ingredients – the clams are bigger than the pieces of mackerel. But, he has heart and talent and gets a set of knives. Next up Vicente who has presented a trio of seared fillets of mackerel over "oriental vegetables" – Angel tells him that he doesn't remotely understand the concept of the dish and that there's virtually no fish on the plate, it's all vegetables and tastes funny – he makes Vicente taste it. Angel says that the god Neptune would cut his head off if he presented this plate and throws him out of the competition. He cries and leaves.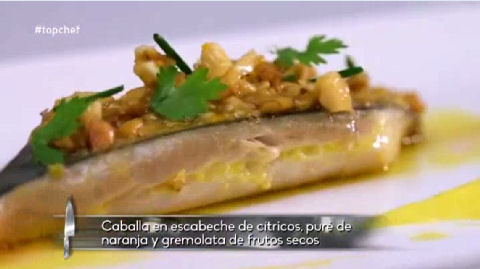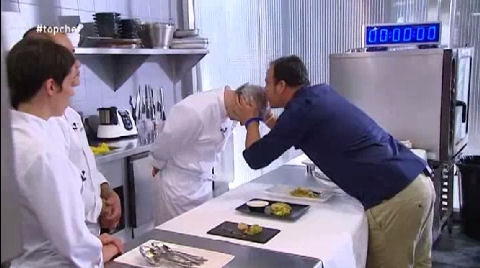 Jesus, another older competitor, has served up an escabeche of mackerel in citrus sauce, over an orange puree and topped with toasted nuts. It's not much bigger than an hors d'oeuvre, but Angel asks him to bow his head and delivers a kiss on top of his pate, hands him a set of knives and thanks him for the quality of his work – not a single critique. Hong Fai and Elisabeth are tasted side by side. The former has made an oily tempura that during prep time Angel called a disgusting disaster, served over guacamole and dressed in coconut sauce; while the latter put together an ice cream scoop of mackerel tartare accompanied by a double that sized scoop of guacamole – she finished in ten minutes out of the hour and Angel has already said he doesn't think she's done enough. He decides to have them taste and critique each other's dishes at the same time he does since they've both made mackerel with guacamole. He opines that the Elisabeth's tartare is not much more than a bland fish puree not worthy of being presented, while Hong Fai's tempura is critiqued for having been double fried (he cooked them early on, left them sitting on the counter, and then refried them to "heat them up"). Angel asks for their opinions and that one of them can go through and the other not – they refuse to give them, saying it isn't fair to put them in that position and that it's his job to decide. He says fine, neither of them get knives but can compete again for another chance.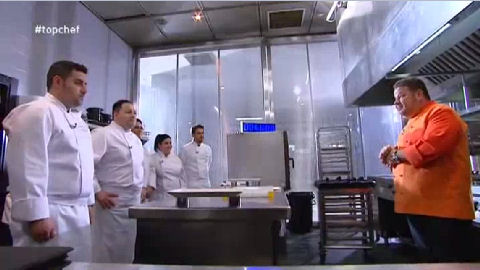 On to Alberto. He's picked guinea hen, a bird that only one of his candidates has ever worked with. We get a big moment of drama when the oldest contestant, Enrique (at age 63), cuts himself and bleeds over some of the ingredients. He splashes some water on it all and keeps working – Alberto tells him he has to throw it out and start over, he refuses and keeps cooking – says no one will ever notice because it was just a little bit of blood. On to the judging – Javier has cooked guinea hen two different ways – part in consomme and part teriyaki. Alberto says that the dish is pretty spartan, lacking much of anything in its presentation, and it's all over-cooked, but gives him a set of knives because he sees potential in him. Antonio has presented a yakitori of guinea hen over a mountain of vegetables with a large carrot sticking straight up out of the plate – he also finished early. Alberto calls it a plate for Bugs Bunny and says that if Antonio thinks this is the sort of food that will win Top Chef he's gravely mistaken. Then he gives him a set of knives anyway. I'm confused.
We're up to Enrique of the earlier drama, who has presented a stuffed guinea hen. Alberto, without tasting the dish, says that Enrique has broken the golden rule of the kitchen and throws him out of the competition. Eduardo (who is the personal chef for Spain's Defense Minister) is up next and has made a traditional Toledo style stew using the guinea hen. Alberto says that given the time available to cook he's made an error in his election of plate as the meat is just too chewy to eat as it needs time to stew slowly – and that the dish shows no creativity. He gets a chance to compete again. One wonders if his employer has something to do with that. Finally, Erika has served up guinea hen breast in a foie gras sauce with chanterelles, yuca chips and lemon. Alberto, before tasting, suggests that the lemon might be a serious mistake given the other ingredients. He asks her what she thinks of her own plate, and she says it sucks and bursts into tears. He says the fact that she cares so much is more important than how bad her dish is out in the real world, just not in this competition, and throws her out on the spot.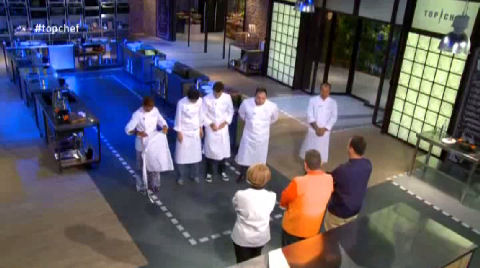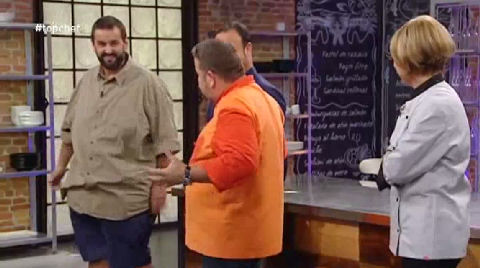 On to the "ultimate opportunity" challenge for those who have been given another chance. Into the blue neon lit kitchen with the quintet of hopefuls. A guest judge, David de Jorge, who apparently is a tv food personality in Spain with a show called Robin Food, is brought in, looking a bit like he just rolled out of bed. He serves up bowls of a stew he made up earlier, everyone enjoys it, and they find out they have 90 minutes to cook a signature dish of their choosing. Four of the five start selecting ingredients at rapid pace, jostling and shouting. Eduardo, our military chef, takes his time, fondling vegetables and looking everything over, back and forth, selecting and deselecting ingredients. The others are all cooking long before he exits the pantry. Barbara spends much of her time trying to fillet a turbot with a pair of scissors, gives up and starts in with a cleaver bigger than the fish. Alberto is terrified she's going to cut off her arm – but after half her time passes, she finally has a single small fillet, having destroyed the rest of the fish. Eduardo starts to cook. Hong Fai, apparently not having learned anything from the previous round, cooks everything early and then leaves it all sitting on the counter to be reheated at last minute. He says it's because he's never competed in a cooking competition before and doesn't understand timing.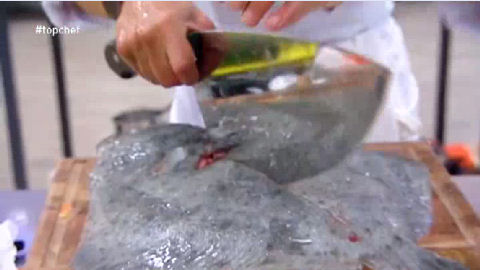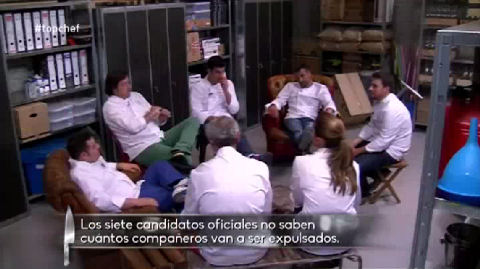 Strangely, the guest judge then thanks them all for a great demonstration of skill, and leaves, without participating in the judging. We cut to the seven contestants who got through sitting in what's usually called the stew room, not knowing what's happening. Back to the judging room and all five contestants bring their dishes up to the judges' table. Ivan has made a boquerón, a fillet of anchovy, over a "gazpacho soil" with a garnish of a deep-fried anchovy spine. The judges like it but think the spine was gratuitous decoration. Ya think? Barbara presents her turbot with a crayfish sauce and some mixed vegetables rolled up in slices of zucchini. Alberto asks why when she stuck the plate in front of him she said "I'm sorry". She says she's embarrassed by the dish because she didn't get the sauce on the plate and bursts into tears again, explaining how she's been a great cook for 26 years and now she's just ashamed. Hong Fai tells her, sottovoce, to stop crying and show some backbone. She could use the one from Ivan's dish. The judges like the plate even without the sauce. But they wish there was sauce. Hong Fai has presented Cantonese style fried lobster on top of boiled egg noodles (which he didn't make). Alberto says it's boring, isn't rock and roll, doesn't have any flavor; but Angel says that he likes the way Hong Fai works in the kitchen, elegantly and subtly, with precision. They all tell him he needs more confidence in himself. They also, again, wish there was sauce.
Elisabeth has presented hake stuffed with prawns, wrapped in leeks that are cooked until they crisp, and served with sauce americaine made with the shells of the prawns. She starts to tear up as they taste her food. The judges like the dish but thinks the sauce needs more depth of flavor – more wow. And, Eduardo has presented a traditional Basque tuna stew, marmitako. The judges taste it and basically say – look, if you're not going to be creative, and you're going to present a traditional dish, it has to be perfect, and his is just okay. The five head off to join the seven in the waiting area while the judges deliberate. Alberto goes and retrieves them after a bit.
Elisabeth and Ivan get called up to the table first. Their dishes were the best in the competition and they're through. Hong Fai gets told that his dish wasn't great, but that they still like the way he works, and he's through. It's down to Eduardo and Barbara. Not surprisingly, despite his job position, Eduardo gets sent home – he's the only one of the four eliminated who doesn't burst into tears. There's a lot of crying on this show. The eleven remaining contestants are all congratulated by the judges. Until next time….