A week of bringing back some favorite dishes, but each of them tweaked in some way – trying out new combinations. Overall, quite successful, at least as of now the only naysayers being a trio of Norwegian gen-xers who apparently found not only the food to be bland (which is weird, since during the dinner I never saw people drink so much water to overcome the spice), but also found us (I've been called a lot of things over the years, but bland was never one of them – Henry neither) and every other guest at the table to be equally bland. Might have been because we didn't have a bar – I think every other sentence out of any one of the three involved wanting, missing, wishing a cocktail in hand, and despite refills on wine, were clearly not happy with the quantity of alcohol on hand. On to the food, which thankfully, no one else found bland, at least that I know of, and we've heard from most folk, including two who've already asked about coming back for another dinner.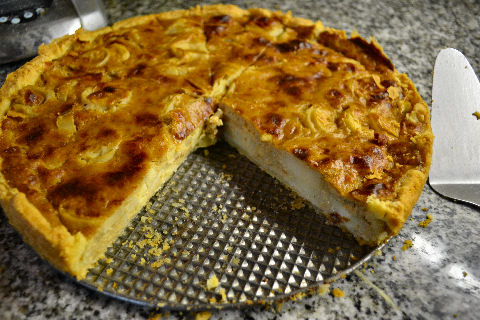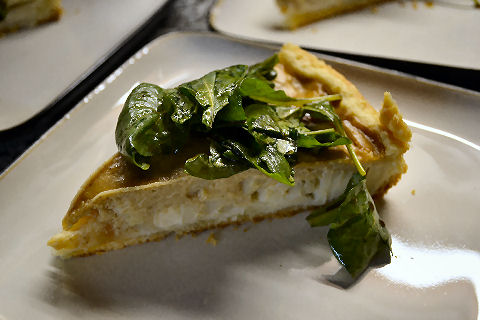 Tart – hearts of palm, sheep's milk manchego cheese, ancho chili bechamel, sour cream crust. Arugula in balsamic vinaigrette.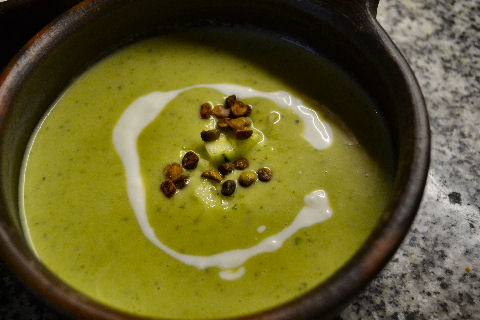 Spring pea soup – 'tis the season and all that. Normally I make it with smoked bacon in the base, cooked slowly to render the fat, but we had several vegetarians coming this week, so the base was a mix of leeks, onions and celery cooked in olive oil until lightly caramelized, using smoked salt to give a touch of smoke flavor. Added potato and lots and lots of fresh peas, topped with vegetable stock and cooked until the peas and potatoes were done. Pureed with parsley, mint, cream, white pepper and more smoked salt. Pickled cucumber dice, garlic yogurt, deep-fried spiced split peas.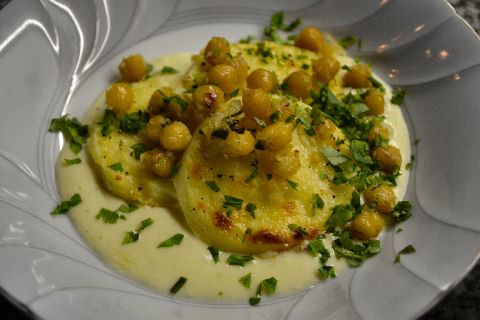 Semolina gnocchi flavored with parmigiano and black pepper. Ajoblanco below (toasted almond and garlic poached in milk and cream and pureed). Topped with fried chickpeas and jalapeños dusted in crushed rice, semolina and black pepper. Mix of chopped celery leaves, parsley, oregano and chives.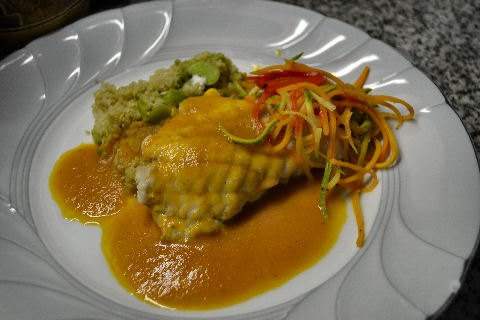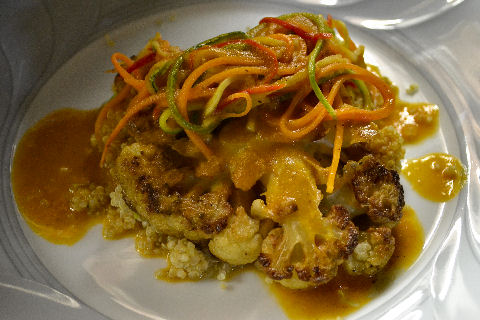 Grouper filets, concentrated sudado sauce (bell pepper, tomato, red and yellow dried Peruvian chilies, garlic, white wine, vegetable stock, cumin, black pepper and salt all cooked down until a thick puree), cooked, toasted quinua, fresh fava beans, saute of bell pepper, carrot and zucchini julienne. For the vegetarians, pan roasted cauliflower steaks served up the same way.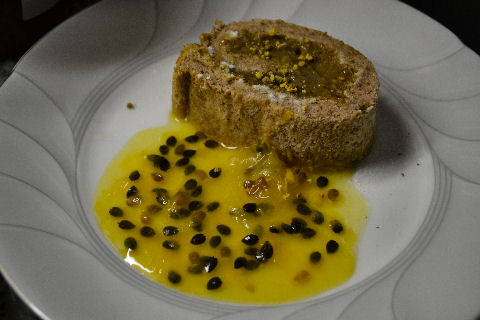 Pionono, or Swiss Roll – carob flavored sponge rolled around a brown sugar and lemon zest pastry cream. Fresh passionfruit syrup. Dusting of powdered sugar, rocoto chili powder, and bee pollen.
Sorry, but I defy anyone to find anything on that menu to have been bland.