Back when living in the East Village in NYC, my late night snacking, after a long shift at whatever restaurant I might have been working at, tended towards one of three things – a slice of "lasagna" pizza at East Village Pizza; sushi, generally because of the hour at Sapporo; or a bowl of ramen at any one of several neighborhood spots, though the most often visited was probably Rai Rai Ken for shio ramen but was also convenient to home. And ramen is one of those things that I've missed about New York while living here – it's too much work to make for just a snack unless you're going to make a big batch and eat it over a couple of days – I really don't like the instant ramen packs – they may have helped me make it through college on a budget, but that's about it (and I am NOT making a "ghetto tamál" from them, really).
Until recently I'd only unearthed two spots in town that serve up reasonably decent ramen – San Telmo Shokudo and Nobiru Izakaya in Barrio Chino. So when the local twitterverse started going crazy with the news of a soon to be open ramen bar in Palermo, I, like the rest of the expat community, began to salivate. Now, unfortunately, they only open in the evening, so it took us awhile once it opened up to get there – I was really hoping it was somewhere I could go for lunch, you know? But we made it last week to Fukuro Noodle Bar, Costa Rica 5514 in Palermo, a cute spot, it does seem to be a bit of an expat haven – though it wasn't overly busy the night we were there, pretty much only English was being spoken, even by the owners (Vanessa is American, Matías is Argentine), and it did show a bit in that both spoke pretty much only English to us, despite us both replying in Spanish, since Henry speaks little English. On to the food.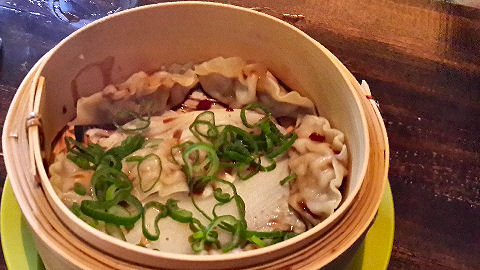 The menu is short and simple – dumplings, steamed buns, two versions of ramen – one pork, one vegetarian. We decided to just go for it all. Dumplings, light, delicate, great flavors inside of pork and green onion. Fukuro offers up a really good housemade hot sauce available on request, which blended nicely with a little soy to make a nice dipping sauce. Good dumplings, maybe a little pricey coming in at 35 pesos, but then, it's Palermo SoHo, it's 2013 and it's trendy.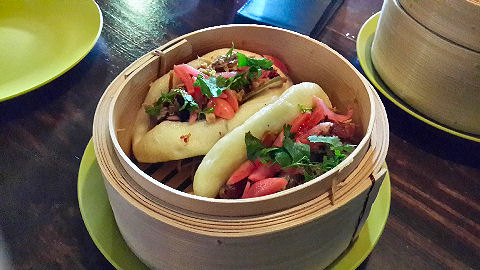 Likewise the steamed buns, but on the other hand, these were so mouthwateringly good (we had the pork rather than the beef – we left that decision up to the owners) that they don't seem expensive at all. Interestingly they make reference to the Baohaus folk in NYC as a sort of inspiration – trust me guys, Baohaus' steamed buns aren't on the scale of what you're serving – they remind me more of Momofuku's style and quality. Excellent, and for me, I could just go back, sit at the bar and eat a couple of orders of these with a beer and be perfectly happy.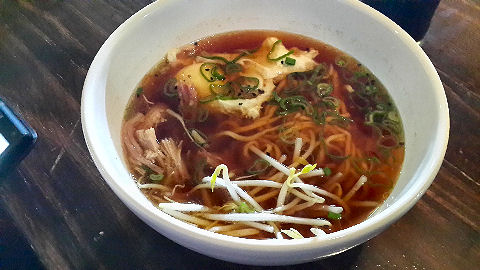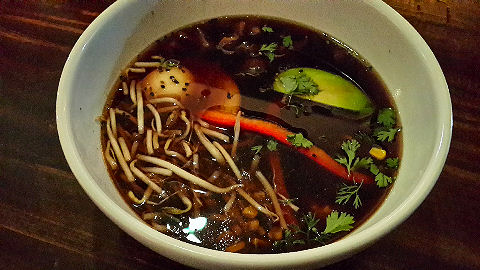 And, on to the ramen, both pork and vegetable versions. Both really quite good, nice depth of flavor in the broth, plenty of it, maybe a little light for my tastes on the noodles and accompaniments – I always liked a bowl of ramen pretty packed with noodles and lots of "toppings", but that's just personal style. I'd happily eat either again, and Henry finished his pork ramen off down to the last dribble of liquid. At 75 pesos a bowl it's an expensive bowl of soup, but it is damned good.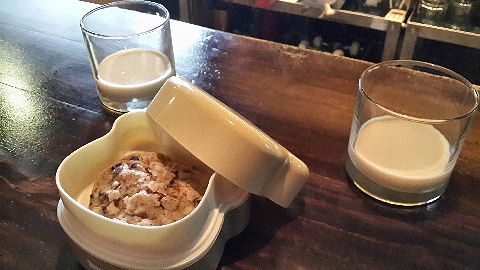 Just personal tastes, but we could both pass on the single offered dessert on the menu – a couple of cookies and some "cereal milk", an idea that Matías told us they got from Momofuku Milk Bar – I never liked it there either. Sorry guys.
So, overall – cute place, delightful owners, service is a little scattered – I don't know if it's normal, but Matías was doing all the service himself, a waiter would have been a big help, fun vibe, good food albeit a tad pricey – though again, fantastic bao, or steamed buns. Recommended.
We're mystified by the owl logo since the name of the place means "bag" or "sack", but we'll go with it – I mean, how do you make a decent logo out of a bag?
[Note: I stand corrected. There's a different character for owl that's transliterated as fukurō, with a long "o" pronounciation. Strange, though, that in searching for the word without the accent mark it didn't pop up with "owl" as an alternative – accents do matter, but usually google is pretty good about searching both with and without. And, of course, if I'd have searched in reverse on the word owl I'd have probably found it right off the bat.]