Really, just another trio of quickie, mini-reviews, places we/I have popped out to for lunch over the last few weeks.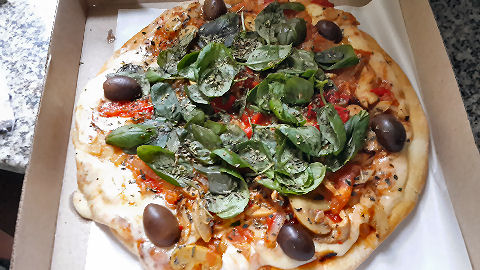 Around the corner from home, a revamped pizzeria – formerly
Domenico
, now
Gioia
, at Peña 2123. We'd never tried it as the former, and one day in the mood for a veggie pizza, we thought we'd give the new incarnation a shot. Their idea of a loaded up vegetable pizza turned out to be lots of chopped tomato, a few strips of roasted bell pepper, a handful or more of squishy canned mushrooms,
see screed here
, some black olives, and a whole lot of basil leaves, all on a relatively bland, slightly undercooked and doughy base. Meh. Okay, we gave it a shot.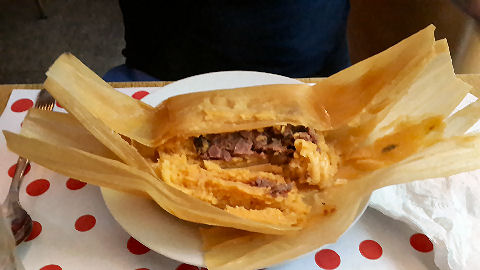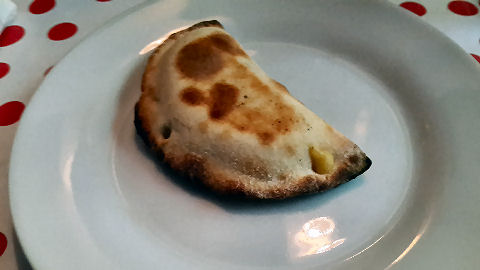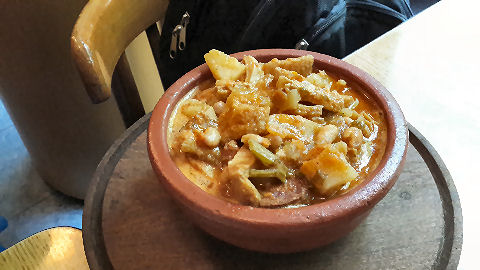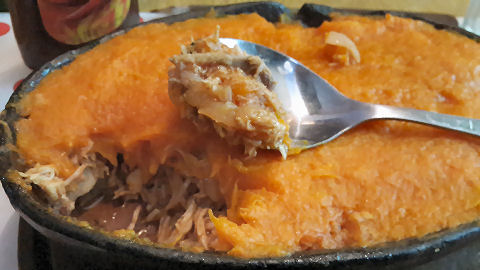 Mother's Day and we were out wandering around. We gave a shot at stopping in for the salad bar at
Juana M
, but despite the fact that at 1:30 in the afternoon the place was less than a third full, they assured us that they were completely booked and there was no possibility of a table, so we thought we'd wander a bit more. Foursquare offered up a couple of options nearby, and we were heading for a stab at a Mexican restaurant that I'd never seen listed before, when we stumbled across
Cipriano
, Juncal 846, offering up traditional northern Argentine fare. A quick check of FS tips highly recommended both tamales and empanadas, so we gave those first try, and indeed, both excellent – actually, one of the best tamales I think I've had here in town. Henry's a fan of
mondongo
, tripe stew, and although we both thought it needed more seasoning, it wasn't bad, and there was hot sauce available. Likewise my
pastel de pollo
, a lovely little shredded chicken stew underneath a topping of squash puree – perked right up with a sprinkle of salt and generous lashings of chili. Not a bad spot to grab some cheap eats.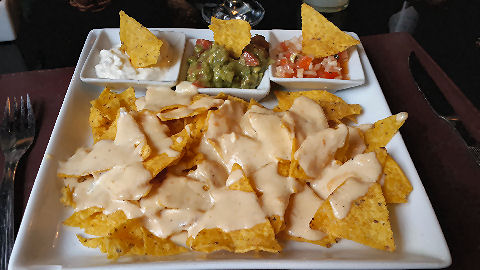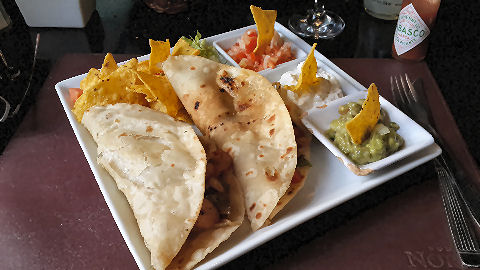 And, I had to return a few days later to check out the purported Mexican spot.
Oliva y Limón
, Esmeralda 1290 (which turned out to be just right around the corner from the previous place) isn't really Mexican. Most of the menu is the usual sort of
minutas
found on any casual eatery's menu here – milanesas, some pastas, a grilled piece of meat or two – but there's a short-list of "Mexican Specialties". I decided to snack on a plate of nachos followed by some tacos. The former, not surprisingly, were bagged corn chips. The melted cheese topping was one of the more bizarre things I've tasted on nachos – it was, as best I can guess, a slightly cheddar cheesy salad dressing. The trio of accompaniments – plain, unseasoned, mashed avocado, not remotely guacamole as promised, "sour cream", which was actually something like
Mendicrem
or
Casa 'n Crema
, two local concoctions that fall somewhere between sour cream and whipped cream cheese (though reasonably usable as a substitute for sour cream in recipes – in fact, I use it for making "sour cream pastry dough", they don't quite handle the job when naked in a bowl), and a bland
pico de gallo
, which was more of a
salsa criolla
. The tacos didn't fare much better – the tortillas being, likely,
rapiditos
, basically a "wrap" bread that's readily available in supermarkets here for making, well, wraps, that had been charred on a grill, the filling, a truly odd Chinese style stir-fry of slightly gristly meat, onions, bell peppers, beansprouts and way too much soy sauce. I noticed that the menu has a couple of wok stir-fries served over rice on it, I guess they just use the same as the taco filling. Same trio of sauces, and a handful of corn chips as an inexplicable "side dish". Nothing to see here, move along. 
[Closed]