"There were two hard-boiled egg sandwiches, and two cheese sandwiches, and two with some kind of paste in them. If he hadn't been so hungry he wouldn't have thought much of the paste, for that is a sort of food nobody eats in Narnia."

– C.S. Lewis, The Last Battle, Book 7 of the Chronicles of Narnia
It has been eons since I last trekked out in search of good shawarma in this fair city. Not that I haven't tried an occasional one here and there, but with no particular intent to search for the best out there – still, I've managed quite a few shawarma over the years. And sometimes, well, this week, the mood struck, and I started searching out current recommendations for the best out there. Several popped onto the radar that hadn't in the past, and so they went on the list. And, in the course of wandering, others come into view and simply beg to be checked out.
There's really little difference between doner kebabs, shawarma and gyros – they're all based on the principle of a "rotating roast meat" – which is actually where the three names come from, all three basically meaning "turning", respectively in, I believe, Arabic, Turkish, and Greek. There are some different traditions in terms of the meat used, the salad ingredients, and the condiments, but that often varies from place to place even within a national culture. It isn't, as some will try to insist, that one or the other uses what I tend to refer to as "pressboard meat" – those ground and packed together conglomerations of cheap, processed cuts of whatever animal flesh they may or may not contain. Traditional versions of all three of these dishes use real, sliced meat. The pressboard stuff is simply the cheap, low quality, fast food version, and for me, is usually a reason to turn around and walk away without even bothering to try their offering.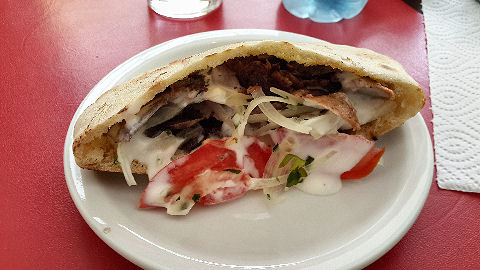 So, based on the above, it seems a little silly for a place called Doner Kebab, Pasteur 618 in Once, to offer shawarma on their menu instead of doner kebabs, but I suppose it's because more folk here know the latter name. This was one of the spots that came highly recommended. And, quality-wise, it's not bad. It's also not great. It's simply very thinly shaved meat, decently spiced, but it's served up in a half of a small pita bread with a couple of pieces of onion, a single tomato slice cut in half, and a tablespoon or so of herb yogurt. No tahini, no hot sauce in it, nor even available. They have a shaker filled with mild chili flakes that very faintly add some more interesting flavor. And coming in at nearly 30 pesos it felt like a rip-off, and since there is at least one better place even closer to home, Ararat, it's not likely to get a return visit.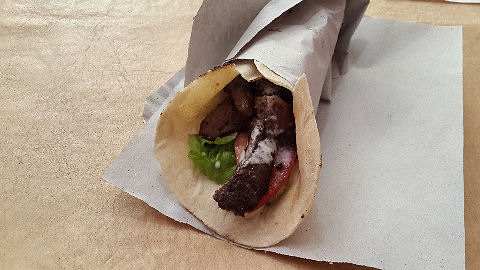 On the other hand, I can unequivocally recommend against this one just a block away. Estambul, at Pasteur 750, wasn't on the list, I just happened to pass it enroute the former and figured I may as well compare them. This was gristly, chewy meat with no flavor other than lemon juice and salt, wrapped in a thin, tasteless flatbread (which they don't nicely char against the rotisserie, something that might have added a touch of flavor), with a little lettuce, tomato and onion. A mere whisper of yogurt was inside. Hot sauce provided on request on the side – it was a puree of chilies, but so mild that it may have been just a puree of ají vinagres – or, Italian frying peppers. But the meat was the killer in this one, borderline inedible – I wrapped it up to go, paid the bill, and tossed it in the bin down the block.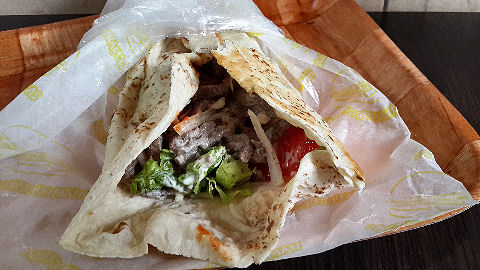 A place with a name like Falafel One, Araóz 587 in Villa Crespo, doesn't immediately inspire confidence, suggesting as it does some sort of cheap, fast food place. Then again, shawarma is supposed to be fast food – still, I want something confidence inspiring. So here's the inspiration. This just moved into first place in the city out of a list of, now, 25 spots checked out. I actually wasn't sure it was possible to supplant the shawarma from Medio Oriente, which are just amazing. Truthfully, they probably tie for equally as good, but very different styles and spicing. Tender, melt in your mouth meat spiced with, my guess, baharat (especially given that the owners are Syrian), plenty of vegetables, and a mix of them – tomatoes, lettuce, onions, and, I think, thin slices of swiss chard stalks – herbs, yogurt, and a rockingly good and potent hot sauce. Logistics moves this to the top, however, over Medio Oriente, in that a) it's available six days a week, lunch and dinner, as opposed to two days a week for two hours each day; b) you don't have to wait in a block or more long line only to be treated like crap as your shawarma are shoved at you and the next person is taking your place, not to mention the folks running Falafel One are super-pleasant; c) it's big, packed, and juicy – one of these is as big as 2-3 of the others; and, d) the delicate, thin and charred flatbread is far better than the pitas at M.O. The only negative, and it's minor, is that it's so packed and juicy that the bread starts to fall apart part way through eating it, necessitating a move to knife and fork. No complaints on that though.