I decided to play around a little more with some of the dishes from our first Iquitos inspired dinner, and searching for a quotation to open the post came across this video of a new documentary that's in production, Our Man in Iquitos.
from Brooklyn Vitagraph
It also reminds me that I wanted to put together a slideshow of photos from our trip – but now that I've been figuring out how to use the movie maker program included with Windows (yes, I'm sure there are better programs out there), I have another project to put together. Hmmm… and I can see that down the road, my 92 bus pizza trek probably could make for an interesting short video – though I think I'd want more photos of the places and people to mix with the pizzas. We shall see. Back to this week's dinners, graced by guests from across the U.S., U.K., Canada, France, Netherlands, Belgium, Australia, and here in Argentina.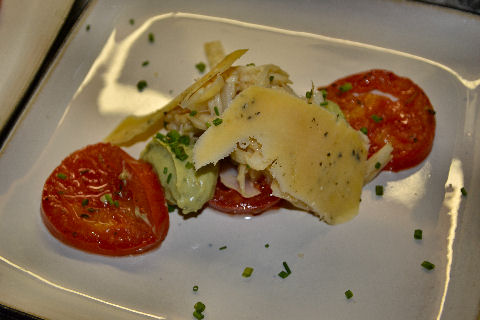 We started off once again with a little salad, I'm going to call it our
Ensalada Amazónica
– roasted slices of tomatoes with herbs, spicy avocado mousse, strips of palm heart with a tangy garlic dressing, shavings of local farmer's cheese laced with basil.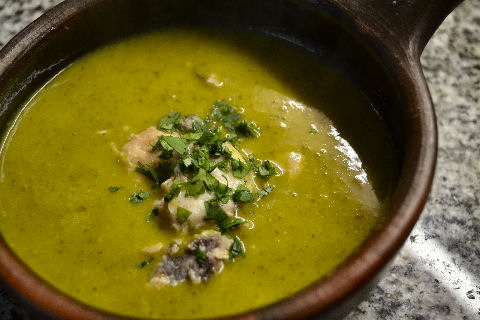 In preparation for our trip to Iquitos I'd started researching some of the food of the region, and we've come to love
our version of Timbuche
a whole heck of a lot. Our guests seem to too. For the thickening base this time I used a mix of chickpeas and potato. In addition to the trout and pejerrey in the original recipe I added in a bit of albacore tuna for some more "meaty" texture.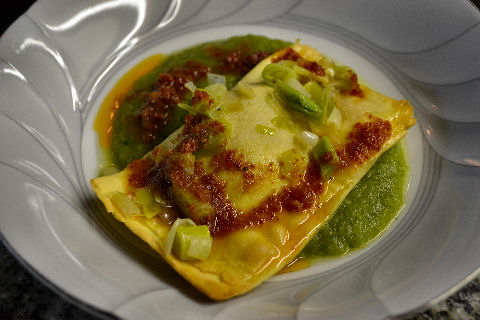 After
my critique
of a local pasta place over the difference between ravioli and agnolotti, I find myself having to walk a razor's edge here. I've been calling these "raviolis loretanos", despite the fold-over, which technically, shape-wise, makes them agnolotti. But, traditionally, agnolotti only contain meat and/or vegetables, never cheese, and these are filled with our homemade ricotta, finely chopped sopressata, parsley, and a little peperoncino. For the moment I'm calling them agnolotti, but I may have to eat my own words, or at least the pasta. Underneath, a fresh green bean and sweet chili puree with a little cilantro (blanch and shock the beans and chilies –
ajies vinagres
– and then puree them with just enough water to blend. Atop, leeks sweated down in butter and a chorizo oil.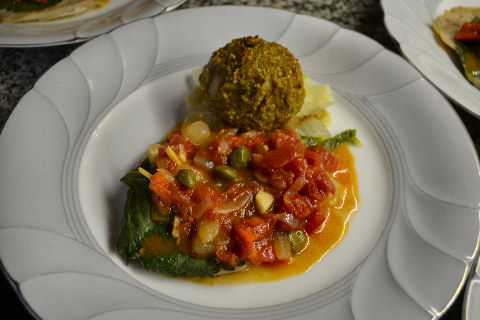 When I made a version of
patarashka
in that first dinner, I did it as an appetizer, more or less mashing all the ingredients together and rolling them up in grape leaves. The leaves were a substitute for the not available here
bijao
leaves that enwrap the traditional dish, but they don't really have any aromatic flavor. I realized that we have access to one particularly aromatic leaf here – shiso leaves – and a little playing around I decided the approach was to sandwich a lightly salted fillet of
palometa
between two shiso leaves and let them sit for a few hours, then lightly brushed with olive oil and quickly broiled. The sauce, a
sofreito
of tomato, onion, garlic, blanched jalapeños (I didn't want the sauce to be overly spicy, just a hint), ginger and capers. Accompanying, baked "fritters" of quinua and sweet potato flavored with onion, garlic, smoked paprika, allspice, oregano and salt – held together with panko crumbs and beaten egg. Served over braised Chinese cabbage.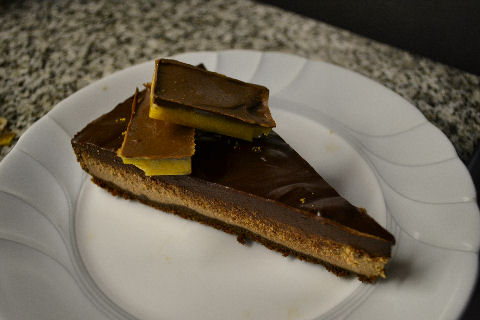 Still a simple presentation, but I'm starting to look for elements to make desserts look prettier. Our chocolate cheesecake, sprinkled with a little bit of mace and topped with
honeycomb coated in milk chocolate
.
And that's this round of Iquitos inspirations.