I've resisted going to check this place out. It's a new-ish branch of a restaurant I didn't like the first branch of. And, I probably wouldn't have bothered except that a guidebook writing friend is in town and it was on her list. And so we met up the other evening at Sipán Cevichería Peruana, Uriarte 1648 in Palermo. Now, it would be easy to just send you back to the review of the original in Microcentro and wash my hands of the whole thing, but, five years down the road, and, the experience wasn't exactly the same.
The ambiance, for one, is quite different. There's no flashy decor, it's well appointed, and there are basically three seating areas – a front, fairly quiet dining room, leading into the ceviche bar where there are a few tables opposite the open kitchen, and then a covered patio, which is where we ended up sitting. I will say it's got odd lighting, very yellow, which makes everyone look a trifle sickly, and the food as well. I'd made a reservation online for us – I don't know if they had it or not, as although the hostess asked me if I had one, she never looked at the tablet in her hand to see, she just headed into the dining room and said, basically, "sit wherever you like". And, since there were only about eight people in the place, I guess it didn't matter. It did get busier later on, though never more than about half full.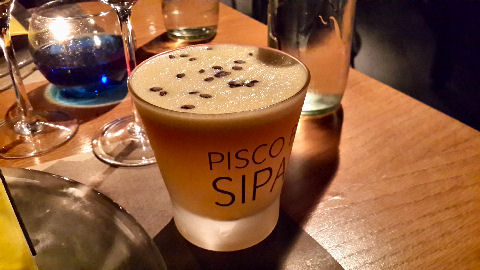 Service was a mixed bag. There's efficiency and there's efficiency. I generally consider it to be polite to wait until a guest removes their jacket and sits down before being at the table asking if I've decided what I want to drink. I haven't even seen a cocktail list or anything yet, and I'm waiting for another person. The list was brought, and he waited. I told him I'd wait for my dining companion, and he shrugged and wandered away. When she arrived, we moved to a different table (I'd first sat in the ceviche bar), and we had a different waiter. His timing was better and after a few minutes he approached – I ordered a cocktail – a passionfruit pisco sour, which I'd heard was excellent here. I found it too sweet and fruity, but my companion liked it, so it was pushed across the table, and I ordered a different one. It didn't arrive until we were well into our appetizers as our waiter had a) forgotten to order it, and b) hadn't written it down and couldn't remember what I ordered.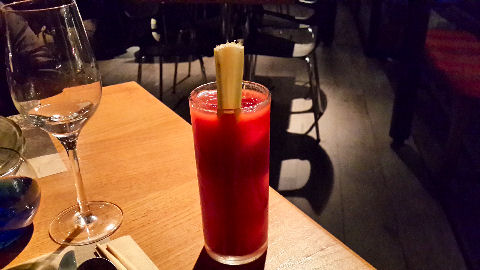 I have no idea why it's called a tamarillo de nazca. Tamarillo is a fruit, the tree tomato, as some might call it – so I suppose there's a vague, distant connection to what turned out to be a twist on a bloody mary – this was tequila, tomato juice, and leche de tigre. Not a bad bloody mary as they go, or I suppose, "bloody maria" as they're usually called with tequila. I wonder why not pisco? Pisco cocktails, after all, are Sipan's claim to fame.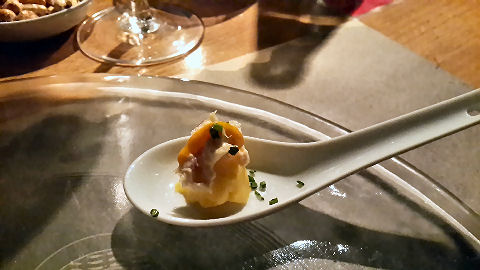 After we ordered food, and before my drink arrived, we each got a small spoon with an amuse bouche – a mini-causa of chicken – pretty flavorless, not much else to say. Their canchita, the little salted, toasted corn kernels, were pretty good.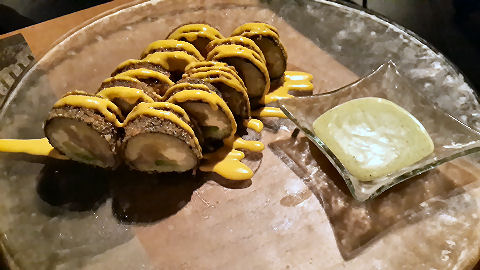 We decided to start from the fusion sushi bar – here, their new "furai" roll – "fish of the day" (not specified), with cream cheese (go figure, of course it will have cream cheese) and avocado. Topped with "Mi Peru" sauce, which was some sort of very mild ají amarillo sauce, barely enough to register on the Scoville meter, and a dipping sauce of cilantro mayo. It was fresh, but I thought pretty bland. They are generous sized sushi rolls, I will admit, which is a good thing, since each runs well over 100 pesos.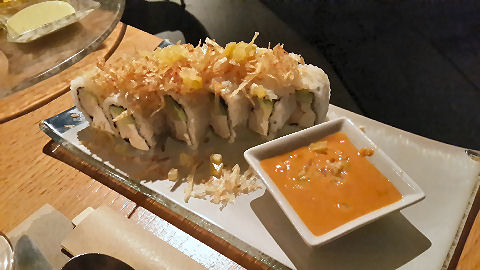 Slight more interesting turned out to be the "macho" roll, shrimp "a lo macho" (which seems, in retrospect, an odd choice, since "a lo macho" is usually a shrimp sauce served over fish), "Andean cheese" – no idea, it seemed like cream cheese to me, rocoto chili (the merest blush of a hint or a shadow of it) and crunchy potato threads on top, with, "a lo macho" sauce – basically shrimp sauce. It was a repackaging of a classic dish, I don't really get it as a sushi roll, though the flavors were good. Neither was picante. My drink finally arrived.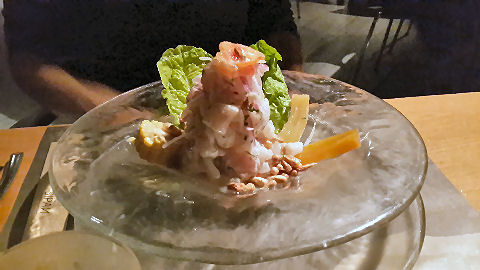 Although our waiter seemed slightly put-off that my companion was only getting the ceviche clasico rather than ordering one of their more creative ones, he didn't push it. I stand by my assessment from the first review – the fish is basically brought raw and then the citrus juice is poured over it. It may have spent a few moments curing prior, but not long – I don't object to sashimi, but in a ceviche, I want something that's cured through, not just on the surface. And, like the last time, the curing liquid is little more than lemon juice and salt – there was nothing picante, no onions, no chilies, no ginger, no garlic, nothing. And the "hot sauce" on the table is about the equivalent of Taco Bell "mild", i.e., you could drink it without noticing the heat.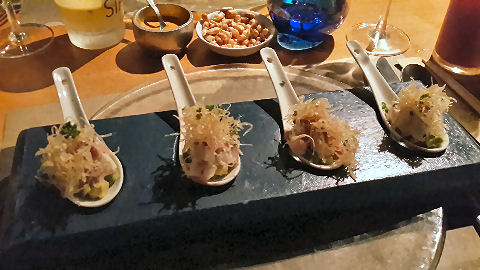 This was a bit of a disappointment as well. The pulpo al olivo was decently flavored, with tender chunks of octopus, though a bit heavy on the mayo and light on the black olive flavor for the sauce. But, for around 100 pesos, I want more than four tablespoons of a dish. Even though reasonably tasty, it was a complete rip-off – and when we said something to the waiter about it, he admitted that it was a pretty skimpy dish in comparison to most of the others.
So, hmmm. Service was not as good as my first experience five years ago in Microcentro. Ambiance is nicer, far nicer (though I haven't been back to the original and I've heard that it's been re-done). Food, perhaps a shade better. At least given what we ordered, there was nothing that was just plain bad like that first time. But that could also be simply what we ordered – we didn't try any hot dishes, which were so awful that time around. I'd say I'd go back to try one or two of those just in the interests of a fuller review, but this experience was disappointing enough that I'm not going to, especially given a) that it's pretty much the most expensive of the Peruvian fusion places in town (I've heard that Paru is more, but haven't been yet) coming in at over 400 pesos apiece for these four dishes and two cocktails, plus bottled water, and b) the others we've tried have all been definitely better quality in terms of both service and food.
Pending trying somewhere I haven't tried, my tops in this genre are La Rosa Nautica, Osaka, and Ceviche. I'd throw Bardot in there too, but they're less fusion than they are simply modern takes on Peruvian dishes. I just don't get the hype around Sipán, nor can I see a particular reason to recommend it. "Okay", just like the first place. And hmm, I was wrong up above, the experience was pretty much exactly the same.
[Edit: Interestingly, I found out a couple of weeks down the line, the chef behind the Sipan restaurants is also the chef behind Mullu, which I thought was awful; and Osaka, which I've always quite liked the food at, though not particularly the atmosphere (at least at night when it gets just a bit raucous).]