Shall we begin the day with a little Lionel Ritchie?
A strange week this past one. Four dinners scheduled and we ended up only serving two of them. Two nights we just received a bunch of more or less last minute cancellations, ending up down to 3 people one night and 2 the other – I hate to cancel on people, but though the food might be the same, the whole social experience is missing from the evening, and, from a business perspective, if we can cancel without incurring ill-will, at least we don't lose money. To the folk who cancelled, we think you missed out on some fun and delicious evenings, and hey, look what you made me do to those other poor folk who still wanted to come. Just sayin'.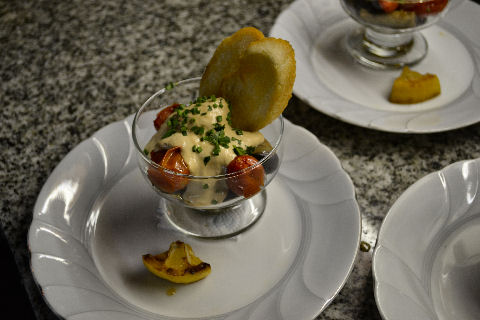 Our eggplant tonnato – lightly spiced sauteed eggplant, roasted cherry tomatoes, our own fabulous tonnato sauce… wait, why am I talking? Just go
here
to my archive of published articles for the recipe.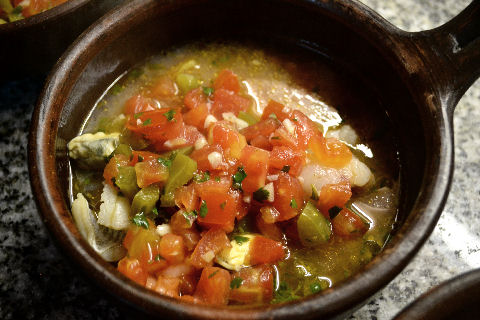 Trying out a new soup in the repertoire, inspired by a seafood soup from the port city of Termoli, in Molise, Italy, that is part of one of our regional Italian
cooking classes
. Basically a mix of lots of garlic, plum tomatoes, some green bell pepper and chili, all cooked at low temperature in a mix of olive oil and shellfish stock for just long enough to soften the vegetables, then ladled over a mix of seafood – in this case
abadejo
(pollack), shrimp and mussels. Garnished with a little cilantro, though in Italy it would have been parsley.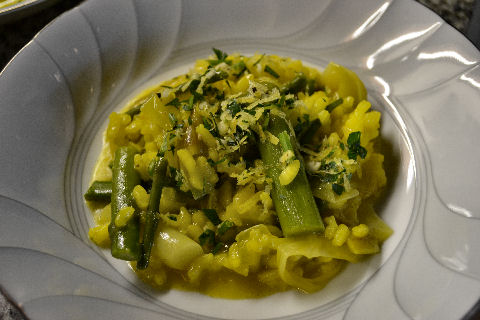 Saffron risotto, with white wine and vegetable stock, laced with sauteed asparagus and charred leeks and finished off with grated
reggianito
cheese and topped with
gremolata
(chopped garlic, parsley, lemon zest and black pepper).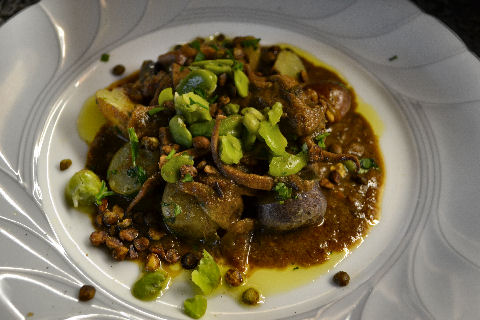 A trial run at a new dish I've been playing with, based on the traditional Peruvian
picante de calamár
, though definitely taking it my own direction. Chickpea flour and olive oil dark roux, garlic, onion, tomato, ají amarillo, rocoto chilies, habanero powder (just a touch), turmeric, coriander, cumin, thyme, and filé powder – basically the roux and the filé and some of the spicing adding in a little Cajun note to the Peruvian. And, of course, the calamari. Served over little Andean potatoes that were sauteed in olive oil and parsley, topped with a scattering of fresh butter beans and crispy, deep-fried and spiced split peas.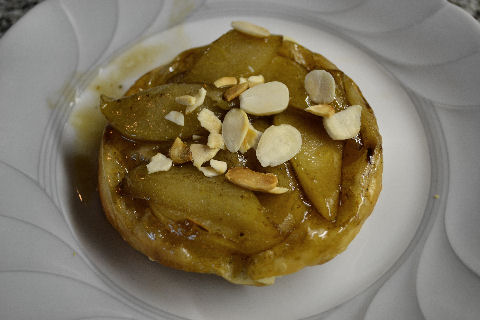 Pear tarte tatin with a hint of mace (the spice), and toasted almonds.