I've gotten away from posting about various food books that I've read, and someone asked me this week if there was anything I'd read recently in the genre that I recommended. So, I thought, let me get back to that – I've been reviewing what I read over on Goodreads (yet one more social network to belong to, for book lovers) – so some of this will be copied from my thoughts there.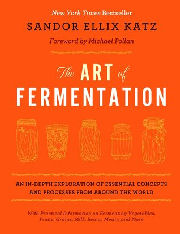 The current darling of the die-hard foodie set is Sandor Ellix Katz and his books on fermentation. This one came to my attention first, if I recall correctly through Aki and Alex over at Ideas in Food as a recommended book, but I could be wrong about that. Here's what I had to say over on Goodreads: "Easily the most comprehensive introduction to the world of home fermentation (primarily of vegetables and fruits, but not limited to those) that I've seen. Well written, interesting, and very smartly lays out the procedures rather than specific recipes (which I believe can be found in his previous book, Wild Fermentation, next on my reading list), so you can adapt the procedures to what you have around or want to work with."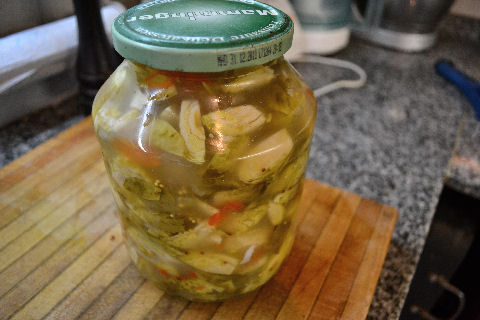 It led me to play around with a fermented Brussels Sprout idea that resulted in these delicious little things – I posted briefly about it, there was more in the followup comments after someone asked me for the recipe:
The Brussels Sprout ferment was pretty basic, and I plan to play with it a bit, but:

1 kg brussels sprouts, cored and quartered
1 rocoto chili, slivered
1 red onion, sliced thin
1/3 c coarse kosher salt
1 Tb yellow and 1 Tb black mustard seeds
Water to just barely cover

I left it for a week in a warm spot in the kitchen, covered, and just opened it once a day to make sure any buildup of pressure was released – though I don't think in the end it was likely necessary. Then I put it in the refrigerator for another week before using them – fermentation continues, but slower.

As a first change, I think on the next run through I'm going to separate the sprouts into their leaves (core them and then pull them apart) – I've been finding that some of the middle layers of leaves haven't fermented as thoroughly and are a little bit to crunchy still. I think I'd also toast the mustard seeds on the next go-round to help bring out their essential oils a little more, the mustard was just a bare hint in the background and I was hoping it would be more prominent.
And if you missed it, here's how I used it in last week's dinners. More ferments to come….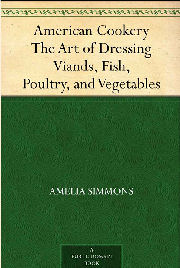 I truly don't remember how this one came to my attention. I'm sure it was in some article I was reading about the history of American cooking that probably mentioned it, and I found this on Gutenberg as a free download in various formats – rather than paying Amazon $5 for the download. I mean, the book was written in 1760, I don't think the author is going to miss out on residuals. My thoughts on Goodreads: "Just an interesting glimpse into the world of cooking in the U.S. a bit over 200 years ago. Generally acknowledged as America's first published cookbook, it's a guide for unmarried women who find themselves needing to take work as domestic help in the homes of the wealthy and covers how to select meats and produce and how to prepare them properly for the tastes of the day."
I don't know why, but a recipe for Carrot Pudding caught my eye. It's a semisweet sort of pudding, and I was thinking it might make an interesting side dish. It's a little too sweet and pumpkin-pie filling-ish for that, but I'm going to play with the general recipe and see what I can come up with as a savory version. In the meantime, a little step-by-step, because it really was delicious!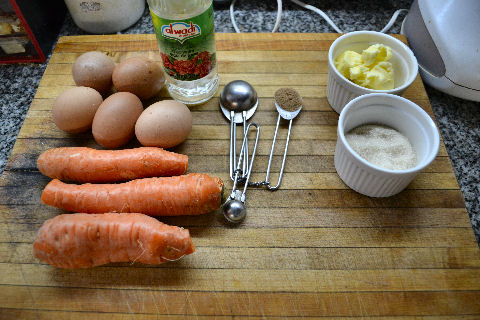 Here's the recipe the way the book gives it: "A coffee cup full of boiled and strained carrots, 5 eggs, 2 ounces sugar and butter each, cinnamon and rose water to your taste, baked in a deep dish without paste."
Note there's not a whole lot of info when it comes to how to do it – the assumption in older cookbooks like this, I've found, is that you know how to cook, so recipes are often little more than lists of ingredients with a note or two.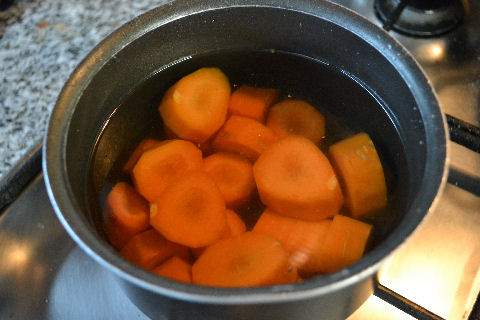 Peeled, sliced and boiled the carrots, drained them.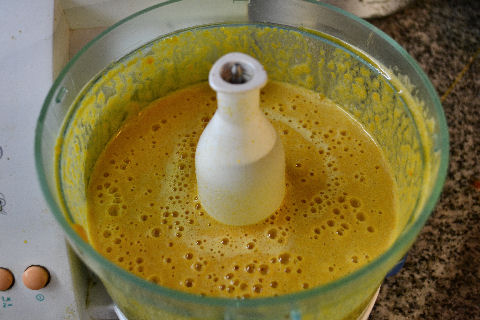 I took "strained" to mean pureed, otherwise it would be a very odd pudding. I basically just threw everything in the food processor together (melting the butter first) – I ended up using a teaspoon each of the cinnamon and rose water.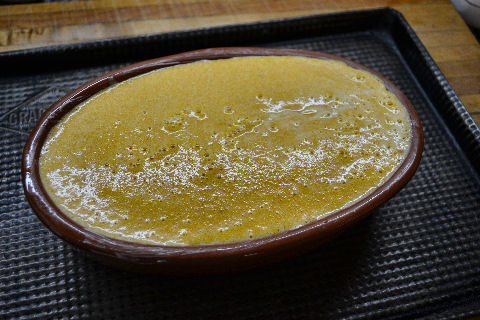 Although it doesn't say to, I lightly buttered the baking dish. The "without paste", just based on reading other recipes in the book, I take to mean, "without a top crust", since the dough used for topping pies in various parts of the book is referred to as a paste.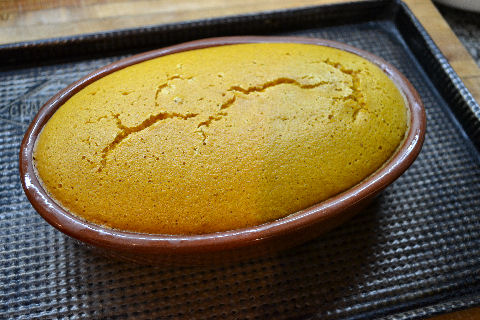 No details are given on the baking process, one can assume that there were not digital temperature controlled ovens at the time. I decided to go with the way I'd normally bake a cheesecake – pop it in the oven at 180C/350F for 10 minutes, then turn down the heat to 140C/285F for roughly 30 minutes more, until the pudding had firmed up and gotten lightly golden on top.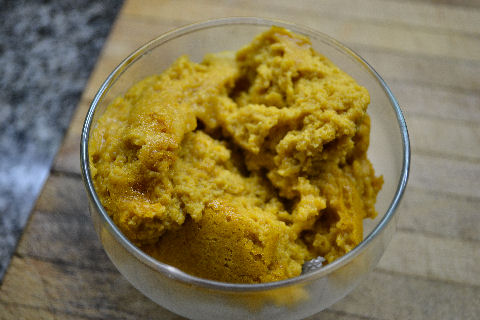 As I said, it comes out in many ways like a pumpkin pie filling, a little less spice, and a little less sweet. The rosewater gives a really light floral note in the background that you probably wouldn't pick up on what it is, but that adds some interest to the flavor profile.
Next version, making it more savory – probably cut the sugar in half, add a little salt and some other spices, and see how it comes out.