A half a year has passed since my last foray into the sandwich world, leaving off on round 8 of The Great Sandwich Hunt. But, sandwiches make a nice break from pizza trekking, so away we go.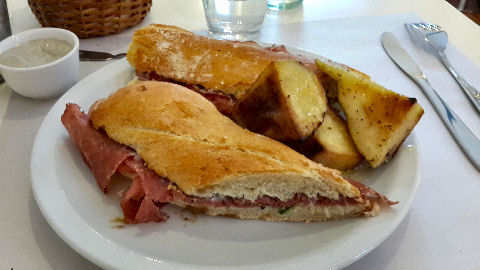 I've been meaning to check out the cute little Italian cafe In Bocca al Lupo, Bonpland 1965 in Palermo, for quite awhile, and checking out a sandwich was the perfect opportunity. I like the place, and it's got a nice selection of menu items. The one unfortunate thing, as it turned out, the day I was there they had none of their apparently great in-house made Italian breads, the only thing available was a pretty basic baguette. That seems a bit weird for a place that's basically known for their breads (and they were abjectly apologetic for not having their breads – maybe something happened to the oven). Still, the sandwich was pretty darned good, with thin slices of lightly salted bresaola (cured beef) with herbed goat cheese and radishes. It's one I'd happily eat again, though I'd love to try it on the bread advertised.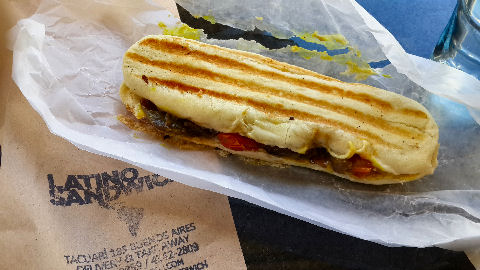 There aren't many places out there in BA that are into really creative sandwich combinations. So Latino Sandwich at Tacuari 185 in Monserrat showed up on my sandwich radar as a must for checking it out. The sandwich that gets all the press out there is their braised veal sandwich, so that went to the top of the list, though I admit when confronted by a menu of nearly two dozen choices of great sounding combinations, I was leaning towards the crispy sweetbread sandwich (the first time I've seen any offal related sandwich on a menu here other than liverwurst), but the counterman, when presented with the two options, gave a resounding recommendation for the veal. And, it's a delicious sandwich with great flavors of caramelized onions, tomatoes, cheese, and melt in your mouth tender veal. But, and there is a but, the sandwiches are all pre-made, and the hot sandwiches, of which this is one, are kept stacked up in a warming bin, all wrapped in wax paper – which means that they steam, and the longer they sit there, the more they steam in their little enclosed environments. Which further means that the bread on the sandwich was soggier than the braised veal, basically falling apart, let alone that the sandwich has no texture other than really, really soft. I'd bet with the type of bread that were I to eat one of these freshly made it'd be a winner, but as it is, I'm not drawn to return unless I could guarantee getting one that hasn't been sitting around.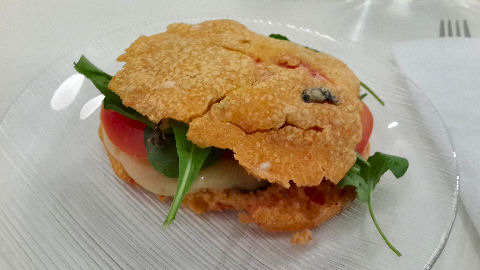 Having had such a great little nut and caramel tart at Parnasse, Arenales 2327 in Recoleta, recently, I was looking forward to a highly recommended "veal sandwich" on a return visit. Unfortunately it turns out that the only veal sandwich they have is a milanesa sandwich, something I'm specifically avoiding – and looking at it, on display on the counter (which is not where I generally like to see a meat sandwich languishing around waiting to be microwaved), I was even less interested. But I was there, and the other option offered was a caprese sandwich – melted mozzarella, tomato and arugula rather than basil. It was tasty, but it was small, not a whole lot bigger than a classic English muffin – which was sort of what the "tomato bread" it came on was like, only thinner. And though the three ingredients on it were fresh and of good quality, it would have benefited from some sort of condiment. Yawn.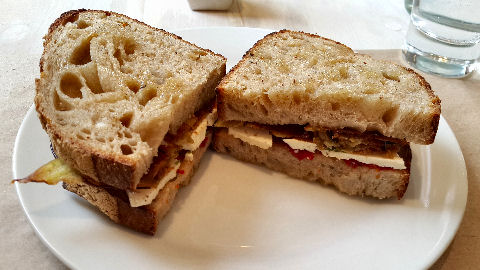 Just a trio of months old, Pain et Vin, Gorriti 5132 in Palermo, is becoming a hit with it's great selection of wines by the glass (and a not-usual-suspects wine shop along one wall) available with its short selection of sandwiches and salads available at the ten seat cafe. Based on one lunch experience, it looks like they're doing more takeout business than eat-in. The quartet of sandwiches on offer are a mozzarella and tomato, a prosciutto and arugula, a BLT, and a roasted eggplant. I went with the last while my two lunch companions tore into BLTs. Both, excellent. First off, the bread, fresh baked whole wheat sourdough, was some of the best I've had in the city. And my sandwich fillings were not exactly what I expected – they'd cut the eggplant really thin, seasoned it, and then broiled it until crisp, so it comes out like strips of bacon, and then laid those over a lovely pressed, salted cheese and roasted tomato slices, and then drizzled the whole thing with really high quality olive oil. Absolutely delicious sandwich! And, I'd say knocks its way into third place for the vegetarian offerings in the city.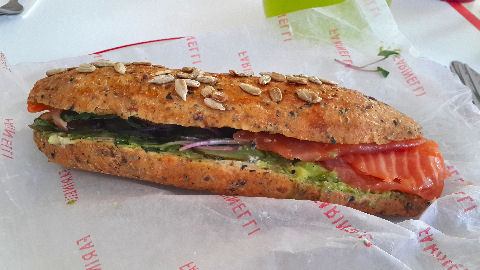 Pure serendipity, not a spot on my list, but I was on my way to a meeting with some visiting NYC developers who are working on a project in Mendoza and wanted to meet with me for someth… well, I'm not sure. They presented their project and then thanked me for meeting them and I never did get an answer to why they wanted to meet me. But either way, I was early and just a block away from our meeting point I spotted Farinelli, Arroyo 900 in Retiro (and another in Palermo along Bulnes). Just four sandwiches (which apparently change daily from a longer list to be found on their website) grace their menu amongst varied salads, soups, and pastries, and the cured salmon with avocado, sweet pickles and wasabi mayo called out to me. First, great mixed seed bread. Loved the delicately cured salmon as well. I didn't spot any sweet pickles anywhere on the sandwich and the mayo had only the barest hint of wasabi, but enough that if you were looking for it you could find it. It's telling that I used both the salt and pepper grinders to add some seasoning to the sandwich (and to the small, oh so small, glass of gazpacho they served up for 28 pesos extra). Not bad but would have liked more oomph to the sandwich. The pear and frangipane tart for dessert, on the other hand, was spectacular.
And so, for this quintet of sandwiches, the only one that moves into our winners' circle is the roasted eggplant sandwich at Pain et Vin. More soon….